LAS Honors provides the best of the liberal arts education tradition with the resources, facilities, and opportunities of a flagship state university. As an LAS James Scholar, you'll enjoy opportunities do more, go further, and become your best.
What does it mean to be in LAS Honors?
To be in LAS Honors means that you not only are an academic achiever but that you are an inquisitive and engaged person. You'll be able to deepen your knowledge, skills, and passions as you seek out opportunities for growth and enrichment. You'll do so as part of the LAS Honors community—a group of talented and dedicated students similarly driven to success.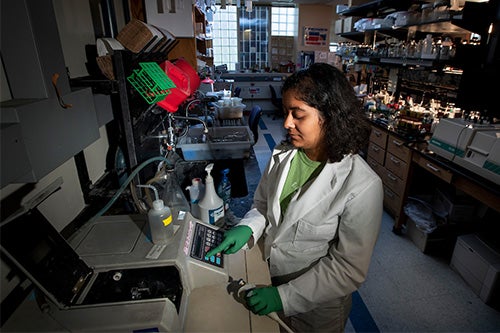 LAS Honors focuses on academics and enrichment as its two central pillars:
Academic coursework, which you will undertake in courses with other LAS James Scholars, will enlighten you through complex, deep-level thinking in smaller sections of students who share your intellectual curiosity and who are eager, like you, to learn how to solve problems and encounter new areas of knowledge.
 
Enrichment activities will help you learn from each other as much as you learn from your classes. Engage with the world around you and develop your skills and identity outside the classroom through study abroad, internships, leadership, community service, and more.
Check out the LAS Honors FAQ for more information.
The honors advantage
As a James Scholar in the LAS Honors program, you'll enjoy:
Specialized faculty engagement - Form close intellectual relationships with faculty members specifically selected for their credentials and passion for teaching. Take honors-only courses, complete special projects, or conduct research with a faculty member.
 

Individualized education - Be actively involved in your education. Select how you complete your honors credits and what you will do to earn that credit. To succeed in LAS Honors, you take control of your education—we will support you, but you take the lead.
 

Interdisciplinary education - Honors experiences are truly interdisciplinary, approaching topics from many different lenses and asking students to think across traditional academic boundaries.
 

Undergraduate research - From individualized projects to getting involved in labs, LAS James Scholars experience first-hand research with faculty and publish in various journals and present at conferences all over the world.
 

Co-curricular experiences - LAS James Scholars get involved on and off campus—from registered student organizations to community organizations. You'll make a difference while getting the most of your education.
 

Status and recognition - Participants in LAS Honors apply for and receive nationally competitive scholarships, including being recognized as Truman, Fulbright, and Rhodes scholars.
 

Preparation for life after college - LAS James Scholars use their opportunities to set themselves apart on applications to graduate and professional schools, as well as launch their careers. LAS James Scholars get noticed.
Learn more about the advantages of LAS Honors by reading a blog post by Honors student Josie Thannert.