Advantages of the LAS Honors Program
Josie Thannert is a sophomore studying global studies and gender & women's studies with a minor in German business and commercial studies. She serves on the executive board for LAS Honors as the service and wellbeing chair, where she hosts a number of events catered to service to the community and service to self through wellbeing.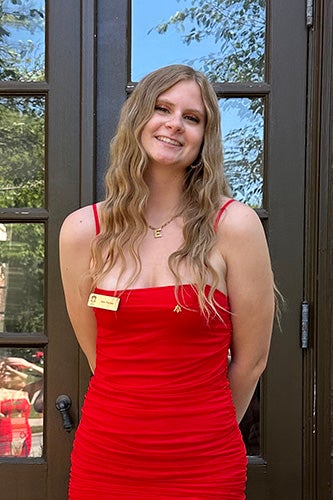 The LAS Honors Program has many advantages at the U of I—here are few of them!
Our living-learning communities (LLC) housing, which is specific floors of dorms that are designated to students in the honors program. These floors are an amazing way to meet other students in different honors programs across campus and collaborate with likeminded students.
Early registration! This is very helpful when you are looking to get ahead and get into specific honors classes.
LAS Honors has a point based system that allows students to get involved on campus. These points are under categories of academic and enrichment. Sometimes looking at this list is stressful, but all of the point requirements are things you find yourself doing regularly, such as taking honors classes, undergraduate research, joining extra clubs, and so much more.
By going to JSSAB (James Scholar Student Advisory Board) events and classes, I have met so many likeminded students in the honors program. I have been able to connect with people in my majors who encourage me to be a better student every day.
Honors continues to prepare me for college life, encouraging me to be more involved in my studies, which has opened new doors for me. My Honors advisors constantly push me to apply for more opportunities and scholarships, as well as help with my advancement in academia.
Through professional development opportunities, I have had special opportunities to study abroad, access to classes with the best professors, and have learned responsibility and professionalism. The program helps develop students professionally and personally through networking events and presentations from the Career Center.