LAS 122: Leadership and Society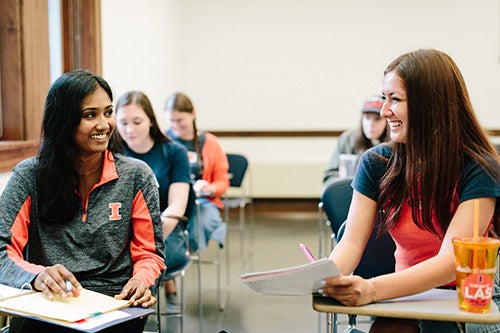 All incoming, first-year students at the University of Illinois are required to take an orientation course. For James Scholars in the College of Liberal Arts & Sciences, LAS 122 fulfills both the orientation-course requirement and the first-semester honors course requirement.
Learn about life at Illinois
LAS 122 is taught by upper-level James Scholars. The class not only provides information about the University and the College of LAS, the student-interns also serve as mentors to help students connect with fellow James Scholars and navigate life as a first-year student.
Leadership and community
James Scholars are future leaders. In LAS 122, students explore the relationship between service, community-engagement, and leadership. LAS Honors takes our role in our community seriously and our students are active in the community. Beginning in LAS 122 and often continuing throughout their time in Urbana-Champaign, James Scholars in LAS make positive, lasting impacts on the lives of others.
Global citizens and global stewards
In LAS 122, students explore the responsibility and impact of being among the best and brightest. Students explore humanitarian topics on a global, national, regional, and local scale to help understand their role as future leaders.