LAS 102: Transfer Advantage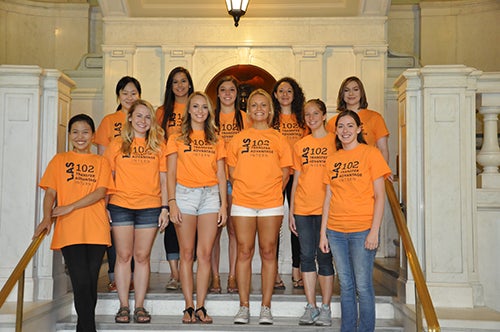 LAS 102: Transfer Advantage is a course designed to assist new transfer students in their transition to our college and campus. Students who enroll in this eight-week, one-credit course will:
learn skills to successfully transition to Illinois
have immediate access to a transfer peer mentor who can answer your many questions about your new life as an Illinois transfer student
learn about important and valuable campus resources
enjoy a small classroom environment and meet other people who may become life-long friends
learn about the values that distinguish the College of LAS
use design thinking methods to make the most of your Illinois experience
The format of the Transfer Advantage course will include lessons and workshops designed to meet the specific needs of a diverse transfer student population.
If you would like more information on whether this course would be a good fit for you in your first semester with us in the College of LAS, please consult with the academic advisor for your major and the LAS 102 staff members listed below
Become an LAS 102 intern
Interns are accomplished LAS transfer students willing to share their successful transfer experiences with incoming transfer students.
An LAS 102 internship offers our best students the opportunity to help others while enhancing their own skills and preparing for their chosen professions or advanced scholarship. They also serve an important role in helping first-year transfer students adjust to the University of Illinois.
Interns meet with their LAS 102 classes, which have 20 to 25 students, for 80 minutes once a week for the first eight weeks of the semester. An LAS 102 internship offers our best students the opportunity to help others while developing leadership skills. Interns will receive 3 credit hours for their work with LAS 102. They will be enrolled in LAS 399: Leadership and Professional Development for the second eight weeks of spring as well as the full fall semester.