Dear LAS community members,
The College of LAS has been at the heart of our university for more than 100 years and has made countless contributions to our teaching, research, and outreach missions. As we continue into the 21st century, it's critically important that the college continue to drive the university forward in foundational, innovative, and cross-cutting ways.
The College of Liberal Arts & Sciences is undergoing a strategic planning process in Fall 2018. This process has two goals:
To amplify the goals set forth by campus in The Next 150 Years: 2018-23 Strategic Plan.
To galvanize the college, its units, and its people around a shared set of ambitious goals for the next five years.
The college leadership team is overseeing the strategic planning process, but the resulting plan will belong to all LAS constituents. I ask that you participate in our process in whatever way you would like. Your input—whether as a student, staff, or faculty member—is valuable to us.
Warmly,
Feng Sheng Hu
Harry E. Preble Dean

Strategic goals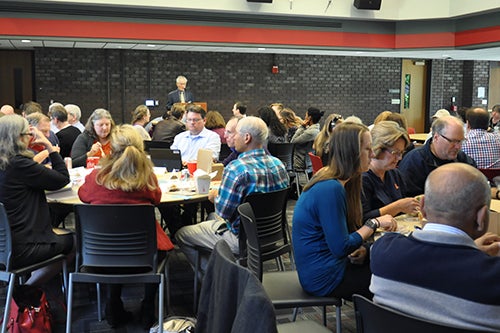 The Office of the Dean has selected four strategic goals for the college and created white papers articulating background on and importance of each goal. The white papers were intended to set a broad direction and create a framework for this process. Four working groups consisting of faculty, staff, and students created reports with recommendations for how the college can best achieve each strategic goal. The college is currently seeking input on these reports. See below for these white papers, reports, and the timeline for this process.

LAS faculty, staff, and students are invited to provide feedback on the working group plans by completing our form. Please note that you must be logged in to access this form, but your feedback will not be linked to your university ID. Alumni will be asked separately to provide feedback. Others who are interested in sharing feedback should email the Office of the Dean.

Timeline
Date
Effort
May 2019
Strategic goals drafted by the Office of the Dean
June-July 2019
White papers for each of the four strategic goals drafted by the Office of the Dean
August 2019
Working groups made up of faculty, students, and staff charged and provided with white papers  
September-October 2019
Working groups meet regularly to deliberate and draft reports
October 2019
• Faculty and advisor roundtables with working group members
• Working groups submit final draft of reports
• Reports posted to LAS website
November 2019
Fall LAS Faculty meeting (November 5) featuring report summaries from working group chairs
November-December 2019
• Office of the Dean consults with various groups in LAS including students, advisors, Humanities Council, and executive officers for feedback on reports
• Online feedback (for faculty, advisors, students, and staff) regarding working group reports available on LAS website
January 2020

Office of the Dean consults with Executive Committee and STAR Committee

February-March 2020

Office of the Dean reviews all input and writes draft of report

June 2020
Full draft of strategic plan made available for additional feedback from LAS groups,

 including alumni

September 2020
Final draft of strategic plan released to LAS community
Questions or comments?
If you have questions, please email the Office of the Dean.