Altgeld renovation details
We're looking forward to a renovated Altgeld Hall. As you walk through the building, you may see evidence of our work in progress. 
Work in progress  |  Virtual tour
---
Work in progress
Mural cleaning in the library foyer
Since their creation, the four murals­­, representing the original four colleges of the university, have seen deterioration due to age and water infiltration. Conservation work is underway to present the murals as their original artist, Newton Alonzo Wells, intended.
Once the murals are cleaned, the process of inpainting deteriorated or missing parts of the artwork will complete the conservation. In areas where water infiltration had deteriorated the plaster, some canvas detachment will allow for replacement of the plaster before the canvas is reattached. Once the conservation efforts are complete, the four murals will be ready to display for the next 100 years.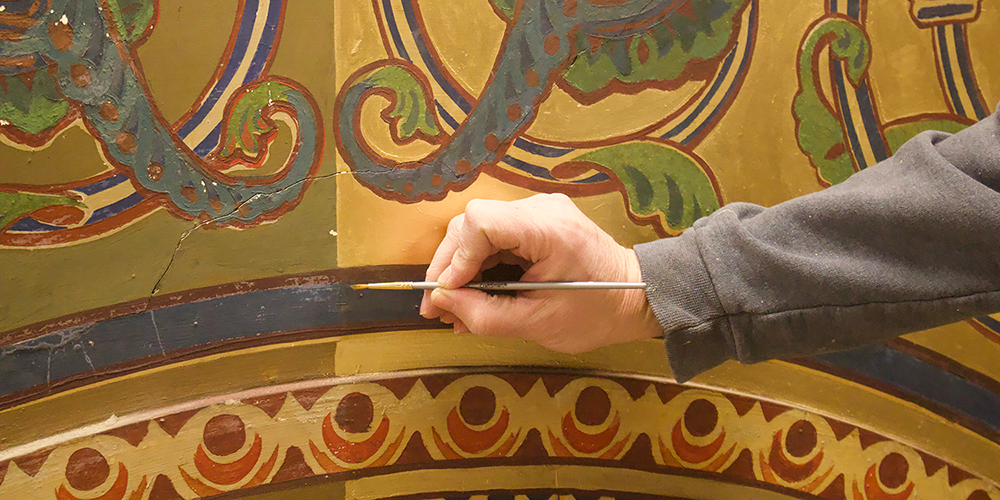 Paint reveal in the gallery and rotunda areas
Original painted border stripes have been successfully exposed at the pilasters during investigations conducted in January 2020 by the design team. The pilaster fields were originally painted taupe, with a succession of border stripes in olive green, burgundy, grey-blue, and metallic gold. Paint reveals throughout the corridor allowed samples of the original paint to be collected and examined with a microscope to select historically accurate colors for the rehabilitation.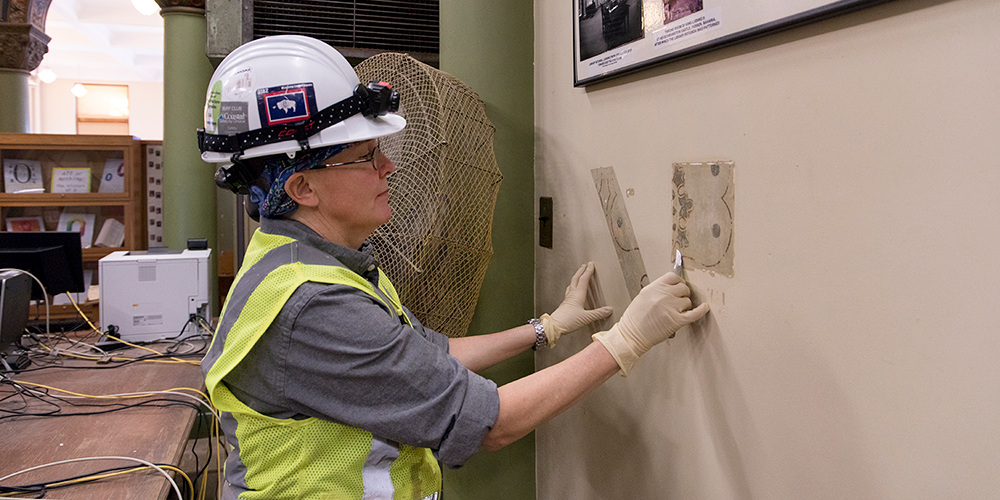 Decorative paint history and mockup in the gallery and rotunda areas
The results of the finishes investigation indicate traces of the original stencil decoration remain in selected locations; however, most original finishes were washed or scraped away before a second decoration campaign was implemented, likely around 1920 before the removal of the rotunda skylight and laylight. The second generation stenciling was broadly imitative of original patterns, but omitted detail and utilized a different, muted color scheme. The existing original decorative paint will be conserved by cleaning and inpainting. Elsewhere in the rotunda and adjacent gallery, original stencil patterns will be reproduced using a combination of physical evidence present on the wall and ceiling surfaces and information from historical photographs.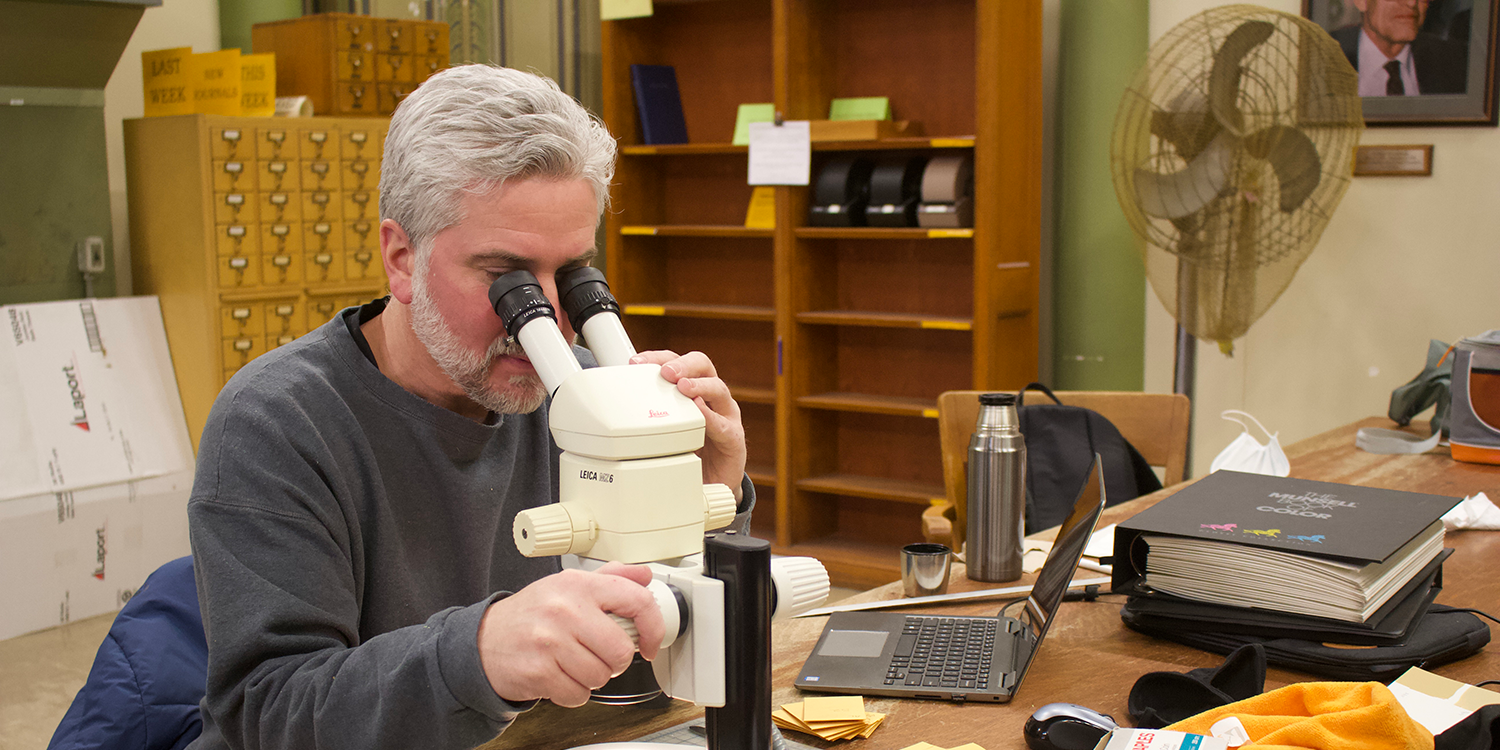 Plaster deterioration
Plaster deterioration due to water infiltration usually manifests through bubbled or powdering plaster areas. The source of the infiltration will be resolved with the roof replacement prior to initiating interior work. Where water infiltration has deteriorated the plaster, removal of the soft plaster will take place before new plaster is installed. Decorative paint will be recreated at areas in the rotunda and gallery where plaster is replaced.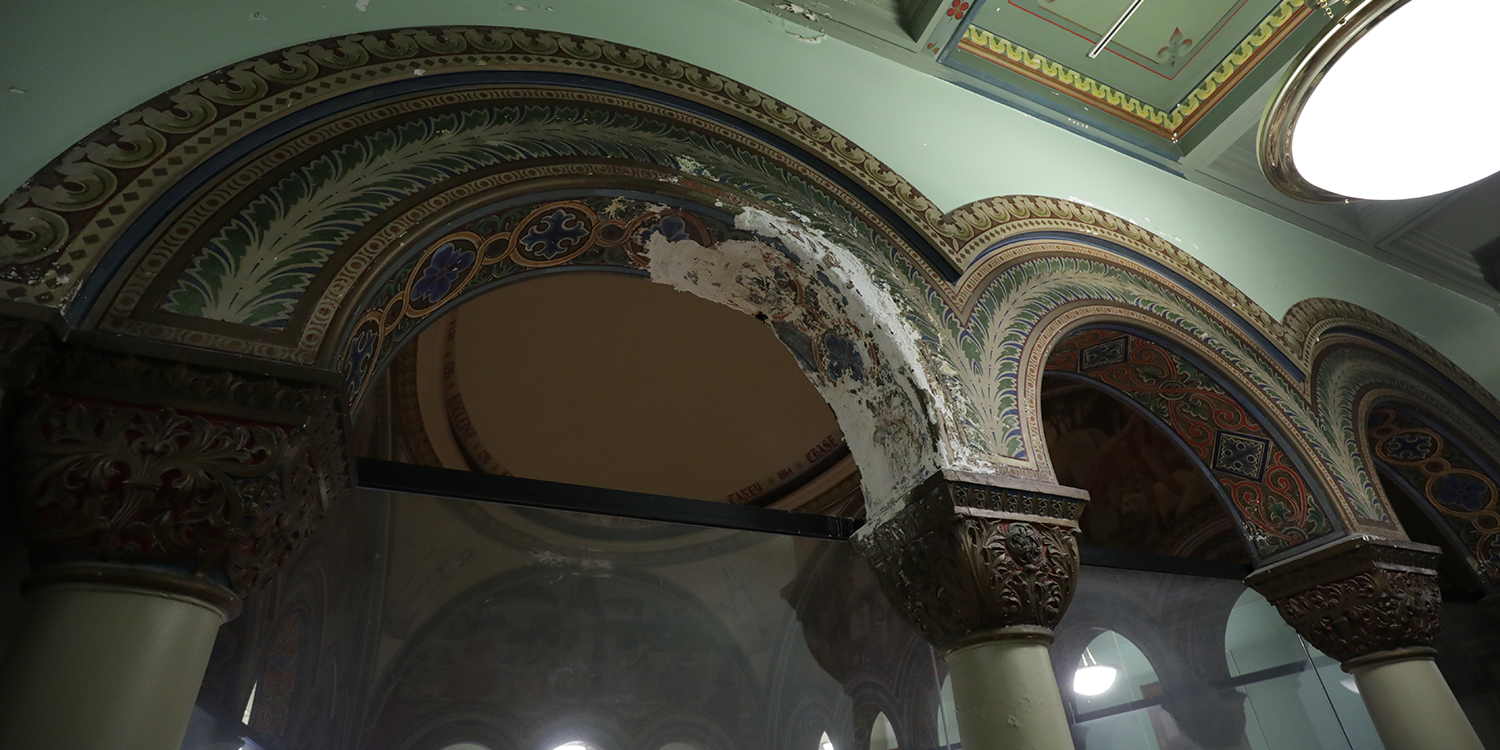 *Information provided by Bailey Edward Design.

Renovation virtual tour
View a virtual tour of the renovation plans for Altgeld Hall, including a new roof, cleaned exterior, and improved accessibility; the recreation of a stained glass dome in the library foyer; updated technology and space in the stacks; restored and renovated historical details; and more.