Brilliant past, brilliant future
Alumna brings talent for recruiting to campus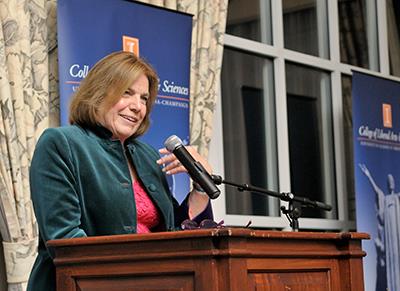 The year was 1970, and Yale University had just broken from its centuries-old all-male tradition by accepting its first female undergraduates. There was only one catch. The Yale president said the institution could not start recruiting freshmen women until there was a woman on the admissions staff.
Jane Phillips Donaldson (BA, '65, teaching of English, MA, '67, journalism), still in her 20s at the time, became that woman—the first female undergraduate admissions officer at Yale University. As Donaldson explains, she was in the right place at the right time, having just moved from Champaign to New Haven, Connecticut.
It was a fitting turn of events, for she has gone on to become one of the leading experts in placing the right talent in the right place at the right time. The firm she co-founded, Phillips Oppenheim, is one of the top leadership-recruitment agencies in the nonprofit world.
Donaldson, a third-generation University of Illinois alumna, has also used her ability to cultivate networks and lead teams in the service of the U of I. For over 10 years, she has freely given her time to serve on the board of the U of I Foundation, which secures and manages the private funds supporting the university. In 2011, she became chairwoman. 
During her tenure, she also served as a co-chair for the Brilliant Futures campaign, the largest and most successful fundraising campaign in Illinois history. This combination of professional excellence and commitment to U of I has made her a clear choice for the 2012 Dean's LAS Quadrangle Award.
Donaldson grew up in Park Ridge, Illinois, and came to campus in the early 1960s when the U of I was a different world. Women students had to be back to their housing units by 10:30 p.m. on weekdays and by midnight on the weekends. 
"It might as well have been the '50s; we still had serenades and panty raids," she says.
Donaldson threw herself into extracurricular activities at U of I, and she says her position in Star Course played a significant role in preparing her for her career. Star Course organized live concerts on campus, and Donaldson says she was involved during a "heady time" with the Assembly Hall opening in 1963. She became one of two senior managers of Star Course, and she honed her leadership skills by bringing to campus major acts, such as Peter, Paul, and Mary, Joan Baez, and Nat "King" Cole. 
After receiving her bachelor's degree in English in 1965, she dove immediately into graduate school at Illinois. And as the late '60s descended, the campus was jolted by Vietnam protests and cultural changes that were a far cry from the serenades and panty raids of the past. Donaldson was in the center of the mix as one of the founders of the Graduate Student Association. 
She received her master's in journalism in 1967 and worked as an editor before leaving for the East Coast in 1970. There, she worked through the ranks of college admissions, first at Yale and then as dean of admissions at Wesleyan University. In fact, she was the first female dean of admissions at Wesleyan, which shook up the football coach, who didn't think a woman would be as likely to admit athletes. That didn't turn out to be the case and they became fast friends. She returned to Yale at the end of the '70s as the founding director of admissions and placement for Yale's new School of Management.
Donaldson stepped away from admissions work to run a major political campaign for her first husband, an Illinois alumnus who served in Congress for 10 years. During this time, she began consulting with the Ford Foundation and recruiting talent, and this set the stage for co-founding Phillips Oppenheim—a company with a unique niche. There was no shortage of headhunters in the corporate, for-profit world, but what made their company unique was its focus on recruiting talent for nonprofit organizations.
Today, their list of clients is a who's who of nonprofits, from Carnegie Hall and the Metropolitan Opera to the Rockefeller Foundation and the MacArthur Foundation. As she puts it, "We started the firm in 1991 and rode the wave of growth in the nonprofit sector over the past 20 years."
Donaldson brought her nonprofit expertise to the U of I Foundation and the Brilliant Futures campaign, which raised $2.4 billion—exceeding their ambitious goal.
"A $2 billion campaign is a high water mark," she says, "and it puts Illinois in a category with a select number of universities who have been able to raise that level of resources."
Today, she says their challenge is continuing to clarify the mission of the foundation and its relationship the university community; diversifying the foundation's membership and leadership; selecting a new foundation president as Sidney S. Micek steps down; and navigating the changing world of higher education funding.
"States are no longer able to provide the kind of funding they have in the past," she says. "And as universities struggle to bring budgets under control, private funding becomes even more critical."  
Fortunately, the foundation has a lot to work with, she says, because the excellence of U of I is without question.
"It's a phenomenal university, so it's just a matter of continuing to get that word out to hundreds of thousands of alumni, friends, corporations, and foundations who have a commitment to sustaining high quality public higher education," she adds. "I put that in the challenge bucket."