Boltz has wonderful career trying to predict the country's economy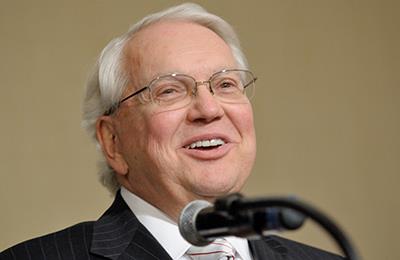 For most of his career, Paul W. Boltz's job was predicting the future.
"Alone among social scientists, only economists are expected to predict the future," says Boltz (MS, '71, PhD, '74, economics) a long-time economist for the mutual fund company, T. Rowe Price. "Nobody asks sociologists what society is going to be like 30 years from now. It just doesn't happen. But economists are supposed to look into the future and predict the unemployment rate, the inflation rate, and the rate of growth."
Still, Boltz says he had a wonderful career trying to predict the country's economic future, and today he lives the retired life in Naples, Florida. But although he no longer predicts the future, he continues to invest in the future. In 1991, he established the Paul W. Boltz Fellowship Fund for graduate students in the U of I Department of Economics, and it continues today. Boltz is also a member of the U of I Foundation's Presidents Council, and this long-lasting loyalty to Illinois has made him a 2013 LAS Quadrangle Award winner.
Boltz grew up in Chicago, and he became the first in his family to graduate from college.  His undergraduate degree is from the University of Maryland where he began with night classes after enlisting in the Army in the midst of the Vietnam War; after discharge, he completed his degree on campus using the G.I. Bill.  He spent all four years of his military service in the States, working in Maryland for the National Security Agency as a crypto-linguist—breaking codes in foreign languages. 
"It was like doing difficult foreign-language crossword puzzles 40 hours a week," he says. "It was difficult and not much fun, but at least nobody was shooting at me."
By the time Boltz finished his bachelor's degree in 1969, he had a wife and child, and one of his professors encouraged him to check out the U of I. As a result, he went on to spend what he describes as "some of the best years of my life" at Illinois, receiving his masters in economics in 1971 and PhD in 1974.
Boltz says he made lifelong friends at Illinois and was inspired by his professors, particularly his advisor, John Due. In the midst of his graduate studies, the Department of Economics even set him up with a one-year stint as a staff economist for the Council of Economic Advisers in Washington D.C—from 1972 to 1973.
With the Council of Economic Advisers, he helped conduct research for a senior economist, did some writing and fact-checking, and answered letters from the general public about economic issues on behalf of the administration.
"It was just remarkable," he says. "Four or five years earlier, I was running around in Army fatigues and now I had an office in the Old Executive Office Building," which is just west of the White House. According to Boltz, such a life-altering experience "is one of the reasons why I'm so fiercely loyal to the University of Illinois. They really got me off to a great start in my career."
Just before receiving his PhD from Illinois in February of 1974, he was offered a job as an economist with the Federal Reserve Board—a position he held until 1981. He was excited that the job took him back to D.C., for he says, "I had a mild case of Potomac-itis."
At the Federal Reserve, he was in the Division of Research and Statistics, and he worked with people at the New York Federal Reserve Bank, "who actually implemented monetary policy through the injection or withdrawal of reserves into the banking system," he says.
Although it was exciting to work alongside top economists in the power center of the world, he says he thought he could do more in the private sector. So he went to work for Continental Illinois National Bank and Trust Company in Chicago for a couple of years before being recruited by T. Rowe Price.
Soon, he became the company's chief economist, and he played a major public relations role, being regularly quoted in the Wall Street Journal and New York Times. This was the job in which he was often called upon to confidently predict the future, living by his motto, "Often wrong, but never in doubt."
However, traveling 75,000 miles a year and "talking my head off," as he puts it, eventually wore on him, so he retired in 1998. But before retiring, he established the Paul W. Boltz Fellowship at Illinois in 1991, and T. Rowe Price matched the fellowship dollar for dollar.
"Illinois had done so much for me that I wanted to help ensure that other people coming down the path would get this opportunity, whether they had the family resources or not," he says. "I didn't have the family resources when I was in school, but Illinois was always there for me."
In fact, money was so tight when he was a graduate student at Illinois that he couldn't afford the trip from Maryland back to Urbana to walk through the graduation ceremony in 1974. Decades later, he opened a birthday present from his wife, only to discover that she had given him the exact blue and orange robes he would have worn at his Illinois graduation.
Today, he and his wife's generosity make it possible for many more graduate students in economics to walk through that ceremony—dressed in blue and orange, of course.