Learning and serving are the mottos of Darsh Wasan's life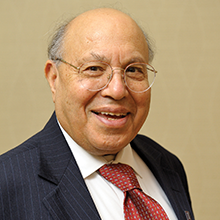 Darsh Wasan was only eight years old when his family escaped possible death and reached the refugee camps of Bombay, India.
A Muslim friend warned his parents that they should escape on the next train because, as a Hindu minority in their village, they were targeted to be killed. This was in 1947, when India was being divided into three parts—West and East Pakistan, which were mostly Muslim, and India, which was predominantly Hindu.
So his family boarded a train, and Wasan says he vividly remembers seeing dead bodies on train platforms that they passed on the way to the border.
In India, Wasan says their house had no electricity, so in high school he would study under the streetlights. But this passion for learning served him well, bringing him to the United States where he received his bachelor's degree in chemical engineering from the University of Illinois in 1960 and then blossomed as both a researcher and administrator at the Illinois Institute of Technology in Chicago. Currently, he is vice president of international affairs at IIT and the Motorola professor of chemical engineering.
In honor of his incredible journey, Wasan, an inductee into the National Academy of Engineering, is one of the 2015 winners of the LAS Alumni Achievement Award.
Wasan says his first role model was his oldest brother out of eight siblings, Mandanlal. According to Wasan, "My brother was very studious," and he was the first to come to U of I, receiving his PhD in statistics in 1960. His brother Mandanlal then encouraged him to also come to Illinois, and he arrived in Champaign-Urbana with only $4 in his pocket.
Wasan's brother even chose his major for him.
"So I ended up at Illinois in chemical engineering without even knowing what chemical engineering was all about," he says.
At Illinois, Wasan worked in the laboratory of Harold Johnston, who set him on his career's research path. He worked on "colloids," which are microscopic or nano-sized particles.
After receiving his bachelor's degree at the U of I, he went on to finish his PhD work in chemical engineering in 1964 at the University of California, Berkeley–although the PhD was not officially awarded until the spring of '65. In 1964, he also landed his professorship at IIT, where he has spent his entire career.
Wasan has had numerous breakthroughs at IIT, but ironically the greatest one of his career was inspired by his grandmother, who would clean clothes by wetting them and pounding them against rocks—one of the oldest forms of cleaning.
Wasan discovered that unbeknownst to his grandmother, she was using nanotechnology.
"As she banged those clothes against the rocks, she was releasing very tiny pieces of stone," he says. "These were nano-sized particles, and they were actually cleaning the clothes."
This discovery, published in the journal Nature in 2003, led to innovative new techniques for oil recovery. His idea was to use ground stone–nano-sized particles of silica dioxide—to recover oil from rock. He points out that with primary oil recovery methods, only about 20 percent of the oil gushes out; therefore, you need to get at the additional oil locked inside the rock using secondary methods, such as his idea of pumping silica dioxide particles into water to extract oil.
Wasan also found ways to use silica dioxide to clean surfaces, including the surfaces of semiconductors. Wasan's colloid research even touches on food safety issues, and he established what is now known as IIT's Institute of Food Safety and Health, an operation that brings together IIT scientists, researchers with the Food and Drug Administration, and 75 member companies to work together on food safety.
"I like to attack the problems that need to be solved rather than choose a problem that can be solved," he says.
In addition to his research, Wasan moved up the administrative ranks at IIT, becoming chair of the chemical engineering department in 1971, interim dean of engineering twice, vice president of research and technology in 1988, vice president for academic affairs in 1991, provost from 1991 to 1996, and then vice president for international affairs. On top of all of that, he served as editor of the Journal of Colloid and Interface Science for 22 years.
But through it all, his involvement with students remains paramount. In fact, Wasan says the reason he chose IIT over MIT was because he noticed that research papers coming from MIT always listed the professor's name first and the students' names last. But at IIT, the students, who usually did most of the work, were listed first.
"If my students have success, then I know I am successful," he says. "That's my driving goal."
In 1995, as provost, he started a program to recruit more international students, increasing the percentage of foreign students at IIT from 15 to 48 percent. Since 1997, IIT has also been offering 10 different online master's programs to working professionals in India, thanks to his efforts.
Wasan has worked at IIT for 51 years now, and he recently celebrated his 49th wedding anniversary—a marriage arranged by his parents. But much of what drives him goes back to his days in India, when his family lived with tens of thousands of other people in the refugee camp in Bombay. When he arrived in the camp, there was no building for their school, so the students helped to build a school as part of their physical education class.
When the school was finally constructed, Wassan recalls that the motto posted on the front door said: "Come in to learn and go out to serve."
"That has become the motto of my life," he says.