Thomas Cycyota has found a way to work "miracles" with trauma survivors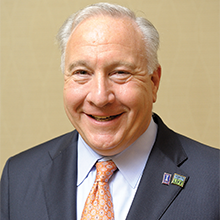 A teenage girl named Kacey survived the horrific shooting at Columbine High School in 1999, when 12 students and one teacher were massacred. However, a single shotgun blast had badly damaged her right hand, arm, and shoulder. In cases such as hers, most victims lose their arm to amputation, but because of donated human tissue that came from AlloSource in Centennial, Colo., this woman, now 35-years-old, tells people she has two arms to hug her four children.
"That's the power of what AlloSource is all about," says Thomas Cycyota, president and CEO of the Colorado company. AlloSource is one of the largest tissue banks in the country, preserving human tissue from generous donors and using it to create approximately 250,000 transplantable allografts each year. (An allograft is a human-to-human transplant.)
For his work in tissue donation and transplantation, Cycyota is the 2015 recipient of the LAS Alumni Humanitarian Award.
"Everybody understands organ donation because a heart or kidney saves somebody's life," Cycyota says. "But with tissue donation, a donor who has passed away can affect hundreds of people, making it possible for those without cartilage in their knees to be active again or those who have been severely burned to heal.
"We deal with a sacred gift because the donor is somebody's loved one," Cycyota adds. "Donors all have a story, and they are all being mourned by a family while the surgeons do the amazing things they do."
Another one of the stories that touched everyone at AlloSource was that of Cameron, a 22-year-old who had just graduated from Eastern Illinois University when he was killed in a bus accident. He was an organ and tissue donor, and his tissue helped countless people.
"I had the honor of meeting and getting to know Cameron's mom and dad," Cycyota says. "Because Cameron was the same age as our oldest son at the time of his death, you can imagine how he impacted my life, and this family has become close personal friends. They lost a child in a split second, and it changed their life, and it changed everybody's life around them."
Cycyota was first inspired to enter the medical field when an influential physiology teacher at Proviso West High School in the Chicago area took her class to Northwestern University to hear a talk by the famed heart surgeon, Michael DeBakey. Inspired to become a doctor, Cycyota came to the University of Illinois in 1976, but two introductory biology classes "clobbered me," as he puts it. Although he was a straight-A student in high school, the two C's he received in biology drove him to also focus on business, while still getting a science-based education. His bachelor's degree in 1980 was in biology.
"Even though I didn't become a doctor, I have still been able to help people through the altruistic things I wanted to do, and that's worked out wonderfully for me," Cycyota says.
Serving at AlloSource also brought him full circle to the day he heard Dr. DeBakey talk about heart transplants because he was now in charge of a company that specialized in tissue transplants.
But it was a winding road to get there. After graduating from Illinois, he sold medical devices for the Kendall Company from 1981 to 1991, picking up his MBA from Loyola University along the way. He then transitioned to wound care management at New Dimensions in Medicine, an Ohio company, before going to Johnson & Johnson in 1996 and becoming the worldwide director for wound management.
He was hired as President and CEO of AlloSource in 2000, when the company had fewer than 200 employees. Today, AlloSource employs more than 500 people in Colorado and throughout the country, and has grown into one of the largest and most respected organizations of its kind.
AlloSource's products offer life-saving and life-enhancing healing possibilities in many forms. For example, they provide large segmental bones for people who have bone cancer or have suffered trauma, as well as skin for burns or chronic wounds.
AlloSource tissue can also help those with torn ligaments or tendons, as well as patients (such as injured soldiers) undergoing repair of spine conditions or traumatic injuries. One of the company's most innovative products is AlloStem® Cellular Bone Allograft, in which they combine donated stem cells from the donor with bone from the same donor to provide a bone substitute that helps in hard-to-heal orthopedic cases.
The company even provides a layer of tissue from donated placentas from voluntary C-sections for surgeons to use as a biologic barrier following surgery. Wrapping nerves in amnion tissue can reduce phantom nerve pain when a leg is amputated, and it can also prevent the swelling, scarring, and pain that can occur when a tumor is removed.
Cycyota is awed by the technology that has been developed from donated human tissue, but what inspires him most are the stories of people like Kevin, a mechanic who was burned over 80 percent of his body when his truck exploded. Donated skin saved his life. And then there was a young adult named Manuel who was burned in a high voltage accident in South Carolina. He lost all four limbs, but donated tissue and bone made it possible for surgeons to create a partial limb at his shoulder. In turn, this made it possible for him to use crutches, move with prosthetic legs, and do something as simple as scratch his nose.
Patients like Manuel say that although the tissue donation didn't necessarily save their lives, "it still saved their life," Cycyota says. "People who get donated tissue believe it is a life-changing event.
"That's why I use words like 'sacred' and 'miracle,'" he adds. "The tissue we transplant becomes the recipient's own tissue, so the body can heal itself. And that's a miracle in its own right."