How a history major helped found one of the Internet's most popular websites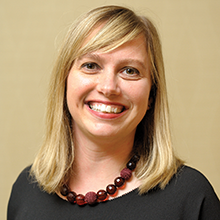 Christina Brodbeck never could have predicted she would wind up working with computers, let alone be one of the earliest team members of a small startup company called YouTube.
"I wouldn't have imagined it, if I had to bet my life on it," says Brodbeck, who was also the design leader for YouTube Mobile.
After all, she had graduated from the University of Illinois with a bachelor's degree in history, specializing in Russian and Eastern European history. But she says the flexibility and freedom of an LAS degree, coupled with U of I connections developed during her undergraduate years, was what changed her life completely.
She now pursues her life's passion, which is designing and investing in startup companies in the San Francisco Bay area–the heart of the high-tech world. Her accomplishments at such a young age are why Brodbeck is also the winner of the 2015 LAS Outstanding Young Alumni Award.
Brodbeck's passion for entrepreneurship actually should come as no surprise because as a girl growing up in Niles and then Glenview, Illinois, near Chicago, she was business-savvy long before she even knew what the word "entrepreneur" meant.
Two teams of children in her neighborhood competed over lemonade stand sales, but Christina's team prevailed when she came up with the innovative idea of selling lemonade door-to-door. Later, while spending time in Japan at age 15, she noticed the Japanese interest in American products, and when she returned home she convinced her grandmother to sew backpacks for export to Japan. (That venture was not successful.)
"My family joked that I was always coming up with weird ideas," Brodbeck says.
Even at U of I, she and a boyfriend designed and sold T shirts on the side. But she also had a love for Russian history, thanks to a high school program in which she studied the language and history of Russia all four years. She originally had her sights set on becoming an international lawyer, but that all changed during her years at Illinois.
"I remember coming home to our dorm room freshman year and seeing my roommate, a computer science major, playing around with Photoshop on her computer and making a personal website. It was the first time I grasped that computers and technology could be creative," she says.
So Brodbeck bought a book on web design, HTML by Example (which she still owns today), and she began creating websites for people as a side hobby. She loved the creativity of design and was paid for work on a number of sites, but it wasn't until her senior year that it dawned on her that she could make a living doing this.
Therefore, after receiving her BA in history in January of 2001, she struck out for California in May of that year, hoping to dive into the tech world. She began to take classes in a multimedia studies program while also doing design work at Keynote Systems.
After completing a master's degree in 2004 in instructional multimedia design and technologies at San Francisco State University, she did web design as part of a fellowship with NASA at the Ames Research Center in Mountain View, California.
At the same time, Brodbeck had several connections to U of I alumni in the Bay Area, some of whom worked at Paypal. She obtained a position at MRL Ventures, a startup incubator created by Max Levchin, an Illinois alum and founder of Paypal.
While at MRL, Brodbeck did side work for a small venture called YouTube, which was just beginning to get off the ground, after being founded by three young men–two of them also alums from the U of I, Steve Chen and Jawed Karim.
"I just enjoyed working on projects with people I cared about and enjoyed spending time with," she says. "I certainly didn't realize how large YouTube was going to become. It was a surreal experience. A wonderful and surreal experience."
YouTube had a staff of less than 10 in 2005, so people wore many different hats. Brodbeck was the company's first user interface designer, and she recalls that one of the first projects she worked on were "rating stars" to display on the YouTube browse page.
While at YouTube, Brodbeck and a colleague also started working on a project tailoring YouTube for mobile devices.
"This was the pre-iPhone days, so it was just a little side project in YouTube," she says. "But YouTube Mobile is now one of the primary ways that people interact with it. It's insane."
When YouTube became an enormous success, Google purchased it in 2006 for $1.65 billion in stock. Google had a policy of allowing employees to use 20 percent of their time to explore new ventures, so Brodbeck also worked on ways to use YouTube for instructional purposes–YouTube EDU, an educational area of the site.
In 2009, she was looking for new challenges, so she left YouTube to do "angel investing"–supporting new ventures, such as an app that does 3D scans of rooms, as well as a technology-based company that does catering for corporations. In addition, she co-founded her own company with a fellow YouTuber, and their first product was an app called TheIceBreak, designed to foster communication among committed couples. She is no longer involved with TheIceBreak, having turned it over to a psychiatrist, who is now the CEO.
Her latest endeavor is Rivet, a venture fund that targets investments in startups aimed at a predominantly female demographic.
"I really feel like the University of Illinois came through for me because it was the place where I discovered what my passion was," Brodbeck says. "I also wouldn't be where I am today without the relationships and friendships that I made with people at the U of I; Illinois altered the course of my life in ways I never would have foreseen."