Faculty named Lincoln Excellence for Assistant Professors Scholars
New program boosts junior faculty for outstanding teaching and research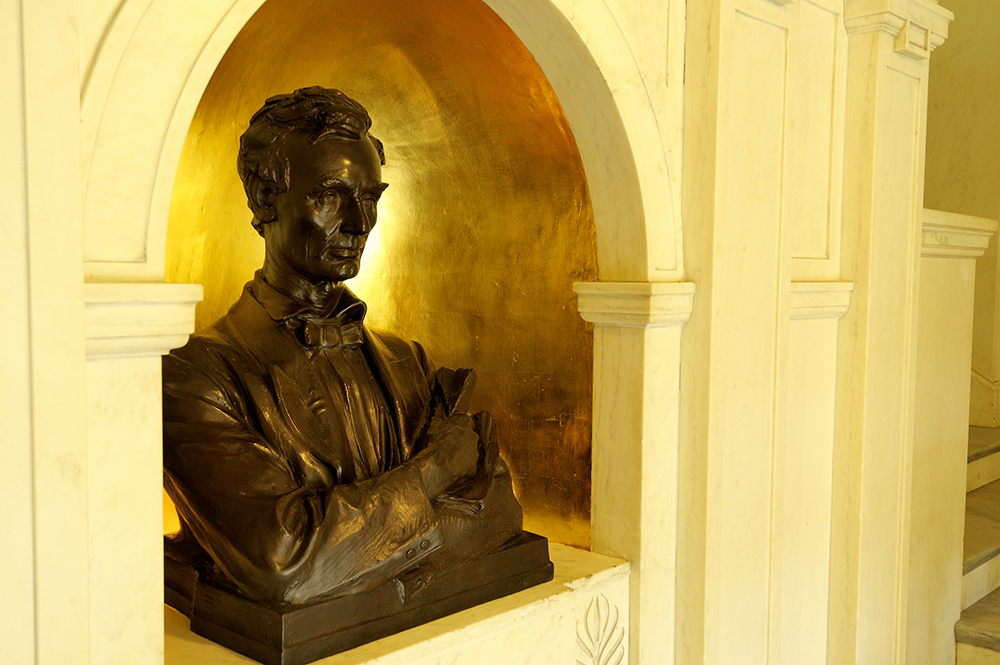 Six assistant professors have been recognized for their exceptional accomplishments in teaching and research as part of a new program to highlight and encourage the contributions of outstanding junior faculty in the College of LAS.
Selected faculty will retain the Lincoln Excellence for Assistant Professors Award for two years, receiving $5,000 in discretionary research funding each of those years.  Five additional assistant professors—tenure track faculty who have not yet been reviewed for tenure appointments—will be selected for the spring semester.
The faculty selected for this fall's awards are Ikuko Asaka, history; Stephen Chaudoin, political science; Alison Fout, chemistry; Daniel Hyde, psychology; Lijun Liu, geology; and Darren Tanner, linguistics.
Feng Sheng Hu, professor of plant biology and Ralph E. Grim Professor of Geology, and associate dean for physical and life sciences in LAS, said recipients were determined by a committee of six distinguished senior faculty, who selected LEAP Scholars based on scholarly productivity and contributions to the educational mission of their departments and the college. Nominations for the award came from college department heads, in response to an open call.
"In particular, we sought nominations for faculty who have demonstrated exceptional promise of becoming a leading scholar and teacher," Hu said.  
Chair of committee was Kelly Ritter, professor of English and provost fellow for undergraduate education. She said this semester's recipients were selected from a field of 29 nominees.
"The competition was fierce, as our nominees each had distinguished records of accomplishments," Ritter said. "While this made our committee's task difficult, we were ultimately able to choose six faculty for the inaugural Fall 2016 award, selecting those whom we believe will continue to define standards for excellence on our campus, and will play a key role in fulfilling our college's missions in teaching and research." 
Martin Camargo, interim dean designate of the College of LAS, praised the accomplishments of the faculty selected for the award.
"The faculty selected as LEAP Scholars are invaluable to the mission of the College of LAS, and we're proud to recognize them for their achievements," Camargo said. "They are inspiring representatives of the many excellent assistant professors across all of our units and departments."
Read summaries of the LEAP Scholars below:
Ikuko Asaka, history. Asaka is described by her colleagues as an emerging leader in the Department of History, with her teaching and research building bridges between the fields of history, African American studies, and gender and women's studies. She recently completed her first book, "Geographies of Freedom: Emancipation, Diaspora and Settler Colonialism in North America," which will appear in 2017, with glowing reviews. She has been included on the list of teachers ranked as excellent. 
Stephen Chaudoin, political science. Chaudoin is an influential, highly published scholar specializing in the field of international relations, with one of his central concerns and research being focused on how and why nations comply with international commitments. He also examines the economic effects of the World Trade Organization. He's also known as a strong, challenging teacher, being included on the list of teachers ranked as excellent.
Alison Fout, chemistry. Since arriving at Illinois in 2012, Fout and her research group are making significant contributions to the development of sustainable catalysts for applications in the industrial synthesis of pharmaceuticals and other organic compounds. The recipient of several prestigious awards, Fout has also established herself as one of her department's best and most innovative teachers, known by students for her enthusiasm, mastery of the subject, and concern for their education.
Daniel Hyde, psychology. Early in his career, Hyde is already gaining an international reputation for his research in developmental cognitive neuroscience. His work focuses on developmental relationships between core cognitive systems that operate in early infancy, and cognitive achievements in the preschool and school years. He's also been ranked as excellent by his students, developing a new graduate course and modifying an undergraduate course to improve their understanding of research.
Lijun Liu, geology. Liu is considered a rapidly rising star in the field of geodynamics. His insightful research has made use of high-performance computing and modeling to simulate Earth movements around the Pacific Ocean's "Ring of Fire" and several other geologically active regions. His approach incorporates a wide range of geological observations to create state-of-the-art models of what's happening behind earthquakes, volcanic activity, and other phenomena. Liu has won several awards for his research, and he's also known as a passionate teacher, with his efforts in introductory courses being instrumental in maintaining geology majors in the department.
Darren Tanner, linguistics. In his fourth year as an assistant professor, Tanner has emerged as one of the most prominent faculty members in his department. His field of research concerns language processing and representation in the brain, with particular focus on bilinguals. Published in several major journals, he is much sought after by other researchers on campus with similar research interests. He's also popular with students, showing up almost every semester on the list of teachers ranked as excellent.