Two LAS faculty members elected AAAS Fellows
Professors are among six at U of I selected for the prestigious honor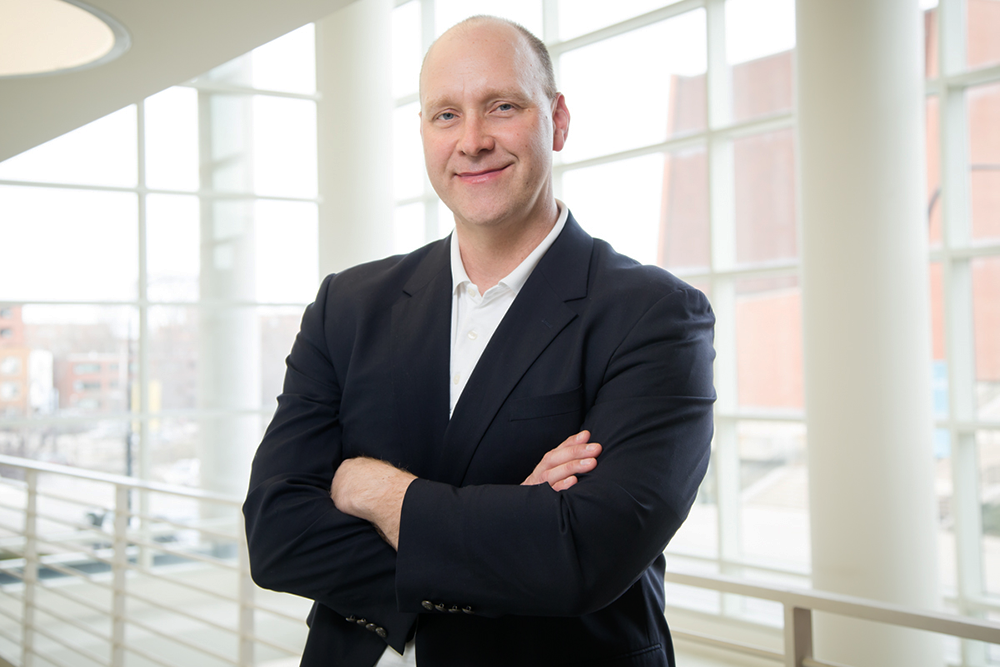 Two faculty in the College of LAS are among six at the University of Illinois who have been elected 2016 Fellows of the American Association for the Advancement of Science.
Bruce L. Rhoads, a professor of geography and geographic information science, and Chad M. Rienstra, a professor of chemistry, are among the 391 new Fellows chosen for their efforts to advance science applications that are deemed scientifically or socially distinguished.
Other faculty members on campus who received the honor are Jianjun Cheng, the Hans Thurnauer Professor of Materials Science and Engineering; Brian T. Cunningham, a professor of electrical and computer engineering and the director of the Micro and Nanotechnology Laboratory at the U. of I.;  Kevin T. Pitts, professor of physics; and Josep Torrellas, the Saburo Muroga Professor of Computer Science.
"These members of our faculty exemplify the extraordinary scholarship, innovation and teaching that defines Illinois," said Edward Feser, the interim vice chancellor for academic affairs and provost at the U. of I. "They are leaders in their fields who have made highly significant contributions to their disciplines and the academy. We are proud they are our colleagues."
Rhoads was honored "for distinguished contributions to physical geography and fluvial geomorphology, particularly for defining flow and sediment dynamics of stream confluences and river meanders." His work aims to understand how water and sediment move in rivers, particularly in places where rivers merge and bend, so that better decisions can be made for river management.
Rienstra was selected for "distinguished contributions to the development of solid-state nuclear magnetic resonance for structural determination of large biomolecular assemblies relevant to human disease." His group uses specialized spectroscopy methods to study the structures of complex molecules that are difficult or impossible to study with other methods, and recently detailed the structure of the protein that forms fibrils in Parkinson's patients.
Cheng was recognized "for the discovery, development and clinical translation of nanomedicines and biomaterials, especially for targeted cancer therapies." His research explores ways to deliver therapeutic drugs to specific cells and tissues in the body, using systems like drug-loaded nanoparticles or small, coiled protein molecules that can punch through a cell's defenses.
Cunningham was honored for "exceptional contributions to the advancement of photonic crystal-based biosensing." His group focuses on creating sensors for a wide variety of medical and scientific applications using materials with unique light-bending and reflecting properties, such as a smartphone biosensor for on-the-spot sample analysis.
Pitts was elected for "distinguished contributions to the field of high energy physics and for efforts to provide opportunities in physics for members of traditionally underrepresented communities." His experimental research explores subatomic particles and their energies. He is active in a number of programs engaging underrepresented groups in science and engineering, such as the Conference for Undergraduate Women in Physics and the ICANEXSEL middle school program in Chicago. Pitts also serves as the associate dean for undergraduate programs in the College of Engineering.
Torrellas was recognized for "distinguished contributions to the field of computer architecture, particularly for designs of shared-memory multiprocessor architectures and thread-level speculation." He is the director of the Center for Programmable Extreme Scale Computing and his research explores new processor, memory and system technologies and organizations to build novel multiprocessor computer architectures.
Founded in 1848, the American Association for the Advancement of Science is the world's largest general scientific society. Fellows are chosen by their peers for their outstanding contributions to the field. The new Fellows will be honored at the 2017 AAAS Annual Meeting in Boston.
News Source
Liz Ahlberg Touchstone, Illinois News Bureau