Building a healthcare safety net
Nancy Greenwalt is awarded the 2017 College of LAS Humanitarian Award for bringing health care to those in need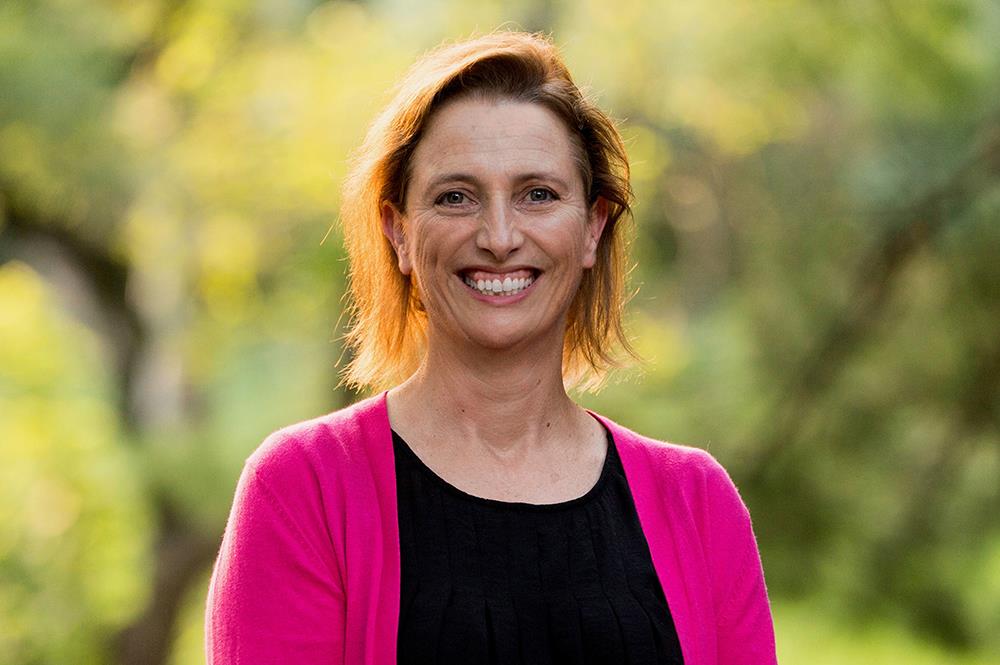 Nancy Greenwalt, executive director of Promise Healthcare, found a packed waiting room when she showed up at the Champaign health center one Wednesday afternoon. It was their weekly prenatal clinic, but it was also the first day that they had brought in local organic gardeners to offer produce outside the clinic—as much as people could carry for whatever they could afford.
"There was a woman in her 50s in the waiting room, who wasn't there for the prenatal clinic, and she asked me, 'Can I get some food too?'" said Greenwalt (BA, '89, speech communication). "She told me, 'I'm hungry and there's nothing in my refrigerator.'"
Greenwalt encouraged the woman to gather as much food as she could from the gardeners, and this, she said, was extremely moving, reminding her about the reality of poverty locally.
"I like helping people, making a difference, being creative, and learning every day," she said.
Greenwalt has built her career on making a difference, by working on health care issues since her undergraduate years and heading up Promise Healthcare since 2012. This nonprofit organization includes two programs in Champaign—the Frances Nelson Health Center and SmileHealthy, which provides dental care to those in need. Through both of these programs, Promise Healthcare treats 150 to 200 patients each day, many who otherwise would have no access to health care.  
For her work, Greenwalt has been awarded the 2017 College of  LAS Alumni Humanitarian Award.
Greenwalt grew up in the suburb of West Chicago, and when she came to the University of Illinois in 1985, she said she didn't have any specific goals, other than to major in mathematics. So she bounced around, trying just about everything, before finally settling on speech communication (the major has since been renamed as communication).
The turning point came when she took a class on corporate advocacy, in which she studied how corporations handled public relations for the Exxon Valdez oil spill and the Tylenol capsule-tampering case.
"I thought, oh my goodness, this is powerful," Greenwalt said. "Public relations, marketing, and communication are so powerful that they shouldn't just be for industries. They should also be for the common good."
This set her on the path of working for the common good, getting her feet wet as an undergraduate by canvassing—going door-to-door and talking directly with people about health care issues. After completing her bachelor's degree in 1989, she joined the Illinois Center for Citizen Involvement in Champaign as a canvass director.
While working for this organization, she once again found herself drawn to health care issues, doing media work (which she initially found awkward) and setting up committees throughout the state to work on state health care legislation.
"The issues back then are still the same as today," she said. "The biggest issues were access to health care and the need for health care to be simpler."
In 1995, Greenwalt became executive director for Champaign County Health Care Consumers, which negotiated discounts on prescription drugs for seniors, assisted 600 consumers per year through a consumer health hotline, helped to save a clinic in Sidney, Illinois, and led a referendum that created a countywide health department in Champaign County.
But after having two daughters, Greenwalt wanted to scale back her work until her children reached school age, so she became a half-time downstate campaign director for Community Shares of Illinois. Working out of her home, she helped people set up payroll deductions that sent money to all sorts of non-profits.
After her youngest daughter went off to school, it was back to full-time work—and back to health care. She served as executive director for SmileHealthy from 2007 to 2012, overseeing programs that provide dental care to over 2,000 underserved patients every year.
Then, in 2012, she became executive director of the umbrella organization, Promise Healthcare, which also brought the Frances Nelson Health Center under its wing that same year. With her leadership, they added services and providers, expanded health center hours, and opened the center to thousands of new patients.
Today, roughly 25 percent of the Frances Nelson patients do not have health insurance, either because they're new to the community, have citizenship issues, or may simply not want to participate in Medicaid or Medicare. Another 55 percent of their patients have Medicaid, about 10 percent have Medicare, and 10 percent have commercial insurance.
Dental care is even trickier, she said, as 35 percent of their patient visits are not covered by dental insurance.
When SmileHealthy began in 2003, it had only one dental hygienist and operated on a $100,000 budget, but it has grown by leaps and bounds. Today, both the health center and dental clinic operate on a budget of $5.5 million annually.
What's more, SmileHealthy now has one full-time dentist, five part-time dentists, five volunteer dentists, four full-time dental hygienists, and several part-timers, while the Frances Nelson Health Center has four primary care physicians, three psychiatrists, six nurse practitioners, and two counselors.
One recent innovation is their Food as Medicine program, which tries to alleviate food security issues for their patients by giving them a bag of food that lasts three days, directing them to local food pantries, and welcoming patients to their monthly "pop-up pantry."
"Being unsure about having food as a child can lead to lifelong issues," Greenwalt explains. "A child who is food-insecure at age three or five will be more likely to have depression, hypertension, and diabetes when they're older."
Another innovation is their Pediatric Restorative Outpatient Surgery program, in cooperation with Presence Covenant Medical Center. The hospital donates an operating room and anesthesiologist, while Promise Healthcare supplies the dentist to do full mouth restorations for children with severe dental disease.
"These are children who need 10 to 20 different dental treatments done," Greenwalt said. "This is a model program, and we get requests from all over the state to learn about how we do it.
"But I don't feel like any of this is (just) me," she said, adding that it's awkward accepting an award that the entire staff and board deserve. "Even though we're a small organization, we have people who are experts in delivering care, people who invest themselves in the work we do. And it's all about having great people."