For College of LAS students, scholarships make all the difference
Learn more about how you can make a difference for students on Giving Tuesday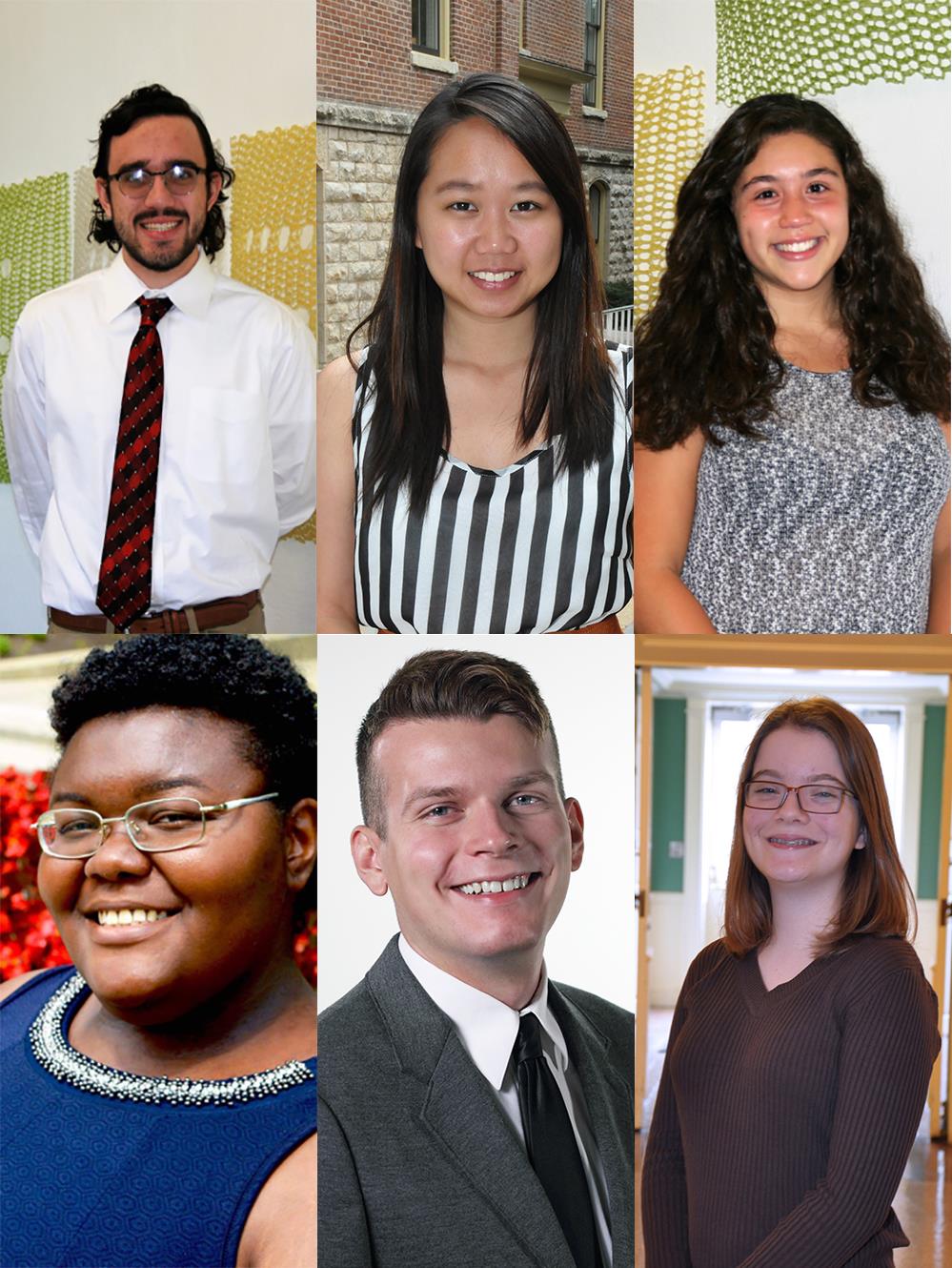 Scholarships are a critically important means of support for many students within the College of LAS. Read on to see how they've changed the lives of six LAS students. This group represents just a sampling of the 781 students in our college receiving life-changing support across our college and its departments.
Interested in making a difference in the lives of some of our 14,000 students in honor of National Day of Giving, which is Tuesday, Nov. 28? Learn more about the Lincoln Scholars Initiative, which provides renewable scholarships for academically strong admitted Illinois residents with financial need.
Spenser Bailey
Because of donors' generosity and my scholarships, I am able to study history, a discipline that I truly enjoy, and also have the ability to add other intellectually engaging coursework to my studies. A highlight of my experience was being part of with the Department of History's SourceLab Initiative, which promotes digital publishing of historical artifacts. Through the associated course, HIST 207, Publishing the Past, I was part of a team that developed a digital edition of a letter written by ill-fated Arctic explorer John Franklin before he sailed into the waters of the far North for the final time.  For this project, I created a transcription of the letter (which is in the possession of the University Library) and worked with my teammates on putting that transcription and other materials in a digital platform.
- history major Spenser Bailey, a Lincoln Scholar and winner of the Joan Howard Robinson and Ray C. Robinson Jr. Scholarship
Wei Chen
I initially chose Illinois because of the flexibility of its psychology program, but through my time here I've come to love the place and people. I selected organizational psychology as my concentration because I am both passionate about people and interested in human resource-related topics like recruitment and training. As much as I enjoy doing research, I aspire to work in a position that allows me to directly apply the knowledge I've learned. This scholarship is helpful to my family, which is working hard to support me through school. The scholarship also helps me to fully focus on school instead of a part-time job.
- psychology major Wei Chen, winner of the Nancy Chong Whitman Scholarship
Miranda Castora Gonzalez
Because I'm a Lincoln Scholar, I'm able to put a stronger focus and dedication on my academics while also becoming involved on campus. After I graduate, I would really like to be a high school math teacher. I think teachers are vital in our lives, especially during high school. I'd like to work at a school of need specifically because good teachers are important to have at these schools and I want to give back to others and help them learn like so many of my teachers have done for me.
- mathematics and secondary education major Miranda Castora Gonzalez, a Lincoln Scholar
Mariah Symone Green
(Being a Lincoln Scholar) allows me to focus on my growth, both personal and academic, and motivates me to work hard so that I may fully take advantage of the opportunities given to me. ... I have big dreams for my future. The road will be long and arduous, but it is not impossible. With determination, hard work, and a quality education, all of my hopes and dreams will come to fruition. And generous donors are helping make that happen.
- psychology major Mariah Symone Green, a Lincoln Scholar
Jasper Lown
I decided to enroll in the College of LAS primarily because of the generosity of the Lincoln Scholars Initiative and other financial assistance programs at Illinois. Without such financial assistance, I would not only have decided not to attend Illinois, but I very well may have not been able to invest in a university education altogether. Thanks to the rigor of Illinois' economics and mathematics programs, I have secured full-time employment at a Fortune 100 insurance corporation as an analyst, beginning in 2018. I consider myself incredibly fortunate to have been extended such an opportunity—an opportunity I would not have reached without the help of the Lincoln Scholars Initiative.
- economics major Jasper Lown, a Lincoln Scholar
Alexandra Trauth
I was born and raised in Champaign, Illinois, so the University of Illinois has always been just a car ride away. I pictured myself going to the University of Illinois ever since I was old enough to dream about college. … I want to make positive contributions to society and leave a lasting impact on my field, and it all starts with a good education. This scholarship will help to bring me a step closer to my goals by helping me afford that education.
- physics major Alexandra Trauth, winner of the Theodore and Audrey Brown Scholarship
News Source
College of Liberal Arts & Sciences