Chemistry professor named a scientist to watch
Joaquín Rodriguez-López is included on prominent Science News listing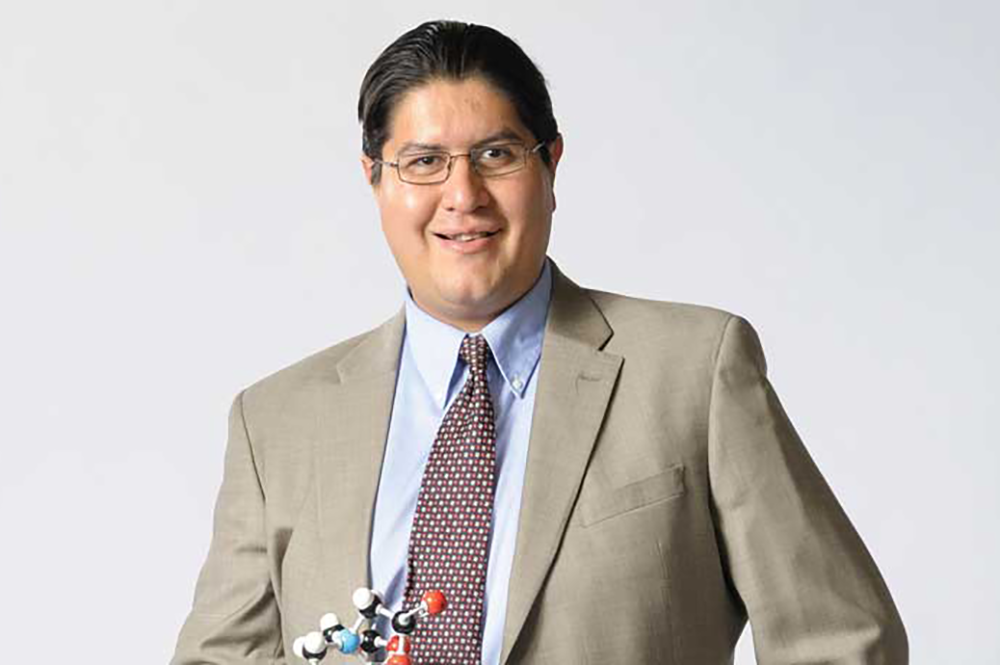 A chemistry professor has been named to Science News magazine's SN 10: Scientists to Watch list, a prestigious distinction spotlighting early- and mid-career scientists for tackling major challenges facing science and society.
Joaquín Rodríguez-López, 35, was selected for his efforts to expand affordable, renewable energy by designing materials to better store electric charge. The magazine recognized Rodríguez-López, who is also a faculty member at the Beckman Institute for Advanced Science and Technology, for his ability to look beyond his own discipline to address aspects of renewable energy.
"I feel an immense gratitude to Science News and the people involved, great happiness because it acknowledges the work of my group and all of its members, and humbleness because I think this type of awards give us the opportunity to realize that others care about our work," Rodríguez-López said.
Each scientist included in the SN 10 was nominated by a Nobel laureate or recently elected member of the National Academy of Sciences. All are age 40 or under, and were selected by Science News staff for their potential to shape the science of the future. This is the fourth year Science News has established the SN 10.
"It's not surprising that members of the SN 10 class of 2018 are looking to other disciplines to find solutions to some of our world's grandest challenges," said Nancy Shute, editor in chief of Science News, in a press release. "Today's best scientists understand that they need to think beyond boundaries and what has been done before. There's a fearlessness and drive that made these researchers stand out."
Two U of I alumni, Shahzeen Attari (BS, '04, engineering physics), a professor at Indiana University, and Ibrahim Cissé (MS, '06; PhD, '09, physics), a professor at Massachusetts Institute for Technology, were also named to the Science News list.
Rodríguez-López creates new electroanalysis methods for energy materials, as he and his team continue to explore new and creative ways to improve cutting-edge materials for energy technologies. The team is part of the Joint Center for Energy Storage Research, an "energy innovation hub" at the U.S. Department of Energy which was recently renewed for five years to carry out research on innovative chemistries for redox flow batteries.
"Renewable energies are here to stay, and they will have a dramatic impact in the way we handle our energy demands. There is also a great impact on the scope of technologies they will impact," Rodríguez-López said. "We need to find new batteries and new ways to distribute energy storage and conversion. Our group contributes to new ideas to make these batteries possible."
In the Science News profile of Rodríguez-López, he explains that the lithium-ion battery may power cell phones and laptops, but it's not the most efficient way to store large quantities of energy generated by wind turbines or solar panels, which are stored in flow batteries. In his lab, Rodríguez-López works to improve the flow battery.
"I've created meaningful collaborations, had an impact on student's life through training and completion of their degrees while at the University of Illinois," said Rodríguez-López, a native of Mexico. "I have formed a new wave of scientists that will carry teachings of how to think creatively and how to be excellent at what they do. Recently, I was awarded tenure, promotion to associate professor at the university, so I look forward to a new era in my lab, and to creating new and exciting science with all involved in our scientific course. We are very grateful for everyone that has supported us and everyone that has taught us a lesson to become better scientists."