The success of LAS alumni award winners hinged on pivotal events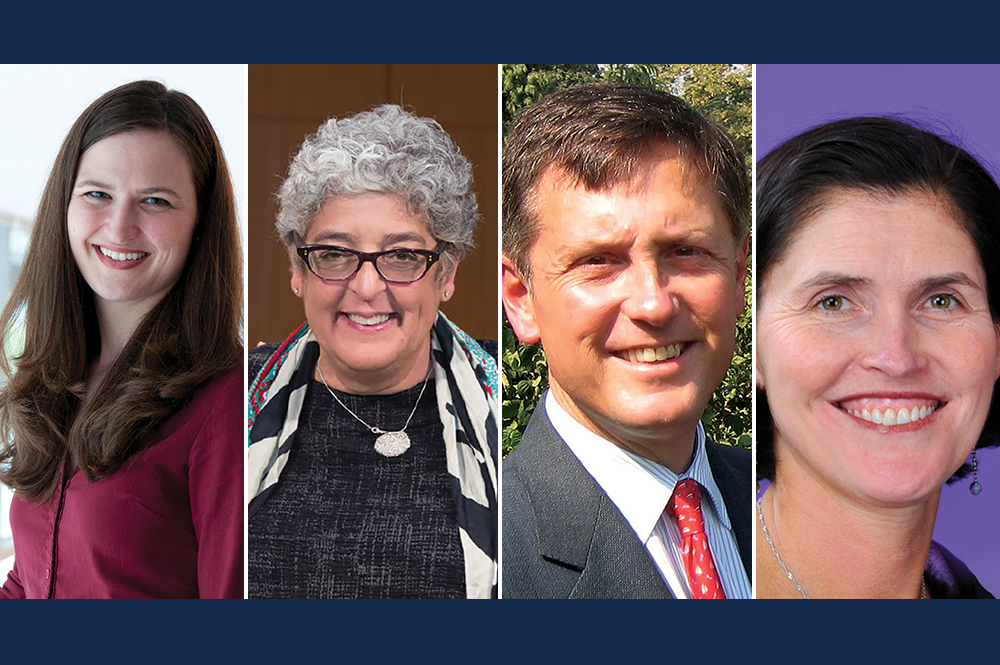 Like so many people in the United States, one of this year's LAS alumni award winners saw her life permanently changed on September 11, 2001, when planes struck the World Trade Center. That's when she decided to return to the National Security Agency.
For another award winner, her defining moment was when she decided to program a microscope in the lab of her LAS professor. And for another, the moment happened when a neighbor told her about an internship in the Chicago mayor's office.
Each winner of an alumni award this year has had just such a defining moment, sending them on unexpected career paths. These alums went on to define new approaches in their respective fields, including economics, microbiology, chemistry, mathematics, cellular and structural biology, and humanitarian work. Read on to learn more—and follow the links for more in-depth profiles.
Anne Carpenter (PhD, '03, cellular and structural biology)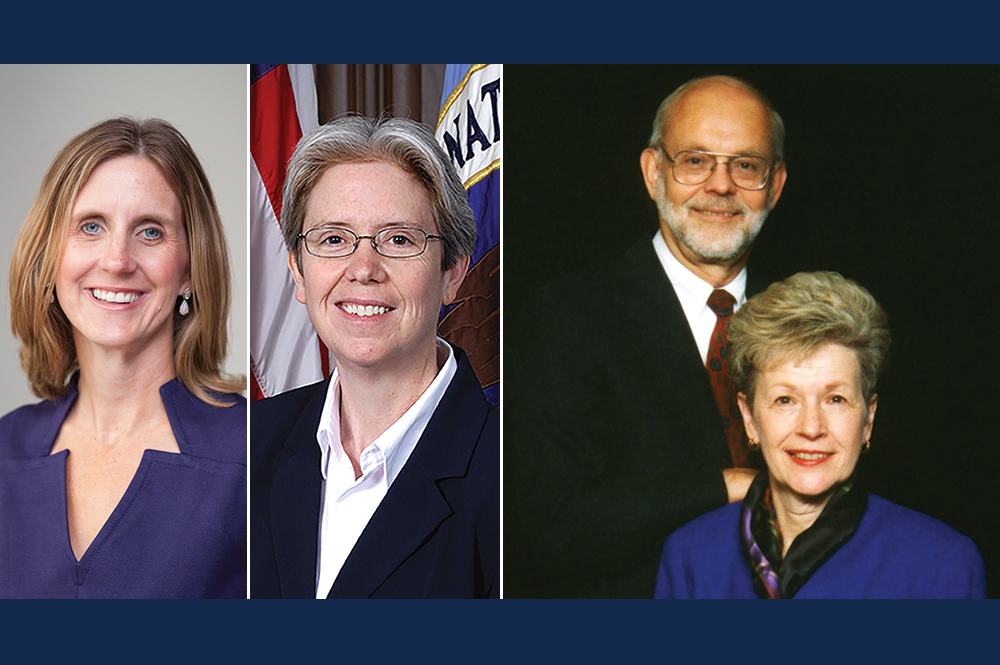 LAS Outstanding Young Alumni Award
Anne Carpenter's life changed dramatically the weekend she decided to automate the process of measuring dots of chromatin in the lab of LAS professor Andrew Belmont.
That got her hooked on programming.
Today, Carpenter is at the Broad Institute of Harvard and MIT, leading a research group that works on CellProfiler, which she developed. CellProfiler is the first open-source, high-throughput cell image analysis software, and it is being used to do breakthrough research on diseases ranging from leukemia and Ebola to cancer and tuberculosis.
Biologists around the world use this software to measure more than 1,000 features of cells. CellProfiler is launched hundreds of thousands of times per year and has been cited in more than 6,000 academic papers and counting.
Carpenter said software engineering is a surprising path for a cell biologist, but this is par for the course for scientists.
"That happens when you follow your curiosity," she said.
Joanne Chory (MS, '80; PhD, '84; microbiology)
LAS Alumni Achievement Award
Joanne Chory's approach to plant genetics has been described as "letting the mutants lead."
Chory's use of mutant species, grown in total darkness, led to her first breakthrough discovery in 1989, revealing how plants respond to light at the cellular level. It also led to a cascade of other discoveries on plant growth, development, and cellular structure.
But "letting the mutants lead" is only part of the picture. Chory is a leader in her own right at the Salk Institute, where she directs the Harnessing Plants Initiative. She and her colleagues hope to develop "super plants" that better sequester carbon dioxide in their roots. The idea is to dramatically reduce the amount of CO2 being released into the atmosphere— the primary culprit behind the world's changing climate.
"If we go up another couple of degrees Celsius, the world is going to be a very different place," she said. "This is a good time for biologists to step up."
Richard Clarida (BS, '79, economics)
LAS Alumni Achievement Award
When Richard Clarida attended the University of Illinois in the late 1970s, he recorded music in the attic studio of a friend on campus. And after graduating in economics in 1979, he always vowed he would record again—but it took over 35 years before he put out a music CD in 2016.
He had a good excuse for the delay.
During the interval, he taught at Yale and Columbia, served on President Reagan's Council of Economic Advisers, worked as assistant secretary with the United States Treasury, and consulted for the Group of 30, a project led by Paul Volcker, legendary chairman of the Federal Reserve.
Clarida also developed models to predict how the economy reacts when it is hit by shocks. The model he created with several co-authors has been picked up by virtually every central bank in the world.
Most recently, he has been confirmed as vice chairman of the Board of Governors of the Federal Reserve System. Clarida is also working on a second CD—when he finds the time, that is.
Rebecca Snyders Darr (BS, '90, psychology)
LAS Alumni Humanitarian Award
Valentine's Day, when you expect love the most, was the day when a woman named Sarah said she got hurt the worst. But in 2005 she fled her abusive relationship, becoming one of the first to find shelter in a new WINGS safe house in Rolling Meadows, Illinois.
Rebecca Snyders Darr directs WINGS, the largest network of domestic abuse shelters in Illinois. She led the effort to build the Rolling Meadows safe house, as well as another safe house in Chicago in 2013, not to mention several transitional homes and apartments for women, men, and children escaping domestic violence.
Since Darr began as executive director of WINGS in 1999, the organization has expanded its staff from eight people to 80, and it has grown its assets from $600,000 to $22 million. Most importantly, WINGS has helped thousands of abuse victims.
Ninety-four percent of those in their safe houses do not return to the abuser, and when people go through their longer program, the success rate is 100 percent.
Marie Trzupek Lynch, (BA, '94, history)
LAS Alumni Humanitarian Award
Marie Trzupek Lynch was a graduate student when a neighbor told her about an internship in the Chicago mayor's office, opening the door to her big break.
However, Lynch didn't always have such connections. Growing up in a blue-collar neighborhood in the Chicago suburbs, she learned that where you live can have a big impact on the opportunities you're given.
Today, she devotes her life to improving people's economic mobility, no matter what their zip code might be. She is the founding president and CEO of Skills for Chicagoland's Future, which is built on an innovative, demand-driven model focused on job placements.
Since Skills began in 2012, the program has grown from a staff of 10 to 45 in Chicago, and they have gone from placing 539 people in jobs the first year to placing over 1,200 per year, most of them low-income.
The Skills program also launched in Rhode Island in 2016, the beginning of a national expansion. As Lynch explains, Skills acts like that helpful neighbor, getting people in the door.
Mary Lynn Reed (MS, '90; PhD, '95; mathematics)
LAS Alumni Achievement Award
Two days after planes struck the World Trade Center on September 11, 2001, Mary Lynn Reed began doing counterterrorism work at a research center in La Jolla, California—a center that does work exclusively for the National Security Agency.
For Reed, this was actually a return to the NSA because she had already worked for the agency for several years in Maryland. That made it possible for her to go back to doing NSA work immediately.
Reed was promoted to the senior ranks in 2014, and in 2016 she became NSA's chief of mathematics research—not bad for someone who thought she might not make it through the intense PhD program in math at Illinois.
In the midst of her pressure-cooker job, she tries to find time for her other passion—creative writing. Reed has published several short stories and is working on a novel. It's a coming-of-age story about a young female mathematician—something she knows a fair amount about.
John (PhD, '61, chemistry) and Margaret Witt
Dean's Quadrangle Award
John Witt said he's always been a "Big Ten guy," but it was the Big Four and the excellent reputation of the Department of Chemistry that drew him to the University of Illinois in 1957.
The Big Four was the name given to four internationally renowned organic chemistry professors at Illinois. One of them, Harold Snyder, was Witt's adviser, and Witt credits Snyder with giving him the academic foundation that led to his success. Witt was on the founding team of NutraSweet—the phenomenally successful artificial sweetener—and today he maintains close ties with Illinois.
In the late 1990s, he and his wife, Margaret, set up a fellowship program for U of I chemistry graduate students, and in 2013 they established the Witt Endowed Professorship in Chemistry. Recently, the Witts created an endowment for undergraduates.
Witt also served on chemistry's alumni advisory board to help ensure that chemistry remains at the top in the country. As he said, "Chemistry at Illinois is in really good hands."