Chad Rienstra named John Witt Professor of Chemistry
Faculty member known for research on brain diseases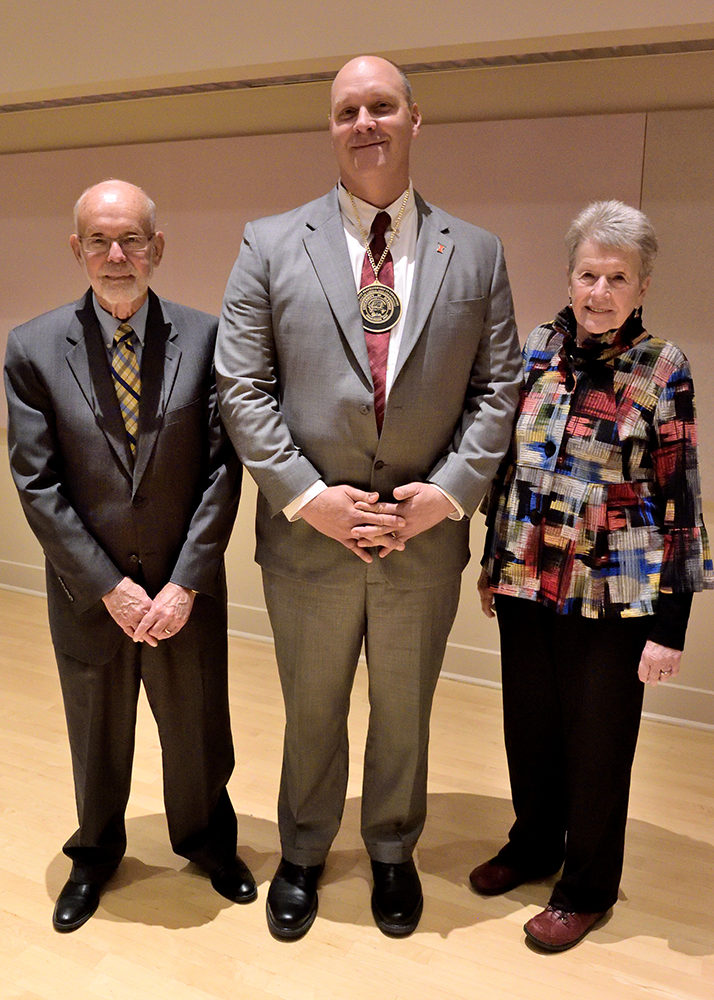 Chad Rienstra, a chemistry professor at Illinois since 2002, was named the John Witt Professor of Chemistry in a ceremony lauding his work in research and teaching.
Rienstra's research into producing high-resolution structures of protein structures through nuclear magnetic resonance technology has driven progress in medicine, especially in brain diseases associated with aging.
"To be at the top of the top of a really high-level institution in one of the most well-renowned chemistry departments in the world says a lot to the work that's been done here," said Paul Ellinger, associate chancellor and vice provost for budget and resource planning, at a ceremony honoring Rienstra. "Things that happen here are changing the world."
Rienstra said support from donors are critical sources of funding for nascent research programs. Being named the John Witt Professor of Chemistry will provide him money to conduct research.
"It's incredibly special to have such a strong vote of confidence expressed in the long term directions of my research program," Rienstra said. "These types of funds are flexible and allow us to support research projects early in the process where we're starting new directions."
Rienstra's work is highly regarded, as he has received multiple federal grants, fellowships, and awards, including the Founders Medal from the International Conferences on Magnetic Resonance in Biological Systems, a prestigious award awarded to only one recipient every other year.
"I think what impresses me the most about Chad is that not only is he an excellent scholar, he's also an award-winning teacher and someone who has done a great deal of service to the community both internally and externally," said Feng Sheng Hu, the Harry E. Preble Dean of the College of Liberal Arts and Sciences. "In other words, he's the type of faculty member we try to inspire our new assistant professors to become: a scholar with a balanced portfolio of accomplishment in research, teaching, and service."
The professorship was established by John Witt (Ph.D, '61, chemistry) who was working at G.D. Searle, a pharmaceutical company in Chicago, when a chemist discovered the sweetness of the compound aspartame—which the company named NutraSweet. Witt was one of about a half dozen employees who started Searle's NutraSweet division.
After retiring from NutraSweet, Witt founded Witt Science Consulting, advising small pharmaceutical and venture capital firms in developing new drugs. Witt and his wife, Margaret, received the 2018 LAS Dean's Quadrangle Award.
"Illinois has been an important part of our lives for a very long time and we really enjoyed our time here," Witt said. "NMR (nuclear magnetic resonance) has had a long and rich history at Illinois, and we have another opportunity to make a stop in that road as we recognize Professor Rienstra for all of his work in NMR and all the other contributions he's making to the department and university."
John and Margaret Witt also endowed the John and Margaret Witt Fund in the Department of Chemistry that awards five or six fellowships annually to graduate students and beginning faculty in chemistry.
"John and Margaret are very special people who have made a commitment to making the world and Illinois a better place," said Greg Girolami, chemistry professor and former head of the Department of Chemistry.