Hong Yang named Richard C. Alkire Chair in Chemical Engineering
Professor is recognized for his work in nanostructured materials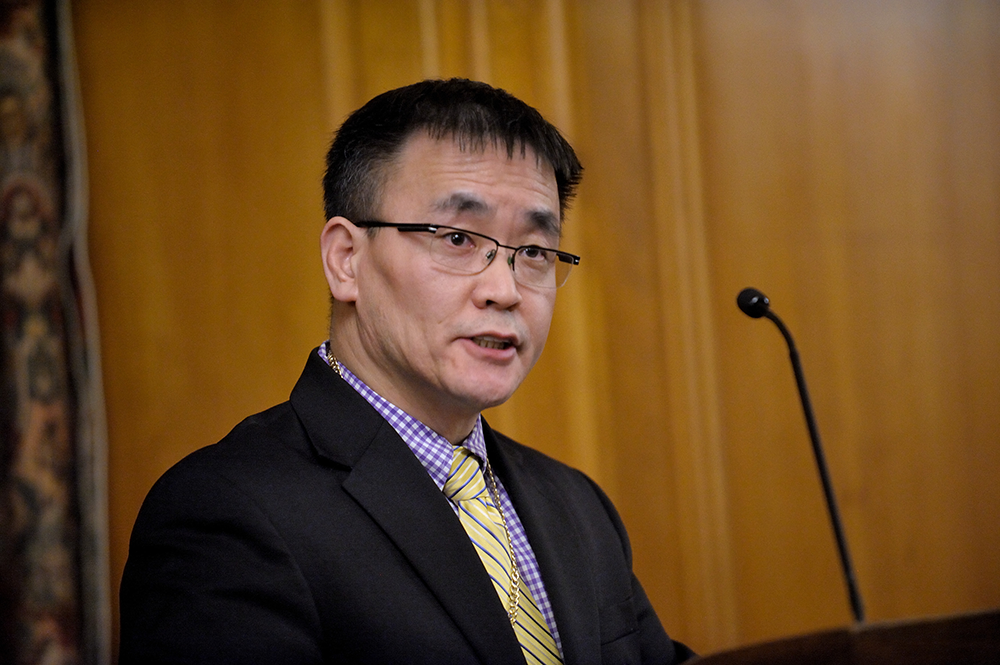 Hong Yang, a chemical engineering professor at Illinois since 2012, has been named the Richard C. Alkire Chair in Chemical Engineering in a ceremony honoring his commitment and leadership within the field.
Yang is recognized worldwide for his contribution to the fundamental understanding and processing of nanostructured materials such as precisely controlled metal, metal alloy, and oxide nanoparticles. Yang's research places an emphasis on sustainability, with research applications in energy and chemical conversion as applied to fuel cells and batteries, generation of hydrogen, and utilization of carbon dioxide. He is one of the most cited researchers in his field.
Provost Andreas Cangellaris awarded Yang his medallion to celebrate the investiture.
"Hong Yang is celebrated across the world," Cangellaris said. "The work that professor Yang is doing is truly pioneering for the green future of our world. He has ways of making things happen that a few years ago were unthinkable."
Yang graduated from Tsinghua University, Beijing, China, in 1989 with a bachelor's degree. In 1994, he earned his master's degree from the University of Victoria, and in 1998 he earned his doctoral degree from the University of Toronto. He joined the faculty at the University of Rochester, and in 2012 he joined the Department of Chemical and Biomolecular Engineering at Illinois.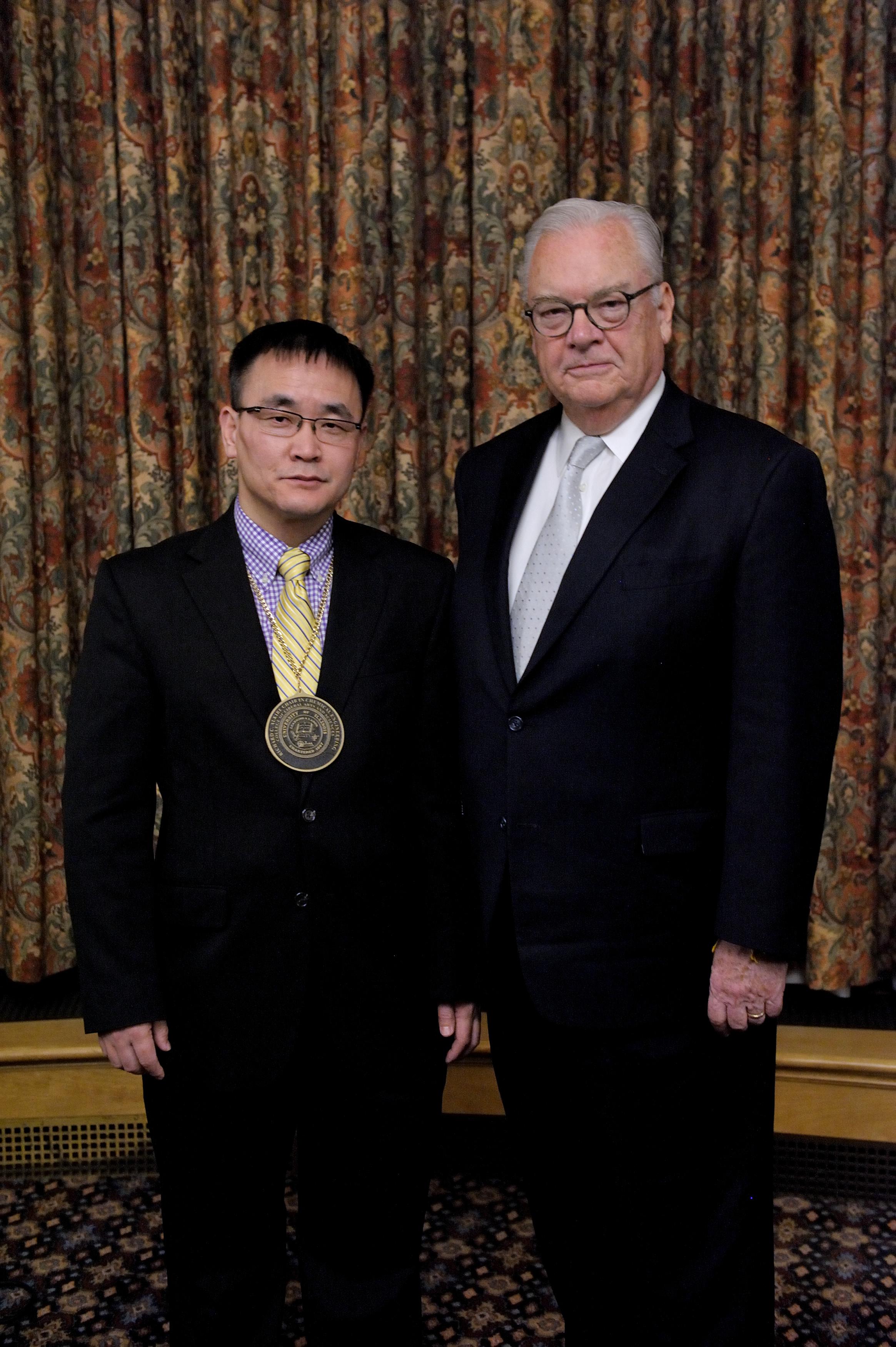 "In the early days after my arrival, I often heard from people raising the question of why I chose to make a mid-career move to Illinois. I often attributed it to the excellence in its engineering research and great infrastructures," Yang said. "I now know that for many who grow to like the university, the appeal of this university and the college is more than that. It is the community and all the neurons deep in its roots which make this place both friendly to collaborate in and tough in terms of challenging its faculty to consistently bring their A-game in order to meet the academic vigor demanded by the community."
The Richard Alkire Chair in Chemical and Biomolecular Engineering recognizes expertise and academic abilities within the field of chemical engineering. The predecessor of this named position was established by Charles J. (BS, '44, chemical engineering) and Dorothy G. Prizer.
Prizer spent the majority of his professional career serving in a variety of executive roles for the Rohm & Haas Company, including corporate vice president in several divisions. He retired as vice president and regional director of corporate operations, North America region.
The present chair was also established through the generosity of former students and friends of Alkire, who joined the department in 1969. Alkire, the Charles J. and Dorothy G. Prizer Chair Emeritus, is a member of the National Academy of Engineering.
"The donors to this chair are expressing a sense of deep gratitude that has lasted for decades.  It is deeper than a high H-Factor, or an impressive front cover on a prestigious journal. It is to be cherished.  It is a core value of a great university. These donors want to pay back for something important that happened when they were students here.  It is that spirit that is embedded in this chair," Alkire said.
During the ceremony, Yang thanked his colleagues and LAS, as well as his wife, Xinhong, and two children, Chloe and Dan.
"Investitures bring together everything I love about the academy. Fantastic faculty, remarkable students, family, and donors," said Matthew Ando, associate dean for life and physical sciences in the College of LAS. "Hopefully the trust placed upon you in this way will enable you to act when great ideas happen. What's really exciting is when someone gives you the resources to pursue a great idea with a friend down the hall. That's what these investitures do."