English professor explores the history of expeditions to Antarctica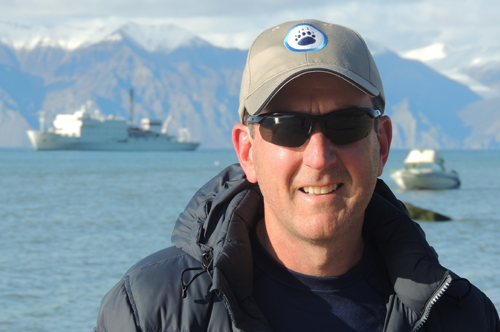 Gillen D'Arcy Wood, English professor at the University of Illinois, wants to reveal to readers a wonderland — Antarctica.
Wood's upcoming book, "First Ice: The Antarctic Discovery Voyages and their Legacy," delves into three expeditions to Antarctica between 1838 and 1842. Through it, Wood explores the history of South Polar discovery in both a narrative and scientific way.
Wood interweaves the three voyages by British, American, and French explorers with the geological history of Antarctica's genesis as an ice kingdom, reaching back millions of years. Wood spent five weeks on a ship in Antarctica in January of 2017 studying the land and the environment to help contextualize his writing.
He said the trip was one of the best experiences he's ever had, skirting an ice-bound continent the size of the United States, populated by penguins, seals, and fleets of polar sea birds.
"It's a very hallucinatory place," Wood said. "You just have bright blue and white so a lot of other colors drift away. All the smells drift away because it's too cold for kelp and for many sea creatures."
Wood's book tells the captivating stories of the first exploration of Antarctica by British commander James Ross, French commander Captain Jules Dumont d'Urville, and American commander Charles Wilkes. In the beginning, however, Wood had a hard time figuring out how he was going to tell the story. Since "First Ice" encompasses three separate voyages that happen virtually simultaneously, it was difficult to capture the story chronologically. He wrote 120 pages, and stopped.
"I spent a couple of years on the wrong track," Wood said. "The material was extremely complex and dense. When I started to write a couple of summers ago I was really hamstrung by chronology and telling the story in order."
Whenever Wood, author of the award-winning "Tambora: The Eruption that Changed the World" (Princeton, 2014), gets a case of writer's block, he finds inspiration in his favorite writers. He started thinking about Lewis Carroll's "Alice in Wonderland," and saw a liberated narrative structure that he thought could work in "First Ice." 
"I could just go to the places that I wanted to go to," Wood said. "I could focus on the most dramatic episodes. For instance, the American expedition ends up on the wildest, stormiest coast in Antarctica. They had no idea where they were going and just by pure chance they end up on the stormiest place on the planet."
Some may consider it uncommon for an English professor to write a science-heavy account of the discovery of Antarctica, but Wood explained that Romanticists, like the Romantic writers they teach, often write about nature and the environment. Glaciers, like erupting volcanoes, come with the territory.
Wood said he felt lucky to have an abundance of campus resources at his disposal in researching the book.
"We have amazing people on campus so I can always ask questions," Wood said. "I think being on a campus that is so strong in the physical sciences really helps."
Wood has always been interested in writing about the environment, specifically climate change. He hopes  "First Ice" will help turn people's attention to Antarctica at a time when its vital glaciers are under threat from global warming—and the key to getting readers' attention is telling a good story.
"I don't want it to be me just delivering information," Wood said. "Everything is a discovery."
"First Ice" will be published by the Princeton University Press in 2019.