LAS professor named a Sloan Research Fellow
Fellowships are given to promising young scientists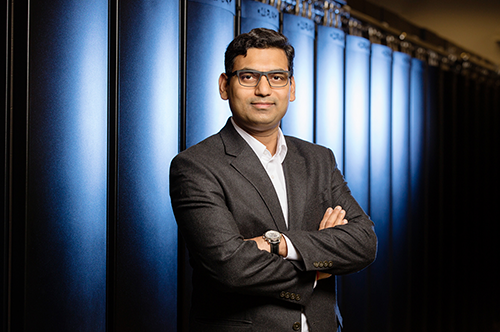 A scientist in the College of LAS is among 126 recipients of the 2019 Sloan Research Fellowships from the Alfred P. Sloan Foundation. According to the foundation, the awards "honor early career scholars whose achievements mark them as among the most promising researchers in their fields."
This year's LAS recipient is chemical and biomolecular engineering professor Diwakar Shukla. U of I electrical and computer engineering professor Haitham Al-Hassanieh also received a fellowship.
Shukla uses physics-based models and techniques to understand complex biological processes such as the regulation of protein structure and function, with applications in food security and human health. He joined the Illinois faculty as a Blue Waters professor in 2015. He is an affiliate of the department of plant biology, the Center for Biophysics and Quantitative Biology, and the National Center for Supercomputing Applications. He is a graduate of the Indian Institute of Technology in Mumbai and received a PhD from MIT. The fellowship will support his work in chemistry.
Al-Hassanieh works on designing systems and algorithms for wireless networking and mobile sensing in order to enhance and scale connectivity in future networks and the "internet of things." The fellowship will support his work in computer science.
"Sloan Research Fellows are the best young scientists working today," said Alfred P. Sloan Foundation president Adam F. Falk. "Sloan Fellows stand out for their creativity, for their hard work, for the importance of the issues they tackle, and the energy and innovation with which they tackle them."
A full list of the 2019 Fellows is available at the Sloan Foundation website.
News Source
Diana Yates, Illinois News Bureau