School of Molecular and Cellular Biology creates an inspiring new space for instruction and advising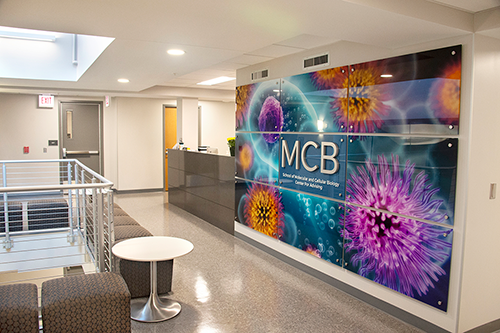 This year, Katie Frye, a teaching assistant for MCB 150, enjoys engaging, active learning classrooms and other advanced facilities for her students. That's because Frye, a graduate student in the Department of Microbiology, conducts her office hours and teaches in the new learning center located in Burrill Hall.
The School of Molecular and Cellular Biology Learning Center for Instruction and Advising was completed at the start of the fall semester as part of a $5.2 million renovation that turned the former Biology Library into 21st century learning environment.
"It's amazing," Frye said. "I love everything about this new learning center and the new classrooms. They're so much better than what we used to have."
Milan Bagchi, director of MCB and the Deborah Paul Endowed Professor of Molecular and Cellular Biology, said he thinks the learning center has enhanced the student experience at the university. He said he loves seeing students and faculty interacting in the learning center.
"This welcoming and aesthetically pleasing space has really enhanced the student experience at the university," Bagchi said.
The learning center was created after the university decided to close the Biology Library, with the book collections moved to the Funk Agricultural, Consumer and Environmental Library and other sections of the University Library. After the decision to close the library, the School of MCB proposed to convert it into the learning center.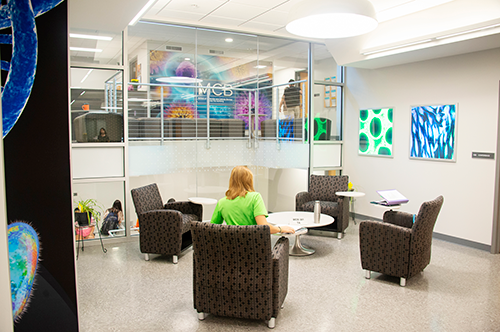 The 12,000 square-foot learning center is four floors and includes computers, study tables, advising rooms, and classrooms, all of which provide students with the space and tools necessary to be successful at the university, planners said. Bagchi estimates that the learning center can accommodate about 200 students, advisors, instructors, and faculty members at any one time.
The center includes a 30-station computer classroom, a free-form seating area for relaxed working, and four smaller rooms with glass walls for the Writer's Workshop, conflict exams, small group work, and meetings. The center also houses the MCB Advising Suite, six active learning classrooms, and the MCB Instructional Program Office.
One of the more visible additions was a clerestory—a box of windows on the roof allowing a column of natural light to be conveyed to all four floors of the learning center.
Melissa Michael, assistant director for undergraduate instruction for MCB, said the unveiling of this new learning center represents the culmination of more than a decade of planning.
"Now students can attend class, see an academic advisor, attend office hours, attend a workshop, study or meet friends to work on a project all in the same building," Michael said. "We are hopeful that this will make life a little easier for our students and will help to foster a sense of community."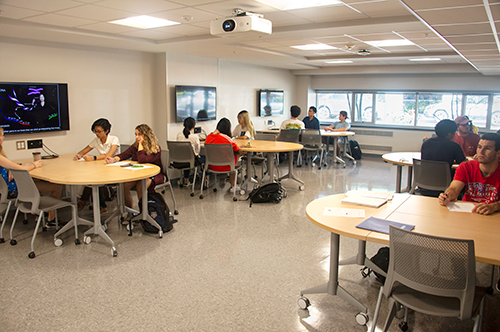 Michael also said that one of the main goals of the learning center was to provide students with "a sense of belonging, ownership, and pride in a space that is large enough to meet the needs of the whole School of MCB community but is intimate enough for users to connect on a personal level" and she believes the learning center has accomplished just that.
Alexis Sims, sophomore in community health, is taking MCB classes to prepare for dental school. Sims went to the learning center to check out a text book that she needed for a class. She said the learning center is very bright, clean, and inviting.  
"I like that there's a lot of computers to use. It's comfortable, spread out, and you don't feel like you're sitting on top of each other," Sims said.
Bagchi noted that the learning center helps bring together students from all four departments within the School of MCB — including biochemistry, cell and developmental biology, microbiology, and molecular and integrative physiology. Beyond that, officials hope that the new center will be used as a model for additional learning centers on campus.
"We believe that the MCB learning center will provide a wide array of services and at the same time provide a hub for students studying in MCB courses," Michael said. "It is intended to be an integrative and flexible space that can meet the needs of our community now and for many years to come."