Illinois students help revitalize a community
What's key to restoring Chicago's Bronzeville neighborhood? Asking the kids out to play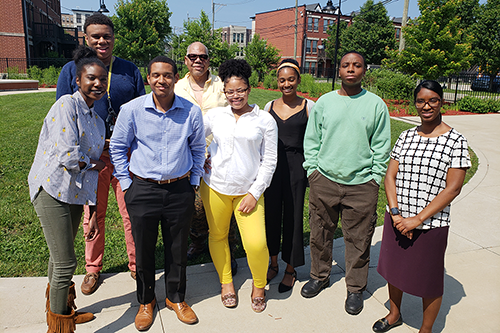 Something about the children she met last summer lingers with Jada Campbell. She's a political science major who interned with The Community Builders, a non-profit real estate developer that provides affordable housing and fosters community, and she spent the summer trying to get kids in Chicago's historic yet struggling Bronzeville neighborhood to get outdoors and socialize.
The children she organized programs for seemed "older than they actually were," she recalled recently. Such is life nowadays in Bronzeville, but for Campbell, who wants to someday run for office, it meant that there's a need for what she did. She wants to go back.
Campbell was one of about 20 Illinois students who interned with The Community Builders last summer as part of an ongoing effort by the Department of African American Studies to encourage students to participate in community engagement projects.
For example, they helped run Play Street, a program designed to encourage kids to socialize and get outdoors. They rolled out hula hoops and set up volleyball nets in the parks. They called parents asking them to allow their kids to play outside, sent out flyers, and played football with the kids.
They also helped organize youth basketball practices and games through Hoops in the Hood, a city-wide summer basketball program that provides children with safe places to play outside. Prada House, a sophomore who grew up in Bronzeville, said outdoor events that attract crowds of children and parents can help spark connections between people—and connect people in need with people who can help them.
"It just brings back life to the community," House said, of the work. "It makes people want to live there and have fun."
Khari Humphries, senior manager of community life for The Community Builders, hopes programs like Play Street will revive the sense of community in the neighborhood that has fractured after school closings and a dwindling supply of affordable housing.
"A lot of kids go to loads of different schools, not just one neighborhood school. So getting kids playing with each other and getting their parents outside helps people get to know each other and build social cohesion," he said.
It's important to include college students such as Campbell, House, and the others who helped their programs, said Humphries, who also grew up in Bronzeville. College students can serve as role models for neighborhood children.
"In communities like ours, it's important for young people to see a representation of their community in college," Humphries said.
William Conwill, a professor in the Department of African American Studies at Illinois, said The Community Builders has had an undeniable impact on an area with a long history of poverty and segregation. Racial restrictions in the early 1900s crowded black Chicagoans into the area now known as Bronzeville on the city's South Side, Conwill said.
 In the decades after the 1930s, Bronzeville metamorphosed into a mecca for African Americans, producing famous black artists, writers, scientists, and intelligentsia, and became more famously known as the "Black Metropolis." However, Conwill said that over time, crime and non-delivery of services became problematic.
"Garbage never got picked up, things that broke never got fixed," he said. "The city and the management was just not in tune with what the needs were."
Revitalization efforts have been initiated, such as The Community Builders, which began rehabilitating neighborhoods, creating mixed income housing, and hosting programs that encouraged people to interact with their neighbors. Their work, and the organization's desire to include college students in its efforts, created a connection between the organization and the Department of African American Studies.
Over the summer, student interns did everything from working in the accounting department auditing several million dollars of expenses to organizing back to school programs and events meant to bring the neighborhood together.
"They can be huge resources for the community through volunteerism, through research, all of that," Humphries said. "We're interested in a pipeline of talented individuals so when they graduate we can provide them employment opportunities."
There were other takeaways from the experience, as House happily recalled. After a summer of breaking out the sidewalk chalk and inflating bounce houses in the parks, the kids had started calling her their big sister.