Zaida (Zan) Luthey-Schulten named Murchison-Mallory Endowed Chair in Chemistry
Longtime Illinois professor celebrated for her contributions and inspiration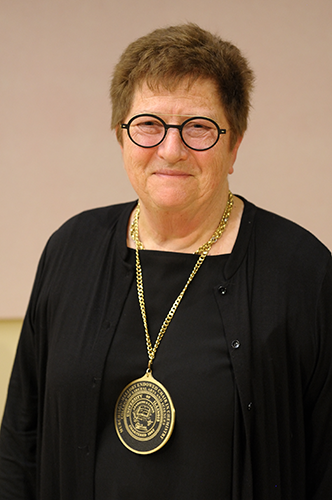 Zaida (Zan) Luthey-Schulten has been named the Murchison-Mallory Endowed Chair in Chemistry in a ceremony honoring her success, leadership, and inspiration in her field and on campus.
Colleagues, friends, and family gathered at the Spurlock Museum to celebrate this distinction and highlight her accomplishments.
"Today is an opportunity to celebrate Professor Luthey-Schulten's scholarly work, and to express our deepest appreciation for her contributions to our university's excellence," said Provost Andreas Cangellaris. "The endowed chair is a singular distinction our university bestows on our most distinguished colleagues to honor their extraordinary scholarship, and to acknowledge their intellectual role in setting the standard for scholarly excellence all of us should aspire to."
Luthey-Schulten is the co-director of the Center for the Physics of Livings Cells at Illinois, a National Science Foundation Physics Frontier Program. Additionally, she is a co-investigator in the National Institutes of Health Center for Macromolecular Modeling and Bioinformatics at the Beckman Institute, and the NASA Astrobiology Center for Universal Biology at the Carl Woese Institute of Genomic Biology.
The late Meredith Mallory Jr. (BA, '40, sciences and letters) established the Murchison-Mallory Endowed Chair in Chemistry in 1995 to aid the university in its efforts to provide fundamental instruction to undergraduate students in fields such as engineering, medicine, and chemistry.
"I am indebted to all of my coworkers," Luthey-Schulten said. "We've been generously funded and I want to thank the university for this wonderful award."
Luthey-Schulten received her master's and doctoral degrees in applied mathematics and chemistry from Harvard University and her postdoctoral training at the Max-Planck Institute for Biophysical Chemistry in Gottingen, Germany. After working as a research associate in the Department of Theoretical Physics at the Technical University of Munich, Luthey-Schulten returned to the United States and joined the University of Illinois in 1987.
For her work on the energy landscape theory of protein folding, she became a Fellow of the American Physical Society in 2000. For her development of whole cell simulations modeling reaction-diffusion networks and metabolic pathways in entire cells, she became a Fellow of the Advanced Studies Institute at the Ludwig Maximilian University of Munich in 2014 and a Fellow of the Biophysical Society in 2019.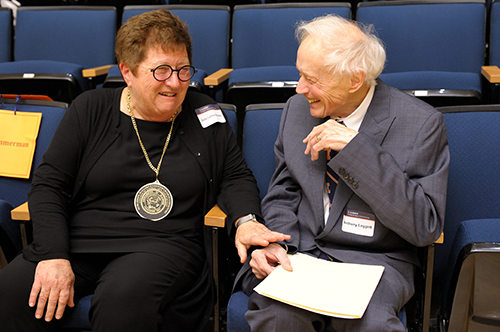 "Professor Luthey-Schulten has had a long and distinguished career since calling the University of Illinois home for almost 30 years," said Feng Sheng Hu, the Harry E. Preble Dean of the College of LAS. "In her time on campus, she has inspired many colleagues, countless students, and greatly advanced our understanding of cells and how they function."
Luthey-Schulten's research group develops the GPU-based software Lattice Microbes for spatially-resolved simulations of stochastic processes in whole cells at biologically relevant length, time, and concentration scales. Her work integrates genomic information and imaging data from super-resolution and cryo-electron tomography experiments, allowing her to produce realistic and predictive kinetic models of complex cellular functions and networks. She is currently working to extend her hybrid stochastic-deterministic simulations to model processes within the nucleus of human stem cells and its cellular organization.
Luthey-Schulten was presented a medal and plaque. She provided an overview of her research, displaying to attendees a visual timelines of cell changes, functions, and development created from software.
Mallory began his career on active duty in World War II while in medical training, receiving his medical degree from Tulane University. He specialized in the effects of radiation and was part of a medical team that monitored the safety of staff exposed to radiation. The chair is named for Mallory, who died in 2012, and his wife, Patricia Murchison, who died in 1980.
"His very generous gift of the endowed chair was a reflection of his loyalty to Illinois and his desire to enable innovating teaching," said Steve Zimmerman, the Roger Adams Professor of Chemistry, who spoke about Mallory's legacy at the ceremony. "Mallory specified that the holder of the chair should be chosen on scholarly and teaching credentials, as well as on his or her ability to convey the importance of rigor, discipline, and intellectual integrity in the advancement of science."