LAS alumnus James Holzhauer becomes a "Jeopardy!" phenomenon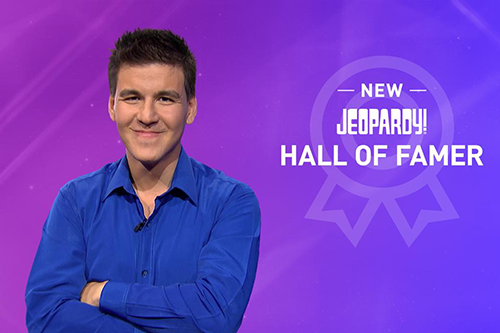 How do you achieve success?
One way is to go to college, get a degree, get a job, work hard, and get promoted. Another way is to go to college, get a degree, become a professional sports bettor, and read children's books until you know the basics about, well, as far as anyone can tell, everything. Then you get on "Jeopardy!", play it like nobody's ever played before, break all kinds of records, and become a household name and a millionaire virtually overnight. That's James Holzhauer's way.
If you know anything about Holzhauer (BS, '05, mathematics)—and, if you've been paying attention to the news at all, you do—you'll know that he's taken an unconventional career path, to put it mildly. While Holzhauer, 34, traces some significance to his days at Illinois, he joked to LAS News that nobody in his line of work checks him for a college diploma.
For those who don't know, here's what has put Holzhauer in the public eye this spring: He's winning money, and fast. Since April 4 (Holzhauer will next appear on the show on May 20), he has won $1.7 million on "Jeopardy!", second only to Ken Jennings, who amassed $2.5 million in winnings on the show in 2004. What's more remarkable than the total number, however, is the speed at which Holzhauer has won the money. 
Through just 22 games, the Naperville native holds the top 12 spots for the show's highest single-game winnings, including a record $131,127 on April 17. An industry insider told The Atlantic magazine that the rate at which he's winning is likely causing an unprecedented budget problem for the television show.
How has he done it? Basically, Holzhauer plays the game in reverse from how it's been played until now. He answers the highest value questions first so that he can accumulate large amounts of money to bid aggressively on Daily Doubles and Final Jeopardy! clues.
"He has forced me to change a view that I have held for many years ... and that is that that the Ken Jennings record would never be broken," "Jeopardy!" host Alex Trebek told "Good Morning America." For his part, Ken Jennings told Wired magazine that he was "gobsmacked" by how Holzhauer is playing the game.
"Even if I weren't the one actually doing it, I always wanted to see someone play 'Jeopardy!' the way I do: Find the big money and then bet strategically and aggressively," Holzhauer told LAS News.  "Maybe it takes a pro gambler to not be afraid to move all-in on a Daily Double."
Of course, he also has to know a lot of facts to answer Trebek's questions. Holzhauer told the Chicago Tribune that in preparation for "Jeopardy!" games, he hits the children's section of the library.
"The books are filled with pictures and fun facts, they're a great way to learn the nuts and bolts of any subject," he said.
Holzhauer's unconventional success on such a well-known stage, and his approachability and willingness to grant interviews, has made him the subject numerous profiles and fan sites. He was gifted in mathematics as a child, and he told the New York Times that as a child he watched "Jeopardy!" with his grandmother, who immigrated from Japan to help her daughter raise the family.
Mathematics was a natural fit for Holzhauer at Illinois, and he picked up a job as an actuary after graduation. He became interested in sports betting, however, which led him to Las Vegas. He is now married with a child, but he still bets on sports for a living. He does it well; Holzhauer told the New York Times that half the casinos in Las Vegas won't take a bet from him.
Even so, he traces at least some of his career path to influences at Illinois, though not all of it went through Altgeld Hall.
"I took a class in 'applied math' at Illinois, but gambling is real-applied math," Holzhauer told LAS News. "There is no game I won't bet on if you give me good enough odds. I took a few classes on statistics and econometrics that did prove useful." 
One of Holzhauer's favorite memories from his time at Illinois was his stint as the president of the since-disbanded Illini Card Players club, which he said was initially founded to play bridge and spades but eventually expanded to poker.
"This definitely helped start me on my career path, and I also met several lifelong friends at the card table. After I graduated I transitioned to sports betting due to my love for statistics and sports," Holzhauer said, noting that one of his other favorite memories from his college years was when the Fighting Illini basketball team made it in the 2005 Final Four.
Holzhauer said that he also played online poker and ran a strategy website during his junior and senior years, though he always wanted to have a career in baseball statistics.
"Initially I set my sights on an MLB front office, but those have substantial barriers to entry," he said. "In sports betting, all you need is some money and the ability to consistently pick winners."
With his success, however, major league baseball teams have recently expressed a willingness to hire Holzhauer should he still harbor that dream. Indeed, it seems that the Illinois mathematics alumnus now has many promising options available to him. First, however, viewers want to see how far his bold tactics will carry him on "Jeopardy!" will carry him. 
"Everyone out there should try out for 'Jeopardy!,'" Holzhauer said. "This could be you!"
News Source
Dave Evensen and Samantha Jones Toal