The highest level diplomats between the U.S. and Niger are LAS alumni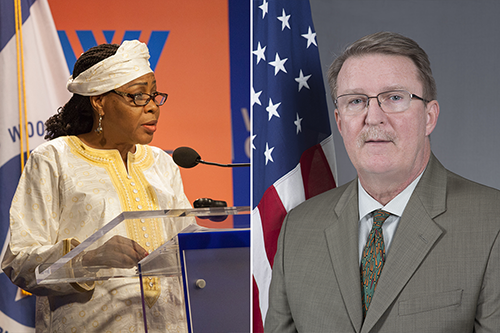 It was 2017 when Eric P. Whitaker first met Hassana Alidou. They came from opposite sides of the world, but they had common ground: Whitaker, then acting deputy assistant secretary of state for African affairs with 27 years of experience in the U.S. Foreign Service, was about to take on a new role as U.S. ambassador to the Republic of Niger. Alidou, meanwhile, was the Nigerien ambassador to the U.S. 
Then they learned that they had something else in common: The University of Illinois. Whitaker (BS, '78, biology; MS, '81, health education) and Alidou (MS, '91, PhD, '97, linguistics) are both graduates of the College of LAS.
Today, Whitaker works in the Nigerien capital of Niamey to lead America's bilateral relationship with the people and government of Niger and look after the interests of American citizens in Niger. As ambassador, Alidou—who stepped down from her ambassadorial post in March but remains an ambassador at-large for Niger—worked with the U.S. Department of State in Washington, D.C. Whitaker and Alidou rarely worked closely together, but they did meet on two separate occasions in Washington, D.C.
Alidou said that when they first met in 2017 it was wonderful to learn that they were both Illini and representing their home countries.
"I was really happy that somebody from the University of Illinois was going to Niger," she said.
Named after the Niger River, the Republic of Niger is a West African nation of about 21 million people  that borders Nigeria, Benin, Burkina Faso, Algeria, Mali, Libya, and Chad.  Roughly twice the size of Texas, Niger was a French colony in the early 20th century until 1960, when it became an independent nation.
Whitaker and Alidou took very different paths to reach their similar posts. Whitaker said that he felt very fortunate to have studied at Illinois. It launched him on a successful career that eventually led to his current post, he said.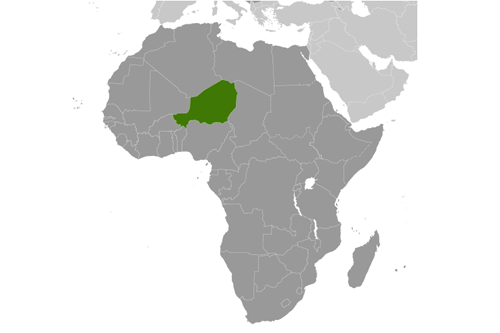 "My exposure to the diverse student population, including international students, as well as spirit of service to nation and others, led me to both join the Peace Corps as a volunteer and the Foreign Service at the Department of State," he said. "My knowledge of health issues has helped me tremendously in my predominantly African posts as a Foreign Service officer," Whitaker said.
Alidou earned her undergraduate degree in 1987 from the Université de Niamey with a bachelor's degree in linguistics. She eventually came to earn her graduate degrees in the same subject. Alidou said her time at LAS was the beginning of her career, as she had professors who were focused not only on how students fared in class, but on the students' future.
One of Alidou's professors at Illinois, the late Kate Cloud, who directed the Office of Women in International Development at the university, has had a lasting impact on Alidou.
"She was the first one to say, 'You are not just getting a master's, you are not getting a PhD, but you are becoming a world leader,'" Alidou said. "And it stuck in my mind. Whatever course I'm taking, I try to figure out, 'How will I use this later on?'"
Alidou also had experience at Illinois as a research assistant and teaching assistant, which she said helped her later on as she became a full professor at Alliant International University in California from 2001 to 2009. She then became regional director for the United Nations Educational, Scientific and Cultural Organization (UNESCO) for nine western African countries.
"And it was from there that the President of the Republic of Niger called me and said, 'I want you to come back home and I want you to head to Washington, D.C., to become our Ambassador,'" Alidou said. "That's how it happened."
Her four-year ambassadorship to the United States ended in March, but she now works as ambassador-at-large for Niger, meaning she has the flexibility to be an advocate for Niger even if she's not at the embassy. In September 2018, she received a Distinguished Alumna Award from the Africa-America Institute for education and diplomacy.
Whitaker worked as a teaching assistant at Illinois before graduating and going on to serve in the Peace Corps as a community health development volunteer in the Philippines. He then worked for several years with the city of Lodi, California. 
For Whitaker, his role as U.S. ambassador in Niger includes addressing cultural and language discrepancies, developing and maintaining an in-depth awareness of the entirety of both Niger and the United States, and keeping his missions staffed, active, and coordinated.
The job is not without danger, he said, as terrorist organizations are present in adjacent Mali and Burkina Faso, as well as the Lake Chad basin, where Boko Haram, a Jihadist militant organization, is active.
"Disorder stemming from Libya," Whitaker said, "as well as trafficking in persons, arms, and narcotics, also pose potential threats to the mission and its staff."
Since Whitaker took his post in Niger, the U.S. embassy in Niamey has been involved in two major initiatives — the President's Malaria Initiative and the Declaration of Partnership under the Feed the Future Initiative, which both helped to further community health in Niger.
Whitaker said that his work in Niger is fulfilling.
"Serving as ambassador is rewarding in that it involves overseeing U.S. government activities in Niger, including coordinating the activities of all agencies involved here," Whitaker said. "Leading our team of dedicated professionals is satisfying, as is seeing improvements in our bilateral relationship and progress toward mutual goals in the areas of diplomacy, democracy, development, and defense."
As ambassador-at-large, Alidou is currently based at Rutgers University, where she is a visiting professor in global affairs. Five professors of agriculture and education at Rutgers recently went to Niger to look at how Niger might improve its agricultural system.
Alidou also continues to collaborate with the Nigerien ambassador in Washington, D.C., so that they can stay aware of current events and opportunities from the relationship with the U.S. that might benefit Niger.
Even though Alidou just started her position as ambassador-at-large, she remains involved in efforts to connect various organizations between the two nations. 
"I am proud of my alma mater, the University of Illinois," Alidou said. "I think that the type of education and training that I got has prepared me for the challenges of the world that we face today."
News Source
Samantha Boyle, Logan Weeter, and Abby Paeth