New program helps advisors prepare students for life after graduation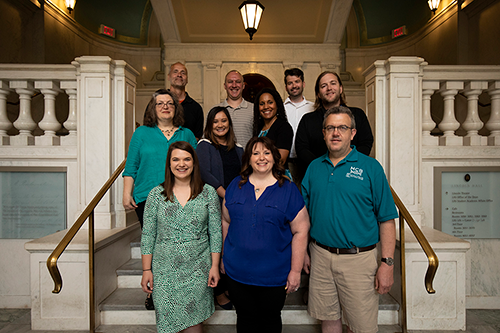 Students in any field of study, from molecular and cellular biology to history or psychology, wonder how their degrees will help them after graduation. Finding the right person for advice may be an additional struggle.
That's why the College of Liberal Arts & Sciences and The Career Center have developed a career coaching program aimed at helping academic advisors impart career advice to students. An LAS student survey in 2017 indicated that students are most likely to turn to their academic advisors for career-related advice, but academic advisors' area of expertise does not necessarily extend to the complexities of launching a career.  
The 10-week pilot program ended in May, and responses have been so positive that they've decided to conduct more program cohorts in the future. Not only have the academic advisors who participated in the pilot been enthusiastic, but organizers said that they've received inquiries about it from universities around the country.
Brian Neighbors, director of career development for LAS who co-developed the program with Amanda Cox, associate director of career education and professional connections at The Career Center, said they've received inquiries from other universities around the country, including career development officers at Clemson University, with whom Neighbors conducted a conference call to explain the program. 
Neighbors said that the idea started when he and Cox drew up plans for a program aimed at teaching advisors in the College of Liberal Arts & Sciences about the various theories around career development and about what resources are available to students on campus.
The program started with a workshop on coaching fundamentals from the National Association of Colleges and Employers (NACE), Neighbors said. A total of 30 academic advisors participated in this one-day workshop.
After that workshop, Cox and Neighbors selected eight participants for the pilot career coaching certificate program. Seven of the participants were academic advisors and the eighth was a new career advisor for the humanities departments. 
Participants met in a classroom where Neighbors and Cox covered topics regarding career development. Occasionally, mock counseling sessions would be set up between advisors where they could practice the methods and theories as if they were talking with a student.
One of the participants was Gary Wszalek, academic advisor in the Department of Psychology. Wszalek said the fact that not all LAS degrees are oriented toward a specific career can create a challenge for some academic advisors, because students often want to know how their degree will translate directly into their first job.
"Sometimes the answer is, we don't know," Wszalek said. "And I think this coaching thing, then, allows us to get a little bit more information and knowledge and theory and practice, to then overlay the stuff that we do with academic advising."
Wszalek said he wanted to learn at least one career-development theory that he could incorporate into his advising. The theory that stuck with him the most was planned happenstance, which calls for someone to plan for things that haven't happened yet. It's a crucial concept for students, who are bound to switch jobs and careers many times before retirement. The U.S. Department of Labor, for example, reports that workers ages 25 to 34 change jobs roughly once every three years.
And while Wszalek has 20 years of advising experience, Kelli Halfman, academic advisor in the Department of Communication, had just shy of one year of experience when going into the pilot program. This was intentional, Cox said. They wanted the pilot program to have a diverse set of advisors in terms of experience and disciplines.
Halfman said many of her students come to her with questions about how their degree will lead them to a job. Through the pilot program, Halfman was able to hear what other departments and advisors were doing with their students.
Tim Bowers, an academic advisor in the School of Molecular and Cellular Biology, said that while many MCB students are headed to medical school, there are many who want a different path.
"I thought this might be a good way that I could coach those students and help them make connections in industry, and I can," Bowers said. "I think it did help there, so it was fruitful in that regard."
In August, Cox and Neighbors will give an hour-long presentation about the program at the Career Services Community Annual Conference. They also plan to host this program again in the fall with few structural changes and with more participants.
"Brian and I both said it was so great," Cox said. "It was the highlight of our week when we got to go and spend Friday mornings with the advisors, so it was a fun program and I'm excited to do it again."