Chemistry professor receives iCON Innovator Award
Martin Burke pioneered the field of molecular prosthetics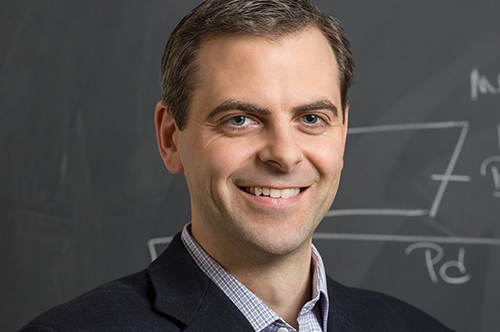 One of the region's most prestigious honors for a life sciences researcher has been awarded to Martin Burke, a professor of chemistry and associate dean for research at the Carle Illinois College of Medicine.
Burke will receive the 2019 iCON Innovator Award later this month from the Illinois Biotechnology Innovation Organization. The professor pioneered a new field of medicine called molecular prosthetics to treat currently incurable diseases caused by loss of protein function. To enable this field, Burke created an automated, Lego-like 3-D printer for molecules, and his recent discovery of methods for replacing missing proteins with molecular prostheses are steps toward new treatments for anemia and cystic fibrosis.
"Illinois is one of America's leading research universities, and Dr. Burke truly is one of our campus icons. Whether developing a new way to synthesize molecules, creating a network of maker labs on campus, launching a company, or encouraging students to think creatively about the future, Dr. Burke's persistence and energy are remarkable—and contagious," said Susan A. Martinis, interim chancellor for research at the University of Illinois. "He exemplifies the spirit of innovation that is a hallmark of Illinois research, and we are proud of his many contributions to the broader scientific community and to the state, the nation, and the world."
Burke completed his undergraduate studies at Johns Hopkins University in 1998 and his PhD at Harvard University in 2003. After completing his medical degree at Harvard Medical School, he joined the faculty in the Department of Chemistry at the University of Illinois in June of 2005.
Burke has received a number of honors and awards, including the Nobel Laureate Signature Award for Graduate Education in Chemistry from the American Chemical Society and has garnered praise for excellence in teaching at both the undergraduate and graduate levels. Burke is also the founder of four biotechnology companies: REVOLUTION Medicines, Ambys Medicines, Sfunga Therapeutics and Cystetic Medicines.
The iCON Awards celebrate the accomplishments of outstanding innovators, educators, and civic leaders whose work provides the basis for life sciences developments worldwide. The iCON awards ceremony will take place September 26 at the Chicago Botanic Garden.
This is the 13th year for the awards. Other recipients of the award this year are Paul Edick, chairman and CEO of Xeris Pharmaceuticals, and Rebecca Voight, a teacher at Andrew Magnet Elementary School in Waukegan, Illinois, where she has led efforts to engage girls with STEM fields.
News Source
The Carle Illinois College of Medicine, Department of Chemistry, and the College of LAS