First came calc, then came marriage
Nathan and Betsy Alderman's life together began on the steps of Altgeld Hall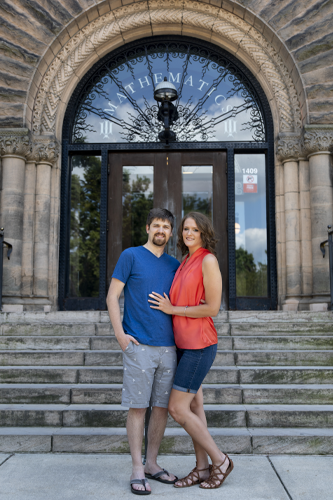 For many students, Altgeld Hall is just a place to learn mathematics, observe historic architecture, and listen to the chimes, but for two alumni it symbolizes the beginning of their very own love story.
Betsy Alderman (BS, '12, mathematics) and Nathan Alderman (BS, '12, engineering mechanics) crossed paths for the first time in Altgeld Hall in 2008, when they were freshmen in the same calculus class. Four years later to the day, Nathan and Betsy, by then graduated and employed, took a walk together on the Main Quad and sat down on the north steps of Altgeld. Nathan had something to say.
Having rehearsed what he was going to say to Betsy over and over again, Nathan hit a series of talking points before ending his speech with a question: "Will you marry me?"
Just about one year later, in June 2013, Betsy and Nathan got married right outside of Danville, Illinois. They recounted their story to LAS News after seeing a request for Altgeld Hall-related stories from alumni.  
Betsy and Nathan had never met before that fateful calculus class in Altgeld Hall. They came from different towns, and they lived in different dorms. Coming into calculus class on that first day, Betsy sat down and noticed Nathan walk in. Eventually, the teaching assistant for the class arranged a seating chart and sat the two of them next to each other.
"And I was like 'Alright! This is cool," Betsy said.
The fates—and even numbers—aligned in a way that perhaps mathematicians would appreciate more than most. The lectures for their class were held in room 314, and the discussions were in room 159. Put together, the room numbers are the first six digits of pi, the irrational number defined as the ratio of a circle's circumference to its diameter.
Outside of calculus class, both Nathan and Betsy got involved with InterVarsity Christian Fellowship, where their friendship continued to blossom, but it didn't become more than friendship until their sophomore year, when once again they crossed paths in a calculus course (this time Calculus 3) in Altgeld Hall. Once again, Betsy was sitting when she saw Nathan walk in. She wrote on his Facebook wall to tell him that he should come sit by her.
"And so, he did," Betsy said. "And then we just started going to lecture together. I would walk, Nathan would ride his bike."
If Nathan would see Betsy on the way to lecture, he would get off his bike and walk the rest of the way with her. One of those times, while Betsy was walking to class, she was on the phone with her sister talking about Nathan when he actually came by on his bike. While trying to stop and get off his bike, Nathan almost crashed, creating one of Betsy's favorite memories of them going to class together.
"So, we would go to class together, but our discussion sections weren't the same time. They were an hour apart," Betsy said. "So, I would be waiting for mine and I would go a little bit early so I could see him leave his and we'd stop and talk for ten minutes."
Because they were becoming pretty close friends at that point, Betsy decided to ask Nathan if he would go to her brother's wedding. It became their first date milestone. 
"Yep, first date was going to the wedding and meeting her whole family," Nathan said.
From that point on, Betsy always hoped marriage was in their future.
"In my head I was like 'Oh, it'd be perfect if he proposed in front of where we met,'" Betsy said. "I never told him that, (but) he did figure that out, which was awesome."
Right before the proposal in front of Altgeld Hall, Betsy had started teaching at Centennial High School in Champaign, where she still teaches junior and senior math classes. Nathan works at Henneman Engineering, Inc. 
On the day of the proposal, throngs of students were making their way to the Main Quad for Quad day. Nathan, of course, had other plans. He had already asked Betsy's parents for their blessing, and he even arranged with friends to take photos of the occasion when he asked Betsy to marry him. 
"For myself, the big moment was when I realized not only did spending time with Betsy make me happy, she also encouraged me to work harder and be a better person," Nathan said. "It was a large part of what I told her during the proposal, and a main reason why I decided to marry her."
Because she and Nathan had been dating for quite some time at that point, Betsy said no one was really surprised when they announced their engagement. Betsy said it was still a special moment to go home afterward and call some of their closest friends to tell them the news.
Altgeld Hall and the rest of campus are special places for Nathan and Betsy as a couple. They see the building almost weekly as their church is located right on the edge of campus.
"It's nice that we have the shared memory of the area," Nathan said. "It's a really nice building. I like the architecture of it and it's where we met and it's where we got engaged. And it's just a central point of our relationship that we both share, that part's pretty nice."