Real growth in virtual reality
From courses in humanities to science, more students enhance learning through virtual reality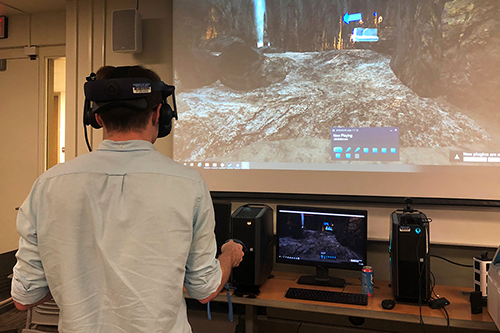 Inside certain classrooms at the University of Illinois, it's possible to go deep-sea diving to a sunken ship and witness a 100-foot blue whale—all without leaving Champaign County. With virtual reality equipment playing a growing role in classrooms, more and more students are seeing their learning experiences being transformed.
Professors in the College of LAS have been implementing virtual reality (VR) with help from Applied Technologies for Learning in the Arts & Sciences (ATLAS), allowing students to virtually immerse themselves in locations all around the world, from countryside towns in France, where they can practice speaking with a shopkeeper, to fire-lit caves to simulate an archaeological dig.
ATLAS' involvement with VR began last spring with the class Anthropology 399: Virtual Archaeology, which was created by Laura Shackelford, an associate professor in anthropology, and whose environment was developed by Cameron Merrill, a computer science graduate student.
Students in the course use HTC VivePro virtual reality headsets to simulate a dig site where they excavate ancient artifacts and fossils, as well as complete virtual post-dig lab work.
Shackelford said that almost all universities with an archaeology program require students to attend a field school—a short term program of mentored field research, located abroad, to provide hands-on training for students studying archaeology.
Students in Anthropology 399, however, receive a modified version of the same training as a field school that allows them to fulfill the requirement without traveling to Belize, site of the closest field school for U of I archaeology students.
"It was really about accessibility and just making the information and the experience accessible to as many people as possible on campus," Shackelford said.
Shackelford wrote a National Science Foundation grant in 2017 to fund the course, and she's now writing another grant for wheelchair accessibility within the course, since the headsets that the University of Illinois have not been tested or adapted for people with mobility issues.
"There's absolutely no reason why someone who has compromised mobility couldn't do archaeology," Shackelford said.
Virtual reality can be a vital tool for nearly every subject, including foreign languages. For introductory French courses, for example, applications are used to simulate conversations with native speakers.
The French courses use Mondly, a structured app for language learning, where students can practice real life situations such as checking into a hotel or giving a train conductor a ticket. Students can also practice pronunciation by answering questions clearly to characters.
Bianca Teixeira, an employee ATLAS, observed a French class activity where students used Wander, an app similar to Google Maps for the Oculus Go headsets. Teixeira said the app would tell students, 'Look at the bakery to your left, and who do you see there?' and other general questions that helped portray life in various parts of France, whether it was in the countryside or a big town.
"There's an element of doing the Mondly app that gives shyer students an opportunity to practice on their own without being exposed to the whole class and the fear of mispronouncing something or not being able to give an answer," Teixeira said. "It provides a space where they can develop more confidence without being observed by everyone else."
The need for VR at the University of Illinois has increased tremendously over the past two years, according to VR lab manager Jim Wentworth at the Center for Innovation in Teaching and Learning, which collaborates with ATLAS on the support of virtual reality programs in LAS.
Since the technology and headsets are very expensive, the lab began with one single headset which can't support an entire class very well, he said. Last semester, ATLAS funded the purchase of 20 Oculus Go headsets, which allows every French student to have a headset at the same time.
"Now it's not 'Wait your turn,' but 'Okay, we can all do this together'," Wentworth said.
Wentworth said a number of faculty have expressed interest in utilizing VR in the classroom, especially in geology, geography and geographic information science, and political science.
Justin Pettijohn, professor in geography and geographic information science, has created an undersea experience where students can witness what bioluminescence looks like at the bottom off the ocean. Pettijohn and his colleagues have also recorded footage for his course, Geography 117: The Oceans, while on a research boat off the coast of California last summer.
"Virtual reality is a way to supplement education, not take over," Wentworth said. "We're so used to looking at a framed rectangle on a screen that this media is much more immersive. It's becoming an integral part of teaching."