Peixin He and Xiaoming Chen establish the Larry R. Faulkner Endowed Chair in Chemistry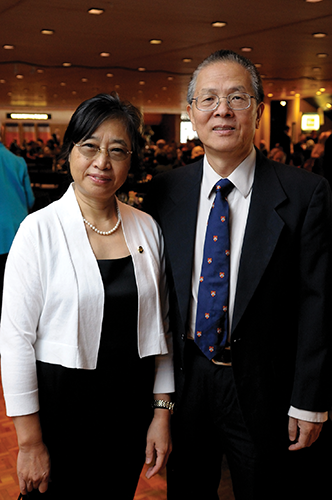 The year 1980 was a turning point for LAS alum Peixin He (PhD '85, chemistry).
By 1980, China had been opening up to the world, and Peixin He was coming to the University of Illinois as a visiting scholar through an exchange program between Fudan University and Illinois.
1980 was also when He began to do research under Larry Faulkner, a professor of chemistry at Illinois. Little did He know that working with Faulkner would change his life and that of his wife, Xiaoming Chen. The research they did in Faulkner's lab helped to launch their careers.
In gratitude, He and Chen decided to establish the Larry R. Faulkner Endowed Chair in Chemistry in 2016. For their commitment and generosity, the couple has received the 2019 LAS Dean's Quadrangle Award.
Even before they met, He and Chen shared much in common, living parallel lives. They both grew up in Shanghai, and after finishing middle school, they each went to the countryside to work as farmers for four and a half years—in two different provinces.  In 1973, both of them attended Fudan University in Shanghai, where they met as undergraduate students. Then they worked together on electrochemistry research as graduate students under the same research adviser from 1977 to 1979. They also worked as faculty members at Fudan and later joined Faulkner's research group in Illinois.
In Faulkner's lab, from 1981 to 1982, He developed a computerized electrochemical instrument known as a cybernetic potentiostat under Faulkner's guidance. It was pioneer work at the time.
In 1982, China established the degree system, so He went back to Fudan University. But one year later, Fudan allowed him to return to Illinois to pursue a PhD program through an arrangement by Faulkner and the Department of Chemistry. He defended his thesis by the end of 1984, the same year that his wife, Chen, joined Faulkner's group as a visiting research scientist. He officially graduated in 1985.
After completing postdocs at Illinois and Purdue University, He and Chen returned to China in early 1987, holding faculty positions at Fudan University. Then, in 1990, they returned to the United States and joined Faulkner's research lab once again. In fact, Faulkner played an instrumental role in bringing them to the U.S.
In 1994, the couple established CH Instruments, Inc., a firm specializing in electrochemical instrumentation, with Chen serving as president of the company. He, meanwhile, was on faculty at the University of Memphis, so he couldn't devote all of his energy to the company.
That all changed in 1996 when CH Instruments faced a deadline to complete work on a scanning electrochemical microscope. They had licensed a patent from Allen Bard, a professor at the University of Texas in Austin, and the agreement stipulated that the prototype would be done by the end of 1997. So, He resigned from the University of Memphis to complete this work, and a prototype of the scanning electron microscope was introduced in 1997.
He and Chen moved CH Instruments to Austin, Texas, in 1999, reuniting them with Faulkner, who had been named president of the University of Texas at Austin only one year earlier. Before leaving Illinois for Texas, Faulkner had gone on to serve as the dean of LAS, before becoming provost and then vice chancellor for academic affairs at U of I. Faulkner served as president of the University of Texas until 2006, and today he is retired.
Along this winding road, He and Chen's lives were intertwined with Faulkner's life for almost 40 years. Because of all that the University of Illinois and Faulkner had done, He and Chen decided to make a $1 million donation for establishing a Faulkner professorship in 2011.
When they decided to donate another million to Illinois in 2015, the idea arose to use the money to endow a chair in Faulkner's name. In 2016, the first person named to the new Larry R. Faulkner Endowed Chair in Chemistry was Catherine Murphy, a professor best-known for developing nanomaterials for biological and energy-related applications.
"Nanotechnology is the study of matter on the 1 to 100 nanometer scale—about 10 to 1,000 atoms across," Murphy said in 2015. "We focus on gold." She went on to explain that among many possibilities, gold nanoparticles could be used for "photothermal therapy," targeting and then killing cancer cells or pathogens.
Peixin He said they are grateful to be able to support such groundbreaking research.
"We also remain thankful to Larry Faulkner for all of his help over the years," He said. "Larry is a great person and a great scientist. And he was wonderful to us. We're very grateful."