Illinois professor tops "Power List" of analytical scientists
Jonathan Sweedler is named to list along with two of his former students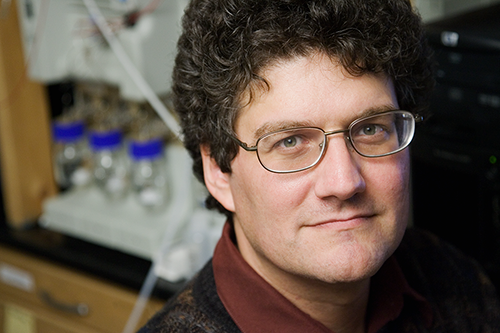 Jonathan Sweedler, the James R. Eizner Family Endowed Chair in Chemistry and director of the School of Chemical Sciences at Illinois, has been named to the top spot on the Analytical Scientist's 2019 Power List, which highlights tremendous talent, ingenuity, and leadership in analytical science across the world.
Two of his former students, Amanda Hummon (PhD, '04, chemistry) and Lingjun Li (PhD, '00, chemistry) also made it into the top 100 scientists on the list. Rohit Bhargava, a professor of bioengineering and affiliate faculty member in the Department of Chemistry, was also in the top 100.
The Analytical Scientist, a magazine published by Texere Publishing Limited, focuses on people, technology, and innovations in analytical science. It has created the Power List since 2013.
Sweedler's nominator said that the professor "has moved the field of analytical chemistry toward smaller scales with numerous single cell characterization efforts." Sweedler told the magazine that his research goals include creating and improving technologies for understanding brain chemistry and using the technologies to understand memory, thought, and behavior in humans and animals "ranging from comb jellies to slugs to humans."
"I'm excited about our recent efforts to probe neurotransmitters, metabolites, and lipids in tens of thousands of brain cells, providing us with an unprecedented view of cell-to-cell heterogeneity," he added.
Sweedler told the Department of Chemistry for a story that there was a lack of gender diversity on the Power List.
"Unfortunately, not enough women on the list (about 33 out of 100) but only three in the top 20," Sweedler said. "Thus, it is especially rewarding to me that two of my former women graduate students, Amanda Hummon and Lingjun Li, made the list of the 100 most influential analytical chemists."
Hummon is a professor at Ohio State University, where she uses mass spectrometry to study colon cancer proteome and phosphoproteome. Li is a distinguished professor of pharmaceutical sciences and chemistry at the University of Wisconsin-Madison. She said the highlights of her career include discovering novel neuropeptides and receiving the Biemann Medal from the American Society for Mass Spectrometry.
Bhargava, who is also director of the Cancer Center at U of I, said his research goal is to develop better chemical imaging technology from first principles-based theoretical analyses.
"A pioneer of infrared spectroscopic imaging," his nominator wrote, for the Power List. "He has provided numerous seminal studies, and continues to set the standard to this day."
News Source
The Department of Chemistry and Heather Schlitz