Students and donors honored at LAS Scholarship Celebration
Event celebrates more than 190 scholarships that help make college a reality for students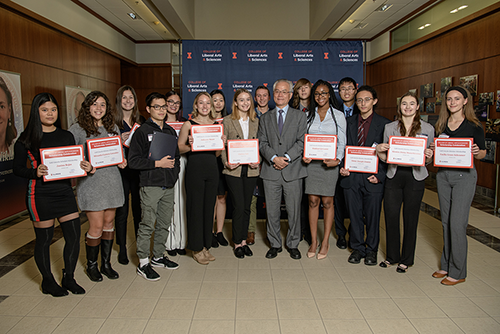 More than 190 scholarships with a combined total of more than $675,000 were awarded to LAS students this academic year. This was commemorated during the LAS Scholarship Celebration at the Alice Campbell Alumni Center, where recipients, their families and friends, LAS donors, and faculty gathered to reflect upon scholarships that have made college experiences possible.
The $675,000 came from 59 different college-level scholarship funds, with the largest program being the LAS Lincoln Scholars Initiative, which is supporting more than 60 students this year and has helped 45 students graduate with a liberal arts and sciences degree. It's one of many scholarships that have enriched the college experience and helped make attending U of I possible for students, said Feng Sheng Hu, the Harry E. Preble Dean of the College of LAS.
"These scholarships and the assistance they provide are a testament to the broad donor support we enjoy as a college," Hu said "Through their selfless generosity, LAS donors continue to propel bright minds. We are incredibly grateful to our donors for their vision and for investing in our students."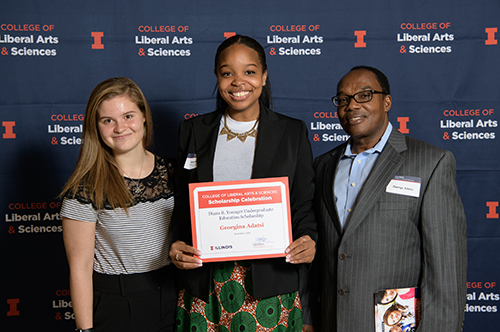 He added: "We know that scholarship support can make a critical difference both in helping students enroll here, and in allowing them to stay and finish their degrees."
Students receiving the awards came from a wide variety of majors and have varying goals for their time at Illinois and their careers after graduation.
Georgina Adatsi, a sophomore in global studies from Lansing, Michigan, is a recipient of the Diana B. Younger Undergraduate Education Scholarship. She is a volunteer coordinator for the Foundation for International Medical Relief of Children, volunteer at Carle Foundation Hospital and has a part-time job where she assists people with disabilities.
She is currently working on a water sanitation project that will provide access to clean water for a community of 2,000 in Ghana.
"A future career goal of mine is to become a clinical epidemiologist," she said, before the crowd of more than 200 people. "The scholarship that I have received has alleviated me of a financial burden and given me more room to do what I like doing best — making a change in developing nations."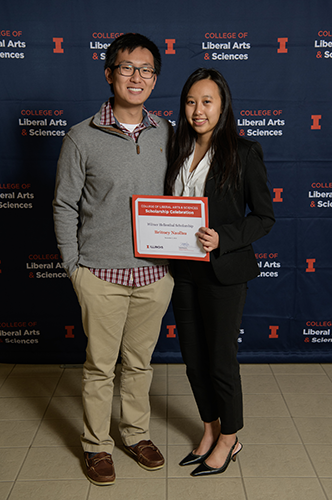 Adatsi's parents are from Ghana and Tanzania, two countries facing challenges related to a lack of access to healthcare. She said her exposure to impoverished regions drove her to want to reduce maternal mortality rates in developing regions and increase access to healthcare.
"My professors not only care about my academic life, but they also look at my life holistically to make sure I am where I want to be," she said. "LAS has provided me with so many opportunities that will help me in the next chapter of my life."
Britney Naolhu is a recipient of the Wilmer Hellenthal Scholarship. She is a sophomore in molecular and cellular biology honors from Round Lake, Illinois. She's a researcher in a microbiology lab on campus, a staff member in the Nuclear Magnetic Resonance Lab, peer advisor in molecular and cellular biology, and a member of multiple registered student organizations.
She said she was grateful for the scholarship for allowing her to pursue her dreams without having to worry about a financial burden.
Janina Rojas, a junior majoring in psychology, is a LAS Lincoln Scholars Scholarship recipient. She attended Illinois for its research opportunities, and she aspires to be a psychiatrist. She said that she loves both art and science equally and aspires to be a well-rounded physician.
"I'm proclaiming these four years (of college) as a journey of exploration," Rojas said, in remarks at the celebration. "I'm eternally grateful that I have this great privilege, that I have this funding, that has allowed me to fall in love over and over with psychology, with medicine, every semester and explore other disciplines — like sociology, like English, like philosophy… As you can see, I'm kind of in love with U of I."