Student receives Lincoln Academy Student Laureate Award
Elena Wilson combines her studies and research with a devotion to service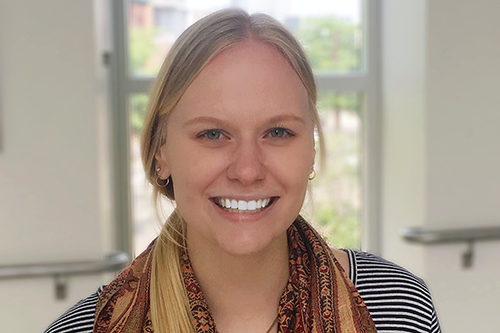 When she was in middle school, Elena Wilson would spend several weekends a year going around her hometown of Rockford, Ill., to help out at soup kitchens and other service organizations. In high school, Wilson's circle of service grew and she traveled to different states around the Midwest to help people far from home.
When Wilson came to Illinois as a student, she wanted to continue helping people, so she became actively involved with several service efforts in the Champaign community. Now, as she's finishing her last year of college, Wilson is being recognized for her civic engagement and academic excellence. She has been named a recipient of the Lincoln Academy Student Laureate Award.
Each year, the Lincoln Academy Student Laureate Award is given to a senior at the University of Illinois through the Chancellor's Honors Program. As deemed by the Lincoln Academy, a nonprofit organization which administers the Order of Lincoln Award, recipients have demonstrated exceptional attributes in leadership with the desire to make a difference in the world.
The Order of Lincoln Award, considered to be the highest honor bestowed by the state of Illinois, goes to a handful of people each year. These  include the the Lincoln Academy Student Laureate Awards, which are presented each year to one student from each four-year degree-granting institution of higher learning in Illinois, as well as one student from the state's community colleges. This year's ceremony is on Saturday, Nov. 16.
While earning dual degrees in molecular and cellular biology and German with a concentration in culture and literature, Wilson is involved in a number of different service organizations, including Young Life and Illini Screening Society. Wilson has also been a student volunteer at Carle Hospital, Champaign County Christian Health Center, the HeRMES Multicultural Clinic, and is an active LAS James Scholar member.
Despite her busy class schedule, Wilson made it a point to keep busy with volunteering. She said she spends almost as much time volunteering as she does in class.
Wilson got involved with Young Life her freshman year and is now a leader. The group leads Bible studies and mentoring events with local high school students in the area. Each summer they take the kids to a summer camp.
"I got hooked onto that community really early on," she said. "And then as I started figuring out my interests, I became more aware of other service organizations."
That's when Wilson became involved with Illini Medical Screening Society, an organization in which members go out to the community and do health screenings for people. As her interest in health care grew, she started volunteering at Carle Hospital, where she worked with nurses or technicians and learned the roles of the hospital. 
Volunteering at the Champaign County Christian Health Center and the HeRMES Multicultural Clinic, she added, has allowed her to interact with underinsured and uninsured populations and has motivated her to become more involved in health policy and advocacy.
Wilson is also actively involved with research. She works in the Carl R. Woese Institute for Genomic Biology researching the mechanisms of kidney stones in hopes of identifying better treatments. She also works on independent research within the Department of Germanic Languages & Literatures where she analyzes Holocaust literature and representation.
Wilson said that the award is a reminder that her civic engagement, academics, and research are recognized and noted. It's like a pat on the back, Wilson said.
"If anything, it's just motivating for me to continue doing what I'm doing," Wilson said. "But also, it's great to be recognized, but I totally recognize there's 50 other people on this campus that maybe do more than me. We're all part of a giant team working together to make things better for the community."
Kate Krueger, director of the LAS Honors program, nominated Wilson for the award. As soon as she read the qualifications for the award, Krueger said, she thought of Wilson because she is highly involved on campus and also exemplifies academic achievement. 
"It seemed like a no-brainer to me that she should win," Krueger said. "She's managed to figure out a way to succeed and really accomplish what she wants to accomplish and to grow while she's here and that's really exciting."
As for Wilson, the past four years of being an undergraduate dedicated to service has allowed her to successfully align her priorities with a strong set of beliefs. Despite her busy schedule, she claims to rest fully each night.
"I promise I slept," Wilson said. "I get eight hours of sleep every night."
Everything she's done, Wilson added, has motivated her to continue helping people—in whatever path she chooses after graduation.