A better (and broader) understanding of the big screen
Rini Bhattacharya Mehta uses data to study the increasingly popular art of Indian cinema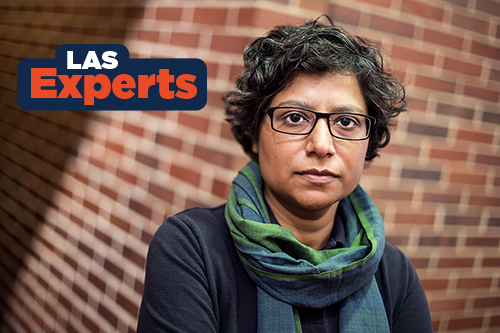 Indian cinema has exploded in popularity in recent years, but few understand the phenomenon more than Rini Bhattacharya Mehta, who will publish a book on the topic in 2020. Whether it's through her popular course on Indian cinema (the largest of its kind in the U.S.) or her data-based research approach, Mehta hopes to widen our understanding of and love for the worldwide art of cinema.
Name:
Rini Bhattacharya Mehta, professor of comparative literature and religion, and National Center for Supercomputing Applications Fellow.
Years at U of I:
Six.
Area of expertise:
Colonial and postcolonial literature, cinema in a global context, digital humanities.
What are you currently researching? Why are you passionate about this area of study?
I just finished working on a book on the history of Indian cinema's unlikely rise through the 20th century. It is going to be published by the University of Illinois Press in 2020. While there has been a surge in publication on Indian cinema in the last 15 years, single-author scholarly volumes that go beyond the critical jargon and present the evolution of popular Indian cinema are rare. My book is going to fill that lacuna. In addition to the traditional form of scholarship that an assistant professor in the humanities pursues, I have engaged in the past two years in a more interdisciplinary kind of research that falls broadly under the category of digital humanities.
What impact will your work have on your field and the community?
If I achieve the goals I am working towards, my digital research in film history and criticism is going to create a new paradigm in film studies, by using a more interactive, data-based approach. In so doing, film studies will grow out of its inherently Eurocentric theory-based template and become more global in approach.
What do you enjoy most about teaching? What advice would you offer to students interested in your field?
I enjoy relating the subject of my courses to the current interests and prior experience of the students and bring the feedback into the class. My perennial advice to the students is to find a key point about a subject they care about, and think how they can introduce new queries and observations to make that point relevant and interesting to all. I usually assign an individual or group research project every semester that forces the students to think of texts and topics in ways different from that followed in class. Students enjoy a certain degree of creative freedom that adds life to the critical thinking process.
What is your proudest or most significant achievement?   
I am working on a digital project funded by the Illinois Presidential Initiative for the Advance of Arts and Humanities. I am excited about the design of a multi-layered archive of metadata related to cinema that I am creating with the help of Illinois researchers, and I will be proudly opening up the first set in Spring 2020. This is something I believe will cause great excitement among film scholars and the public enthusiasts alike. A related achievement that I am proud of is the continued popularity and expansion of my class on Indian cinema that is currently offered with 300 students in Spring 2020. Probably the largest class of its kind (focused on a non-Hollywood or non-European film industry) in any university in the U.S., it filled up to capacity within 10 days of the pre-registration period, in November.
Editor's note: This LAS Experts profile is part of a series to highlight the groundbreaking work by faculty in the College of LAS. Visit here for other profiles.