Three siblings, five LAS majors, and one strong family bond
The Kaminskis grew up together. Now they go to U of I together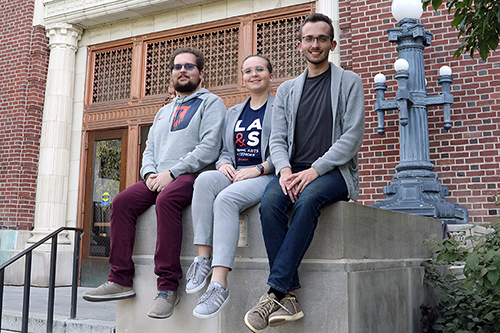 When Robert and Beata Kaminski immigrated to the U.S. from Poland, they knew nothing about American colleges, and relied on their oldest son, Szymon, to guide them.
Szymon explained to his parents the credits it takes to graduate, how to pay tuition, and about the classes he needs to take. They were lessons that came in handy when his two younger siblings followed him to U of I.
All three Kaminski siblings attend U of I and are pursuing majors in the College of Liberal Arts and Sciences. Szymon, the oldest, is a senior in global studies and political science; Pawel, the middle child, is a junior in integrative biology and psychology; and Gabriela, the youngest, is a freshman in history.
"We don't have anyone here who could tell us how to prepare for college. I really didn't know what to expect,"Szymon's mother, Beata, said. "He prepared us for Pawel and Gabriela."
The Kaminski parents were excited and scared to send Szymon to college, but Beata missed him after he left. She hopes Szymon will move back home after he graduates this year.
"We'd spend all our time together," she said. "When he left, it was empty. The bedroom door was always open, the bed was always made."
On move-in day in August, Beata Kaminski and husband, Robert, helped their daughter tug a trolley full of cardboard boxes into her Newman Hall dorm room, hang up posters, and make the bed, like they had done for their two older children. But this would be their last move-in day.
As they drove through the cornfields and towns on the way back to Chicago's northern suburbs, they reminisced about their children when they were younger and their family trips to Poland, Beata and Robert's home country. They wondered what life would be like as empty nesters.
With her husband leaving for work early, Beata now wakes up to an empty house.
"In the morning, there's no one in the home. It's cold and quiet, and I don't like that," she said.
Like those trips back to Poland, the decisions to attend U of I were a family affair. Gabriela, freshman in history, put U of I at the top of her list when she visited campus during Siblings Weekend with Pawel acting as her tour guide. Now in her first semester at college, having her brothers on campus has made school feel more like home.
"A lot of people go into this university by themselves and they get scared and anxious," she said. "Having my two brothers here, even if I'm feeling lonely, I still have someone here I can talk to."
Pawel and Szymon share an apartment, but all three siblings make sure to meet up at least once a week. In their free time together, the three play Super Smash Bros, make macaroni and cheese and sugar cookies, and go to shows at The Canopy Club.
"Whenever I feel homesick I go over to their place," Gabriela said.
While they were in high school they helped each other with everything, from math homework to driving lessons. Now, when Gabriela felt the pressure of adjusting to her upper-level classes, a challenging academic curriculum, and a new social scene, her two brothers help their sister navigate college life.
"I go out of my way to be around them, to make sure that everything's OK and that they're doing well in classes and social life, sleeping, and all that," Szymon said.
"They take care of each other," Beata said.
Dad's weekends have become the siblings' favorite times together on campus, with the children and their parents gathering on campus every year. This year, they went to a dad's tailgate hosted by the Polish Club, the football game, and Sunday brunch before their parents headed back to Niles, Illinois. This year will be the first where Gabriela will be staying at school instead of driving back home with her parents.
Beata also looked forward to Wigilia, a Christmas celebration the Polish Club hosts. More than 100 students and their parents usually attend, eating a Polish dinner, sharing pieces of traditional wafer bread, and capped with the students dressing in colorful traditional clothes to perform a Polish folk dance.
"I'm very proud of them," Beata said. "I'm proud. They did a very good job."