Stephen Long named Stanley O. Ikenberry Chair
Professor of plant biology and crop sciences receives one of U of I's highest honors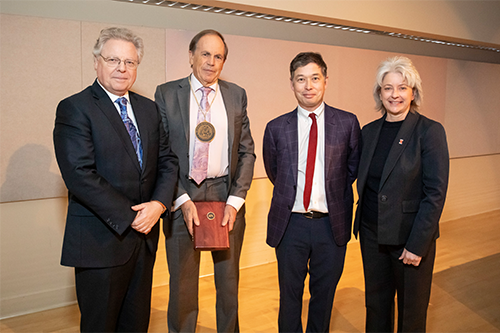 University of Illinois professor Stephen Long, a renowned researcher known particularly for his work in photosynthesis and addressing food insecurity, has been named an Ikenberry Endowed University Chair of Plant Biology and Crop Sciences.  
The Ikenberry Chair was established as an honor of the University of Illinois' 14th president, Stanley O. Ikenberry. Jeffery S. Moore, professor of chemistry and materials science and engineering and director of the Beckman Institute for Advanced Science & Technology, is the only other Ikenberry Chair on campus, as the Ikenberry Endowed Chair of Chemistry.
Long joined the University of Illinois in 1999. He has established an internationally acclaimed laboratory dedicated to using computational and experimental approaches to understand all 170 steps of photosynthesis. Long has worked tirelessly to build connections worldwide and across generations of graduate students, postdoctoral researchers, and faculty to transform our knowledge of photosynthesis into higher-yielding crops and address the effects of climate change on crop productivity.
Long is member at Carl R. Woese Institute for Genomic Biology, a faculty fellow for the National Center for Supercomputing Applications at Illinois, and a professor at the Center for Advanced Studies.
"You are an inspiration to your students and fellow researchers and we are honored to count you among our faculty," Andreas Cangellaris, provost and vice chancellor for academic affairs, said to Long at the investiture ceremony.
Gene Robinson, professor of entomology, Swanlund Chair, and director of the Carl R. Woese Institute for Genomic Biology, spoke of Long's accomplishments and charismatic personality as well as reading a letter from President Ikenberry himself.
"If you speak with anyone who has had the fortune to work with Steve, like many students, postdocs, undergraduate and graduate students, and colleagues have, you'll be rewarded with numerous tales of his warm personality, depth of character, and dedicated mentoring," Robinson said.
Through his letter, Ikenberry congratulated Long and said he is pleased that he will be named the Ikenberry Chair.
"It gives me special pleasure to know that a person of your stature who has committed their career to science focused on understanding the responses to global atmospheric and climate change will occupy the Ikenberry Chair," Ikenberry said. Ikenberry served as president from 1979 to 1995 and led dramatic growth in research funding, private gifts, grants, contracts, and infrastructure across the U of I System.
Among many contributions to the university and his field, Long helped establish the Energy Farm and the SoyFACE research facility.
"SoyFACE embodies our university's land grant mission, with a global impact, as it seeks to measure the impact of atmospheric change on the productivity of crops we grow in the Midwest," said Matthew Ando, associate dean for life and physical sciences in the College of Liberal Arts & Sciences. "When you're mixed up in your daily struggles, new innovations like SoyFACE remind you that people here really are making an incredible difference."
Today Long leads the international research project Realizing Increased Photosynthetic Efficiency (RIPE) that have demonstrated technologies that promise to substantially increase the productivity of staple food crops under his leadership. The RIPE project is supported by the Bill & Melinda Gates Foundation, the U.S. Foundation for Food and Agriculture Research, and the U.K. Government's Department for International Development.
"A recognition like this is really a team recognition," Long said. "So it's a recognition of all the people that have worked with me, past and present, but also the support."
He said that none of this would be possible without the support of his colleagues.
"The greatest reward through all of this is really being marked by the fact that I've had such amazing people through the lab," Long said.
The Ikenberry Endowed Chair provides a salary stipend and financial support for his research. It extends for five years and may be renewed. The endowment is made possible by a gift from Geraldine B. Cooke and other sources.
News Source
Samantha Boyle and Claire Benjamin, communication coordinator, Realizing Increased Photosynthetic Efficiency