The growing success of Datathon
Third annual competition exposes students to data science, industry professionals, and a 36-hour question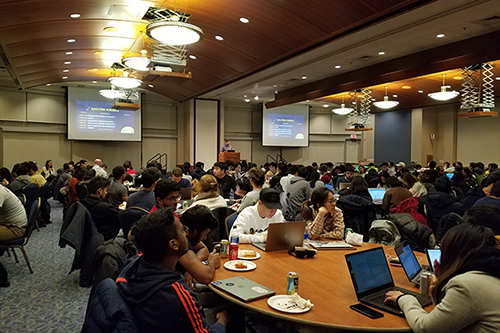 The numbers are in from the third annual Datathon at Illinois, and the competitive event to expose students to real-world problem solving in analytics is a growing success.
Divij Ranjan, president of the Illini Statistics Club, which hosted the event with Synchrony, a premier consumer financial services company, said that a record 350 students participated in the competition this year.
Participants in the event, which was co-sponsored by John Deere, Sandia National Laboratories, Procter & Gamble, Microsoft, and State Farm, were given geographic information system data to solve a marketing challenge aimed at helping small and medium-sized business. They had 36 hours to create a 2-minute video pitch, a presentation of their recommendations, and an analytics model to support their conclusions.
Their presentations were scored by a panel of judges who included U of I faculty and representatives from the corporate sponsors.
"Other than getting exposure to real-world data analytic problems, the Datathon really allows students to come together and incorporate new ways of thinking," Ranjan said. "Ultimately, the way you present your findings is up to you, so you really get to see different perspectives on the same problem."
Ujjval Patel, vice president of the Synchrony Emerging Tech Center at Illinois, said a key component of Datathon is that students received guidance to help them think like data scientists. Synchrony and Illini Statistics Club provided students with software training, analytics libraries, and open source toolkits prior to the competition. Professionals with the corporate sponsors served as mentors for student teams during the challenge, and Microsoft Corporation provided cloud computing space through the Azure Education Hub to provide students with a virtual workspace.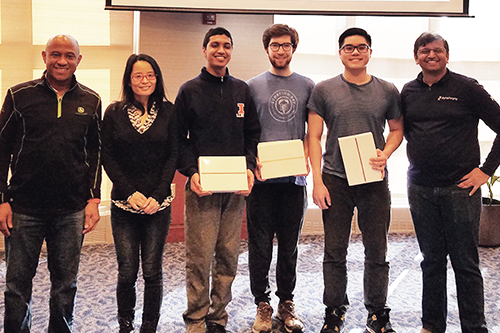 "A few important takeaways from this year were really understanding the business problem and telling the story along with having good techniques," Patel said. "We gave the students a lot of data and most students just jumped in to create a solution to a complex problem without stepping back to understand the problem first."
Organizers included a lot of unrelated data in the problem to teach students how to sort for important information.
Students came from a variety of backgrounds, including those majoring in engineering, computer science, and topics in LAS. The team that won the most innovative model had students majoring in computer science and mathematics, computer science and statistics, and economics, while the runner-up team for best model had students majoring in statistics with secondary majors in physics and mathematics. Good ideas didn't just come from older students, either. The winning team for the best model consisted of Suchet Kumar, Arravind Sudhakar, Liana Koleva, and Lucien Putnam—all freshmen.
"It was very interesting to see a freshmen team winning the competition because they weren't burdened with knowledge of advanced techniques and could step back to ask the basic questions of what they were trying to solve for," Patel said. "Additionally, it is good to have a variety of advanced data science techniques, but storytelling and understanding multiple disciplines makes a good data scientist into a great data scientist."
Many Datathon veterans also competed. Anthony Lee, a junior in statistics, participated for the first time last year and loved it so much that he decided to become a board member to help plan this year's event.
"I like statistics because I feel that it gives me a way to apply different thought processes while including mathematics to solve complex problems," Lee said. "There isn't always a straightforward answer so sometimes thinking outside the box is necessary while other times a simple approach is what solves the problem best. At the end of the day it is all about context and that's what makes statistics such a beautiful concept."
Lee said that each year he attends the Datathon, he learns new things, and he has seen students impress the judges and leave with an interview lined up at great companies.
Synchrony, for example, which opened the Emerging Technology Center at the University of Illinois Research Park in 2018, recruits 40 students for year-round internships at the park, including past winners of the Datathon, according to the company.
Lee said that the Datathon presents students with data that isn't cleaned or sorted in any way—in the same way that he anticipates they will encounter real-world problems in their careers.
"This leads to students having to use a different approach than what they do in class, which always leads to a great learning atmosphere," he said.
In addition to the best model award, other results are as follows:
Runner up, best model: Haodong Ge, Congwei Yang, Yanliang Tao, and Li Ding.

Most innovative model: Rishub Podar, Liam Lutton, Andrew Ma, and Joseph Isaac.

Best video pitch: Pranav Roman, Ryohei Namiki, and Tiffany Kim.

Best meme: Anthony Lee, Vetrie Senthikumar, Colin Kauss, and Gajan Kumar.
Editor's note: Read about LAS senior Divij Ranjan's experience helping to organize Datathon here.