Esther Ngumbi: My path to Illinois
Ever since growing up on a farm in Kenya, entomology professor had a love for science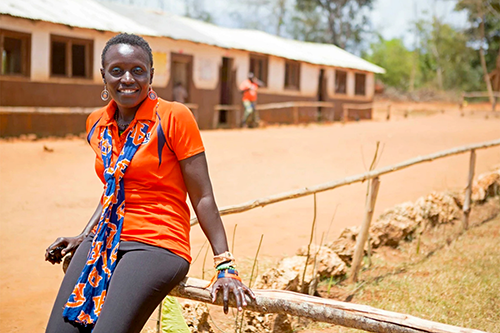 I grew up on the Kenyan coast, in a town called Mabafweni, in Kwale County. My parents were teachers, but their income was not enough to sustain us and send us to school. So, we also farmed. I got up early every day to work on the farm before school.
When I was a young person working on my family farm, I saw every year that halfway through the growing season, insects would come and take away much of our food. And then drought would come and take much of what was left. This had a big influence on me.
Education was very important to my parents. I did well on my examinations, and I was recruited to do a bachelor of science degree at Kenyatta University.
My assignment to study science turned out to be very lucky. In my laboratory studies, I realized I loved the process of science. We did a lot of agricultural work, and I knew that this was the career that I dreamed of. I was enrolled in a master's degree program at Kenyatta before I finished my bachelor's degree.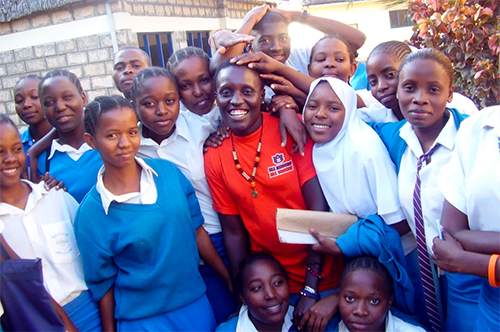 Every step of my life, I have had teachers and mentors who guided me and opened doors I did not know existed. My parents, too, gave up everything they had for me and my siblings to have a chance to receive an education.
During my master's degree, I worked on the problem of a stem borer that was destroying Kenyan maize. After that, I went to Israel to study how to prevent insect damage to agricultural products in storage. I then came to the U.S. to do my PhD at Auburn University.
At Auburn, my advisers encouraged me to study how soil microbes influence plant health. The work fascinated me. We found that some beneficial bacteria make plants less attractive to insect predators.
Other microbes boost productivity or help plants withstand drought. Three patents for beneficial soil products emerged from this work. My advisers generously included me on those patents.
In 2011, I received my doctoral degree in entomology from Auburn. The following year, I founded the Dr. Ndumbi Faulu Academy with my parents. This elementary and middle school in my home community now has over 110 students in grades one through eight.
In 2014, I founded Oyeska Greens, an agricultural startup for Kenyan farmers. This program helps small-holder farmers make use of the best information to improve the health and sustainability of their crops and bring their products to market.
I came to the U of I as a postdoc and joined the Illinois faculty last year. I am so grateful that this university allows a researcher like me to do research, publish and translate new scientific findings – not only for Illinois but for the world.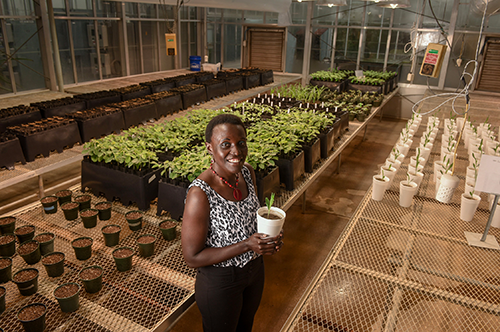 With my colleagues here, I'm continuing to study the many ways soil microbes influence plants. I'm striving to take guidance from nature and amplify natural approaches to make agriculture more robust and sustainable in the face of climate change.
A key focus of my work is global food security. In addition to developing new approaches and technologies that farmers here can use, I want to find solutions for resource-poor farmers who can't afford expensive technologies. What are the cheap, natural things that are available for farmers to use?
In one experiment, I'm studying tomatoes to see if amending the soil with certain microbes boosts their productivity, allows them to repel insects or enhances their flavor.
I'm also fascinated by something I saw in an experimental field here at Illinois. Someone was growing pumpkin plants near a plot of corn. I noticed that some of the pumpkin flowers were covered in Western corn rootworm beetles, while others had none. So, I'm exploring whether there is something in the chemistry of pumpkin flowers that can be used as an attractant to trap the beetles and draw them away from corn.
One of my other passions is science communication. I write about food security for a number of news media outlets. In addition to my entomology courses, I teach classes in science communication. I'm hoping we can develop a certificate in science communication at the University of Illinois at Urbana-Champaign.
My life's ultimate goal is to transfer the knowledge gained from my research to developing countries. I look forward to the day when I can train African farmers in the use of new soil microbial products that are designed for their farms.
I will push for this sustainable movement that begins in the soil. I will keep inspiring and mobilizing people to take action against hunger and food insecurity and to ensure a future of nutritious food for the world's growing population. This, arguably, is the world's most pressing sustainability problem.
Editor's note: Esther Ngumbi is a professor of entomology . This is the text of a presentation she made to the University of Illinois Board of Trustees on March 11, 2020. Her presentation was also videotaped. She was also featured in a new faculty profile by the College of LAS.
News Source
Esther Ngumbi, Department of Entomology