New artificial intelligence consortium at U of I pledges to fight COVID-19
C3.ai Digital Transformation Institute issues call for research proposals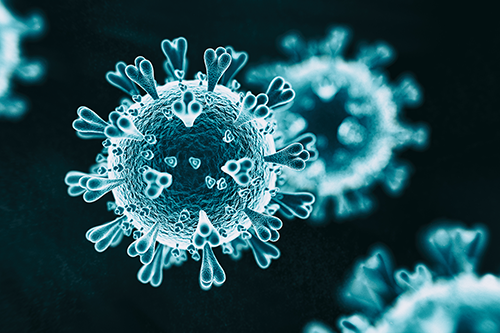 A new artificial intelligence consortium that will include the University of Illinois has made fighting the COVID-19 pandemic its first order of business.
The C3.ai Digital Transformation Institute, chaired by Thomas Siebel (BA '75, history; MBA '83; MS '85, computer science) and co-managed by the U of I and the University of California, Berkeley, aims to accelerate the application of artificial intelligence in business, government, and society. The institute will occupy space in a new building scheduled to be constructed by 2022 on the site of Illini Hall. 
The institute has already pledged to fund research proposals related to COVID-19, including applying machine learning and other artificial intelligence methods to mitigate the spread of the pandemic; genome-specific COVID-19 medical protocols, biomedical informatics methods for drug design and repurposing; design and sharing of clinical trials; improving societal resilience in response to the pandemic; data analytics for COVID-19 research harnessing private and sensitive data; and other topics.
"The C3.ai Digital Transformation Institute is a consortium of leading scientists, researchers, innovators, and executives from academia and industry, joining forces to accelerate the social and economic benefits of digital transformation," said Siebel, chairman and CEO of C3.ai, in a release from the company. "We have the opportunity through public-private partnership to change the course of a global pandemic," Siebel continued. "I cannot imagine a more important use of AI."
Researchers have until May 1 to apply for the funding. Interested individuals can learn more at C3DTI.ai.
The institute's Illinois offices will initially be located in the National Center for Supercomputing Applications, but then the institute will be one of several units housed in the new Illini Hall, which is being constructed in conjunction with the renovation of Altgeld Hall to increase capacity, modernize learning spaces, and encourage innovation in data science, mathematics, and statistics. The departments of Mathematics and Statistics will use space in the new building.
"The C3.ai Digital Transformation Institute, with its vision of cross-institutional and multi-disciplinary collaboration, represents an exciting model to help accelerate innovation in this important new field of study," said Robert J. Jones, chancellor of the University of Illinois. "At this time of a global health crisis, the Institute's initial research focus will be on applying AI to mitigate the COVID-19 pandemic and to learn from it how to protect the world from future pandemics. C3.ai DTI is an important addition to the world's fight against this disease and a powerful new resource in developing solutions to all societal challenges."
The institute is a consortium of C3.ai, a leading artificial intelligence software provider, along with the University of Illinois at Urbana-Champaign, the University of California, Berkeley, Princeton University, the University of Chicago, the Massachusetts Institute of Technology, Carnegie Mellon University, Microsoft Corporation, and the National Center for Supercomputing Applications.
Plans for how the institute will take shape on campus are still evolving. R. Srikant, a professor of electrical and computer engineering, is serving as co-director of the institute, and Tandy Warnow, a professor of computer science, is serving as co-chief scientist. Srikant said that more faculty members at Illinois may have their research funded by the institute in the future. Staff members with the National Center for Supercomputing Applications are also involved.
According to an announcement from C3.ai, the company will provide the institute $57,250,000 in cash contributions over the first five years of operation. C3.ai and Microsoft will contribute an additional $310 million in-kind, including use of the C3 AI Suite and Microsoft Azure computing, storage, and technical resources to support the institute.
As part of operations, the institute will provide up to 26 annual research awards, from $100,000 to $500,000 each. It will also provide computing access to free Azure Cloud and C3 AI Suite resources, and provide $750,000 per year to support visiting scholars.
Additionally, the institute will host an elastic cloud, big data, development, and operating platform, including the C3 AI Suite hosted on Microsoft Azure for the purpose of supporting institute research, curriculum development, and teaching.  It will also support an annual conference, annual report, newsletters, published research, and website. An industry partners program will be established to assure that the institute's operations are aligned to the needs of the private sector.