Supporting the front lines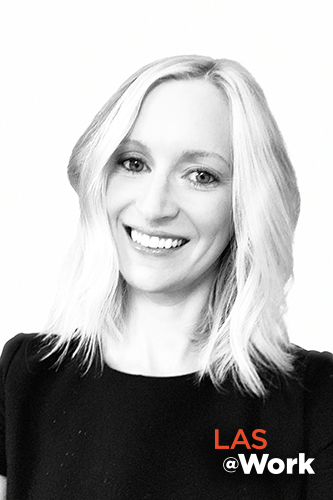 Lindsey Dunn Burgstahler is the vice president for the American Hospital Association Center for Health Innovation where her team works with 5,000 health systems across the country that are serving on the front lines against COVID-19.
Degree: BA, '04, communication; MA, '08, communication
Residence: Chicago
Occupation: Vice President, AHA Center for Health Innovation, American Hospital Association

Family: Husband Evan Burgstahler and two sons, Charlie (2) and Otto (4 months)

Please briefly describe a typical workday at your current position. Also, what is an example of the most interesting aspect of your job?    
In my role at the AHA Center for Health Innovation I oversee a variety of different programs aimed at accelerating health care innovation, these range from startup competitions to AHA's annual Innovation Challenge where we award $100,000 to a hospital to bring an innovative concept to life to events and training programs designed to advance professional and workforce development. Prior to COVID-19, most of my days were spent in meetings or conference calls with the teams who lead these programs or the partners that help support them, working through challenges and coming up with new ideas to keep updating and improving upon the programs.
How has COVID-19 affected your work?
The AHA represents the more than 5,000 hospitals and health systems across the country that are serving as the front lines in responding to COVID. My colleagues who lead our advocacy work have been working with Congress and the administration on a number of efforts. In the last two COVID-19 legislative packages, we've helped secure $175 billion to reimburse health care providers for expenses or lost revenues not otherwise reimbursed that are directly attributable to COVID-19.

Within the Innovation Center where I work, the type of work I do hasn't changed. I still manage operations and help lead teams with the goal of identifying and spreading solutions that advance health care delivery. But, the speed at which we are working has accelerated immensely. We're rolling out programs in a week or two that previously would have taken us months if not years. I'm really proud of the programs my team and I have worked on during this pandemic. We are leading the 100 Million Masks Challenge, a campaign to secure 100 million pieces of personal protective equipment for health care workers by connecting manufacturers with hospitals that need it. We launched the HealthEquip app with Microsoft and UPS to help coordinate the logistics of getting that PPE to the hospitals who need it. We're working with a variety of partners on another campaign called Protect The Heroes, which allows individuals or organizations to donate directly to hospitals to fund PPE or other needs. We recently announced partnerships with Major League Baseball and the National Bobblehead Museum – that's the maker of the Dr. Fauci and Dr. Birx bobbleheads. Both are providing large donations to Protect the Heroes.

How did you land your first job?
I applied online with no connections. There was an onsite interview with four different interviewers followed by a lunch with HR and a panel of other applicants. There was also mental math asked on the spot. It was intense! I remember one interviewer asked me if I was a leader or follower, and I told him it depends on the situation. I generally 'lean into' taking the lead in situations, but if I'm not the expert or there are others willing and more senior to me, then they are obviously the leader. He must have heard a lot of "I definitely lead group projects" because he got pretty casual after that. I remember talking to another interviewer about her upcoming wedding – I saw she had an engagement band and no ring. And another mentioned he was taking improv classes, to which I replied, "yes, and?" (That's an improve joke.) So, I guess my point is, although I eventually got the math questions right, it took way longer for me to figure out the answer than appropriate. So, I'm pretty sure they hired me for what they assumed would be strong client relations skills.
How did your major prepare you for your career? 
Communication is so important to success in any role. And no matter what level you are, you need to communicate your recommendations clearly and persuasively. For leaders, communications can make or break you. It can help people align with your vision and work their tails off for the organization, but lack of it, or the wrong tone, can leave employees unmotivated and uninspired.

Unfortunately, a lot of people seem to think that taking a single business writing course makes you ready for the working world. Organizational and interpersonal communications courses should be university-wide requirements. Being a strong communicator doesn't need to come naturally, there are entire areas of research out there to help inform and guide us.
What do you like to do when you're not working?
I used to have a lot more free time before I became a mom. So a lot of my hobbies are on a hiatus. The one I do keep up with is running. I've run the Illini Half Marathon probably four out of the last five years. It's such a fun race. The course is flat and I am literally running down memory lane.