Building a Culture of Health 
Julie Morita leads team for Robert Wood Johnson Foundation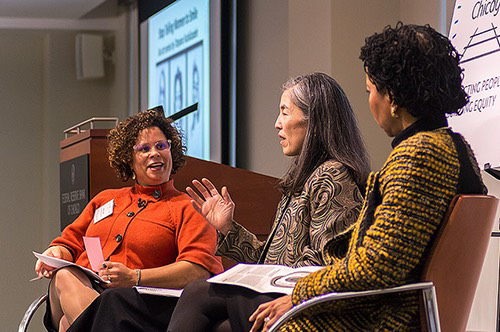 As the executive vice president of the Robert Wood Johnson Foundation, Julie Morita leads a team of medical professionals at the nation's largest foundation focused solely on health.

Hometown:  Chicago

Degree: BS, '86, biology

Current occupation: Executive Vice President, Robert Wood Johnson Foundation

Family: Husband William Trick (BS, '86, biochemistry) and children Megan Trick, who studied biochemistry at Bowdoin College, and Jake Trick, a rising freshman at Northwestern University

Please briefly describe a typical workday at your current position. How has COVID-19 affected your work? 
At the Robert Wood Johnson Foundation, we are working alongside others to build a national Culture of Health that provides everyone in America a fair and just opportunity for health and well-being. We do this by funding work that removes obstacles to health such as poverty, discrimination, and their consequences, including powerlessness, and lack of access to good jobs with fair pay, quality education and housing, safe environments and health care. COVID-19 has impacted every aspect of our lives and has made our focus on the social factors that impact health more salient. 

The foundation's immediate response to the COVID-19 pandemic included awarding $50 million in humanitarian aid to several national and community organizations to help address the immediate needs such as food, housing, and income assistance for some of the nation's most stressed communities, including lower-income workers, communities of color, indigenous communities, and people with disabilities. While RWJF provided this immediate aid during this moment of crisis, its primary focus and strategic work remains unchanged: seeking long-term policy and systemic solutions that address the grave health inequities in America.

My primary responsibilities include overseeing the programmatic work of the foundation including strategic grant making, communications, policy, research, evaluation and learning. I report to the president of the foundation and supervise four vice presidents and an associate executive vice president. I have the good fortune of supervising a highly talented, extremely knowledgeable, and skilled team of individuals. On a daily basis my focus is on ensuring that my staff have the guidance, resources, and support they need to efficiently and effectively support initiatives that address building a Culture of Health and advancing health equity.

Please describe your career path from college graduation to your current job.
After graduating from college in 1986, I attended Medical School at the University of Illinois College of Medicine in Chicago and completed a Pediatric Residency from 1990-1993 at the University of Minnesota in Minneapolis/St. Paul. Since completing my pediatric residency, I have held a variety of positions. My positions included clinical pediatrician in a multispecialty group clinic in Tucson, Ariz., medical epidemiologist at the Centers for Disease Control and Prevention in Atlanta, Ga., medical director for the Chicago Department of Public Health (CDPH), chief medical officer for CDPH, and commissioner for CDPH. Over my 20-year career at CDPH, my supervisory responsibilities, budgetary authority, and breadth of programmatic oversight increased each time I accepted a new position. As a medical director, I was responsible for managing the Immunization Program (around 40 staff with an annual budget of $6 million). As chief medical officer, I provided oversight to five additional programs (around 200 staff with an annual budget of $40 million), and as commissioner, I was responsible for 30 programs (around 600 staff with a budget exceeding $160 million). In June of 2019, I left CDPH and joined the Robert Wood Johnson Foundation.

In hindsight, what about college best prepared you for your career? 
Learning to live, learn, and socialize at a large university with a diverse student body was a challenge and provided me with the opportunity to experience a wide range of classes, activities, ways of thinking, lifestyles, social circumstances and values. My college experiences gave me the confidence to take on future personal and professional challenges and an increased appreciation for the resources and supports that I have had access to throughout my life. 

How did your major prepare you for your career? 
Majoring in a biological science did not prevent me from taking classes in other fields. In addition to my math and science classes which were quantitative and analytic, I was also able to take literature and philosophy classes that stretched my thinking and enhanced my communication and writing skills. In my current role and in my prior roles in governmental public health, it was important that I be knowledgeable about and comfortable with scientific and quantitative information and also to be able to communicate, verbally/orally and in writing. 

Please describe your proudest achievement: 
Personally, I am most proud of my children. Although I cannot claim them as my achievements, I am very proud of who they have become and what they will contribute to our society in the future. 

Professionally, the following is an example of a comprehensive initiative I led to change knowledge and behavior about the human papillomavirus (HPV) vaccine. When I was medical director for CDPH's Immunization Program, the HPV vaccine was licensed and recommended for girls 11 years of age. The vaccine prevents infection with the virus strains that cause most cervical cancers, many oropharyngeal cancers, anogenital cancers, and some genital warts. Unfortunately, after the vaccine had been available for several years, HPV vaccine coverage levels lagged behind other vaccines routinely recommended at 11 years of age because many healthcare providers were ambivalent about the vaccine and parents perceived HPV vaccine as a vaccine to prevent a sexually transmitted disease not a cancer preventing vaccine. 

Based on prior successful immunization program work, I led CDPH's initiative to change the perceptions and behavior of healthcare providers and the public. CDPH's Immunization Program coordinated a multicomponent intervention including engagement of a broad array of stakeholders (e.g., healthcare providers, community organizations, faith organizations, advocacy groups, and community members), a public awareness campaign focused on promoting HPV vaccine as a cancer preventing vaccine, and a healthcare provider educational program focused on equipping providers and their staff with scripts to use when recommending HPV vaccine. Our approach resulted in a 20 percentage point increase in vaccine coverage levels among teenage girls in Chicago and was heralded as an exemplary model, nationally.