Building bridges with the Maya community
A new outreach effort connects researchers and social service professionals to assist a growing population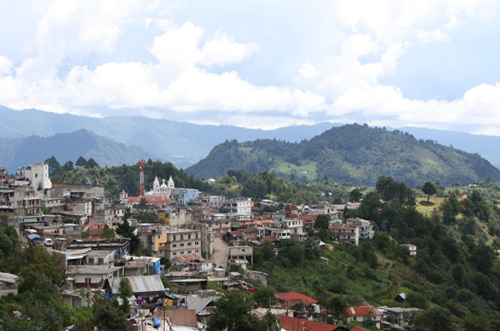 A new initiative based in the University of Illinois Center for Latin American & Caribbean Studies aims to develop more effective partnerships based in culturally and linguistically sensitive support and collaborations with the Champaign-Urbana Maya community. 
The Illinois Maya Initiative plans to connect researchers, community social service professionals, and a growing community of Mayan immigrants and refugees in East Central Illinois, who probably number in the hundreds.
The initiative was recently awarded funding by the University of Illinois CO+RE: Community + Research Partnership Program. The main focus of CO+RE, a recently launched program, is to develop long term, reciprocal relationships with community stakeholders in East Central Illinois.
The program is supported by the Office of the Vice Chancellor for Research and Innovation.
The contemporary Maya culture can trace its roots back to the ancient Maya civilization located in southern Mexico and parts of Central America. Today's Mayan people today are strongly connected to global economic and political contexts, and the challenges and insecurity of life in their homelands have resulted in waves of international Maya migration – predominately to the U.S., according to the researchers. While the situation of Maya communities in Central America and in the U.S. remains precarious, these communities have been actively engaged in efforts to gain wider recognition of their rights as Indigenous people in Mexico, Guatemala, and the U.S. 
The Champaign-Urbana (C-U) region is home to a growing population of Indigenous Latin American immigrants and refugees, with many coming from the Maya community. Immigrants from Guatemala and El Salvador began arriving in the C-U community in the 1980s after fleeing civil wars in their home countries. These immigrants sought sanctuary in churches that agreed to protect them from deportation.  
Maya Initiative research team member and professor of linguistics Ryan Shosted has worked extensively with the Maya community since arriving in Champaign in 2007, helping to raise awareness about their native language of Q'anjob'al in the C-U community. 
The research team for the initiative also includes Margarita Teran-Garcia, professor of human development and family studies, and the program director of the Family Resiliency Center's Abriendo Caminos program focused on Hispanic health; Julia Albarracin, professor of political science at Western Illinois University, whose research focuses on immigrant political behavior, immigrant incorporation, and Latinos/as in the United States; Alejandra Suefferheld, outreach coordinator of the Center for Latin American & Caribbean Studies (CLACS), and Kasia Szremski, associate director of CLACS.
Research team member Andrew Orta, interim director of CLACS and professor of anthropology, explained that one of the many specific goals of the initiative is to establish ethical guidelines and to provide examples of collaborative research to aid researchers with their interactions with the Maya community. Orta said this is an important task as the Mayan population's unique cultural and linguistic characteristics can make more standard methods of research or community service that are developed in connection with Spanish-speaking Latinx (the gender-neutral form of Latino/a) communities a poor fit. 
Many different community service providers including local school districts and churches are working to meet these challenges, and Orta said the initiative hopes to build on those experiences to improve outreach efforts and practices.
"We seek to host conversations with researchers, service providers, and, most importantly, with members of the Maya community to understand what has worked, what has not worked, and how we might better align all of this effort with the needs and interests of the Maya community," he said.
Orta added that they hope to start conversations with the Maya community that will lead to new research and community service projects. These projects will be designed around questions and needs the community members have and will deliver results that will be useful to them.
"In the long-term, we aim to help to build capacities among participating community members as researchers, health educators, and translators," he said.
One way in which the initiative plans on developing models of best practice for working with the Maya community is by working with the Office for the Protection of Research Subjects in order to share ideas about consent forms and other observations about the needs and concerns of the local Maya community.
"Our primary goals for the Illinois Maya Initiative are to create conditions for more authentically collaborative and participatory research, to help Maya community members articulate what they would like to see from research and engagement activities, and to jump start collaborations and partnerships between researchers, community service providers, and Maya community members," Orta said.