Faculty take new leadership posts in LAS
Twelve professors assume roles this fall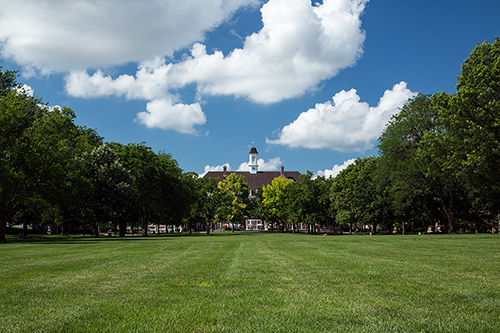 Twelve faculty members have taken new leadership positions in departments and other academic units within the College of LAS.
Leadership changes within academic units are normal during the start of the new school year. The College of LAS has more than 600 faculty in almost 70 departments, programs, schools, centers, and other academic units.
"Our new executive officers in the College of LAS are tremendous teachers, researchers, and administrators," said Gene Robinson, interim dean of the College of LAS and Swanlund Chair in Entomology. "We are facing a particularly challenging time at the University of Illinois, and I'm confident that they will help provide the leadership necessary to continue to fulfill our academic mission."
"Our outgoing executive officers deserve much praise for their service," Robinson added. "They've helped to make our academic units strong, and their guidance and wisdom during the onset of the pandemic was critically important."
The new executive officers include:
Flavia Andrade, acting director, Women & Gender in Global Perspectives Program. Andrade arrived at Illinois in 2008, and her research focuses on how demographic, epidemiological and nutritional changes as well as social disparities influence the health, wellbeing, and the quality of life for Latinos in Latin America, the Caribbean, and the U.S.
Jenny Davis, director, Program in American Indian Studies. Davis arrived at Illinois in 2014, and her research focuses on contemporary Indigenous language revitalization; Indigenous gender and sexuality; and collaborative methods, ethics, and repatriation in Indigenous research. 
George Deltas, head, Department of Economics. Deltas joined the department in 1995, and his research focuses on auction theory, pollution prevention, environmental management, and market equilibrium.
Zsuzsanna Fagyal, head, Department of French & Italian. Fagyal arrived at Illinois in 1999, and her research focuses on applied linguistics, Mediterranean studies, and minority and migration studies.
John Karam, director, Lemann Center for Brazillian Studies. Karam joined the department in 2015, and his research focuses on area and ethnic studies and diaspora and transnational studies.
Andrew Leakey, head, Department of Plant Biology. Leakey arrived at the university in 2002, and he studies plant water use efficiency, photosynthesis, plant responses to global climate change, and adaptation of food and fuel crops to drought.
Catherine Murphy, head, Department of Chemistry. Murphy joined Illinois in 2009, and her research focuses on synthesis, properties, chemical sensing, biological applications, and environmental implications of colloidal inorganic nanomaterials.
Satish Nair, head, Department of Biochemistry. Nair arrived at Illinois in 2001, and his research focuses on drug discovery, enzymology, host-pathogen interactions, membrane biology, microbial physiology, and protein structure. 
Supriya Prasanth, head, Department of Cell & Developmental Biology. Prasanth arrived at Illinois in 2007, and her research focuses on chromatin structure, DNA biology, and protein-nucleic acid interactions. Her new role began in January.
Misumi Sadler, director, Center for East Asian & Pacific Studies. Sadler arrived at Illinois in 2003, and her research areas are grammar-pragmatics interface, interactional linguistics, language change, pedagogical grammar, and teaching Japanese as a foreign language.
Chilin Shih, head, Department of East Asian Languages and Cultures. Shih joined Illinois in 2003, and her research focuses on phonetics, phonology, tone, intonation, second language fluency, pronunciation training, and Chinese proficiency testing.
Gisela Sin, director, Center for Latin American & Caribbean Studies. Sin arrived at Illinois in 2007, and her research focuses on political institutions with an emphasis on the strategic elements of separation of powers.
News Source
Kimberly Wilson and Dave Evensen