COVID-19 campus testing program in full swing
More than a quarter million tests conducted since students return for fall semester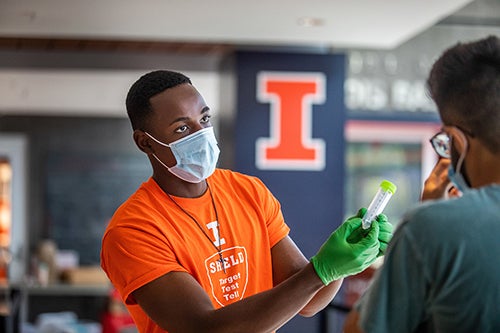 Since July, the University of Illinois has conducted more than 300,000 COVID-19 tests on students, faculty, and staff to provide a safe environment for a mix of online and in-person classes on campus.
The rapid, saliva-based tests, which are being administered at 17 sites across campus, were developed at the university. In August, the university validated its laboratory-developed test under Clinical Laboratory Improvement Amendments (CLIA) by successfully comparing its performance to an FDA Emergency Use Authorized test. CLIA was established by the federal government to regulate laboratory tests involving human subjects. Since mid-August, when students began returning to campus, the university has conducted more than 270,000 tests. Testing began in July with faculty and staff.  
According to the Testing Data Dashboard, the university has been conducting more than 17,000 tests on the busiest days, which accounts for about 2 percent of all COVID-19 testing in the entire nation, according to news reports. Undergraduate students are required to be tested twice per week, while faculty, staff, and others have different requirements depending on their level of exposure to other people on campus.
"Direct saliva testing can address bottlenecks of time, cost and supplies. Our test also has unique features that enable fast and frequent testing on a large scale, and we are now working together with many partners to make our testing method broadly available as soon as possible," said Martin Burke, the May and Ving Lee Professor for Chemical Innovation in the Department of Chemistry and associate dean for research at the Carle Illinois College of Medicine, who helped design the test. Burke participated in a widely viewed CNN interview regarding the test.  
As of Sept. 14, the testing program has detected 1,924 new cases of COVID-19 on campus since Aug. 17. As of that date, the seven-day positivity rate—the number of unique, new, positive cases divided by the number of tests during that period—was 0.44 percent.
After a spike in new cases in late August and early September, during which 549 new cases were detected within a three-day period, the university enacted a partial lockdown on student activity which appears to have led to a fall in the number of new cases. About 40 new cases were detected on Sept. 14, out of 10,214 tests, which represents a 0.39 percent daily positivity rate.
Unlike most coronavirus tests, which involve a long nasopharyngeal swab, the Illinois-developed saliva test, called I-COVID, asks those tested to drool a small amount into a sterile test tube. The I-COVID test can yield results in hours, though testing results have taken about a day since students returned to campus.
Testing is only one part of the strategy to contain the COVID-19 pandemic. The university has developed SHIELD, a three-pronged "target, test, tell" system that incorporates testing with data reporting, modeling and a smartphone app, working closely with the Champaign-Urbana Public Health District for contact tracing, and isolation for individuals who test positive. The University of Illinois System recently announced the formation of SHIELD T3, aimed at making the testing and data technology broadly available.
"The bridge to FDA Emergency Use Authorization is extremely exciting and important news for all of us in this pandemic," said Robert J. Jones, the chancellor of the Urbana campus. "This is a critical new tool that we believe will let communities scale up their COVID-19 testing capabilities more rapidly in ways that are more affordable. We're proud to be the university that is home to a huge team of amazingly dedicated and talented researchers who came together so quickly to move this test from concept to use approval in just a matter of months."
Follow this link for more about College of LAS information and resources during the pandemic. Follow this link for more about campus-level information and resources.
News Source
Illinois News Bureau and the College of LAS