LAS alumni honored for careers, service, and giving back
LAS Alumni Award winners featured in virtual celebration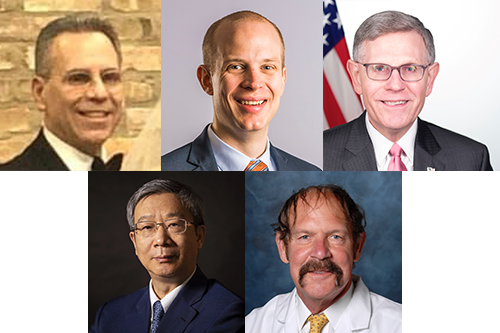 With careers ranging from novel-writing to emergency medicine, overseeing U.S. national science policy, managing the central bank of China, clean energy, and preventing drug abuse, 10 alumni from the College of Liberal Arts & Sciences have named recipients of the college's 2020 annual alumni awards.
The winners have been honored during LAS Impact 2020, a weeklong celebration of the College of Liberal Arts & Sciences that began on Oct. 26. You can read summaries and link to video interviews below.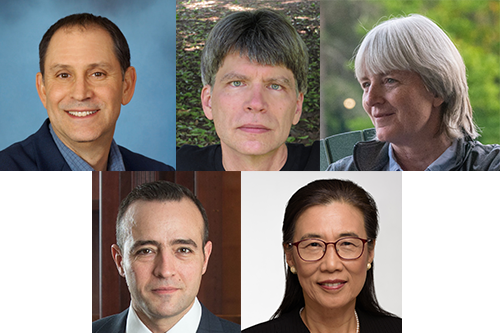 Richard Berkowitz (BS, '79, biology; MD; '83)
Richard Berkowitz has played an integral role in helping Illinois students interested in medical professions to achieve their career goals. Berkowitz, a physician anesthesiologist and perioperative physician, co-founded the School of Molecular and Cellular Biology (MCB) Pre-Health and Professional Mentorship Program with the school's assistant director of advising and recruitment Tina Knox in 2010.
For his efforts, Berkowitz has received an LAS Distinguished Service Award.
The mentorship program connects undergraduate students with alumni already practicing in the field, and includes monthly check-ins between students and their mentors as well as job-shadowing and site visits opportunities for students whenever possible.
In addition to implementing the program, Berkowitz has served as a mentor to 12 students over the past 10 years, and he often maintains contact with students once they have left the program to ensure they are succeeding in their professional endeavors. Berkowitz considers the mentorship program to be one of his proudest career achievements.
"Not only is it gratifying for me to see these kids succeed, to be able to collaborate with other professionals, and to mentor the students, but also, I fulfill my promise to my advisors that if I ever was fortunate enough to become a physician, I'd be able to not only give back to society, but to give back to the university," Berkowitz said.
The mentorship program, which also includes a yearly career symposium with biology alumni, recently celebrated its ten year anniversary.
"I'm really proud of the people in the MCB office for having the same vision that I did in being able to create the program," Berkowitz said.
Watch a video interview of Berkowitz here.
Kurt Bloomstrand (BS, '09, molecular and cellular biology)
As an undergraduate student at the University of Illinois LAS Outstanding Young Alumni awardee Kurt Bloomstrand joined Illini EMS, an organization whose members provide medical assistance at large events on campus. This experience would solidify Bloomstrand's passion for medicine, leading him to many accomplishments within the field of medicine, including the creation of a system response program in the Urbana-Champaign area.
As medical director of emergency medical services at OSF Heart of Mary Medical Center, Bloomstrand administers a physician level of care during medical emergencies before patients are taken to the hospital. He oversees operations at 65 agencies in seven different counties.
Bloomstrand began his medical career as a dispatcher for Presence Health Regional Emergency Medical Services, and later worked as an emergency medical technician. These roles all share a common thread: to take care of people in emergencies. He operates a physician response vehicle that operates as a typical ambulance but with tools and medicine that only physicians are certified to provide.
"I think my biggest accomplishment that seems to make me the most proud  is starting a physician Response Program for our hospital system within our community," he said. "This is really kind of a trend setting thing, so to speak, and it allows us to deliver that physician level of care to these patients, before they make it to the hospital and get advanced procedures and intervention started right away in order to make you know, differences in patient outcomes in a moment's notice."
Watch a video interview of Bloomstrand here.
Kelvin Droegemeier  (MS, '82; PhD, '85; atmospheric sciences)
Kelvin Droegemeier is director of the Office of Science and Technology Policy (OSTP) at the White House and acting director of the National Science Foundation. He is the recipient of an LAS Alumni Achievement Award.
In his current position, Droegemeier serves as science advisor to President Donald Trump and coordinates science and technology initiatives across the federal government. He was appointed to his current position following a well-respected career in science: Before becoming director, Droegemeier worked for 33 years at the University of Oklahoma, serving as a professor of meteorology and vice president for research.
"It gives me great pride… in seeing others succeed," he said. "Having individual success means organization success. When organization succeeds, we succeed as a nation. And that national focus is what I'm working on right now."
While attending the University of Illinois, Droegemeier said he learned how to "think big" and "engage in multiple disciplines." One of his favorite classes was Atmospheric Sciences 405, taught by his advisor Robert Wilhelmson, who also conceived the idea of a supercomputing center—the National Center for Supercomputing Applications (NCSA) at Illinois—with Larry Smarr, founding director of NCSA and professor in astronomy.
"Watching them develop the idea, develop the proposal, (and) have a site visit, was an extraordinary experience as a grad student," Droegemeier said. "I actually got to participate in some of that, and that absolutely transformed the direction of science in this country and still has an impact to this day."
Watch a video interview of Droegemeier here.
Joel Geiderman  (BS, '72, physiology)
LAS Humanitarian Award awardee Joel Geiderman's recalls his liberal arts education as being invaluable to him in all of his life endeavors, including his groundbreaking 41-year career in emergency medicine.
Remembering his experience at the University of Illinois, Geiderman said that there were no "free passes" or grading curves within the university's "rigorous" curriculum. It was an experience, he said, that helped him throughout his career.
"I think that that really is a good way to go, because as you go through life, you realize that you can't fake it, you can't call it in," he said. "You have to put the work in. And I do believe that I learned that there."
As co-chairman of the Department of Emergency Medicine at the Cedar-Sinai Medical in Los Angeles, California, Geiderman played an essential role in the development of emergency medicine, a specialty which he said was not recognized as prominently while he pursued his medical career. He considers his contribution to be his proudest accomplishment.
"I would tell [students] that in my life, I took the other path, the one less traveled, and it's worked out very well for me," he said. "I think that people should follow their hearts, and do what they want to do, and things will work out."
Geiderman is also medical director of the Beverly Hills Fire Department, and he has also been extremely active in the area of Holocaust education.
Watch a video interview of Geiderman here.
Michael Hecht (PhD, '76, communication)
As distinguished professor emeritus of communication arts and sciences at Penn State University, Michael Hecht is a highly influential scholar of the ways that culture and identity are connected to health decisions. Much of his work, however, has taken place off campus, where he has built a model that is proven effective to prevent substance abuse, risky sexual behaviors, opioid overdose deaths, and cancer.
His success includes a "proven effective" model he developed for keepin' it R.E.A.L. (kiR),  keepin' it R.E.A.L., (kiR) a product of Real Prevention LLC, where Hecht is president.
The educational programs for this company were constructed to prevent substance abuse among diverse communities of youth. As president, Hecht conducts research to help people live healthier and safer lives and develops program curriculum for kiR.
"Our programs have a positive impact on people's lives, particularly young people," Hecht said.
"For example, research shows that our programs decrease substance use and decrease risky sexual behaviors of another program. That increases HPV vaccination among young adults as a result our programs are recommended by the U.S. Surgeon General in the 2016 report on the addiction. One of our programs is now used by 800,000 people in the United States as well as in 50 countries around the world," he said.
For his efforts, Hecht has received the LAS Humanitarian Award. Watch a video interview of Hecht here.
Richard Powers (BS, '78; MA, '80; English)
Illinois alumnus and novelist Richard Powers switched his major from physics to English during his time as an undergraduate, a decision that catalyzed an outstanding career in fiction writing. Powers has written several critically acclaimed novels such as "Three Farmers on Their Way to a Dance" and "The Gold Bug Variations," and was awarded the Pulitzer Prize for Fiction in 2019 for his most recent novel "Overstory."
Powers has remained committed to the Illinois community throughout all his success, and formerly served as a faculty member in the Department of English for two decades teaching creative writing. During this time, Powers worked closely with several students while simultaneously writing some of his most successful novels. 
Powers also served as writer-in-residence throughout his time as a faculty member at Illinois, and held an affiliated faculty appointment in cognitive neuroscience. His novel "Galatea 2.2.," a pseudo-autobiographical story about artificial intelligence, was heavily influenced by his experience at the Beckman Institute for Advanced Science and Technology.
In 1996, Powers was named Swanlund Chair in English and in 1999 appointed to the Center for Advanced Study. Powers is the author of 12 novels. He has received a MacArthur Fellowship, and he received the National Book Award in 2006 for "The Echo Maker." He's won numerous other literary prizes, and he was elected to the American Academy of Arts and Letters in 2010, and he's been elected twice to the American Academy of Arts and Sciences (1998 and 2010).
He has received an LAS Alumni Achievement Award with special recognition. Listen to a statement from him here.
Cheryl Quinn (PhD, '91, biochemistry)
Cheryl Quinn has spent her career working with pharmaceutical drug discovery, development, and consulting. She is currently an Independent Consultant for QnA Pharma Consulting, LLC, where she works to discover and develop new drugs or medicines. She is the recipient of an LAS Alumni Achievement Award.
Quinn looks for new ways to treat diseases. Her focus has primarily been with antifungal and antibacterial medicines, but shehas also started researching anti-cancer medicines.
Quinn said she chose to go to Illinois because of Robert Switzer, a professor in biochemisty. In the class she took with him, she learned the rigor of science and how to approach problems rigorously and with a methodical, scientific approach. Quinn also found out how to talk to other professors and other experts and how to use their expertise in furthering her own learning process.
"What I learned at Illinois was we had this extended faculty of lots of diverse experiences. And what I learned there was don't reinvent the wheel yourself, don't make yourself go out and learn something when there's an expert down the hall go and ask them, 'How do you do this? What do you think about this?' Bounce ideas off these people, get that kind of feedback," she said.
This is also something Quinn would encourage other students to do as well.
"The biochemistry department at Illinois is amazing," she said. "There are so many people with knowledge with different fields and you'd be hard pressed to come up with something that someone already has expertise in."
Watch a video interview of Quinn here.
George Reveliotis (BA, '96, history)
When George Reveliotis came to the University of Illinois at Urbana-Champaign, his biggest challenge was living away from home for the first time. The unfamiliarity of college schedules and studying required him to adapt, but he found that his interactions with fellow students and faculty helped him adjust—and succeed.
He is now founder and managing partner of Reveliotis Law, P.C. The unique experience of adjusting to college life, he said, is what helped propel him to where he is now, including being the recipient of the LAS Dean's Quadrangle Award, which recognizes extraordinary friends and supporters of the College of Liberal Arts and Sciences.
Through his work, Reveliotis "ensures fairness within the legal system," for property owners paying taxes. A strong supporter of the Department of the Classics, Reveliotis, in addition to previous gifts that funded teaching assistant and lecturer positions, recently pledged $1.5 million to set up the The George N. Reveliotis Family Hellenic Studies Endowment. It will support a lecturer, scholarships, professorships, and graduate fellowships.
"What I'm most proud of are the symbiotic relationships that I formed over the over the past 20 years between my clients and myself, and the relationships have, in turn become very family-oriented, where we become friends, andfamily friends," he said. "That means a lot to me, to know that someone has entrusted me with certain matters of their life."
Watch a video interview of Reveliotis here.
Hye Kyung Timken (PhD, '87, chemistry)
After earning her doctoral degree in chemistry at Illinois, Hye Kyung Timken moved on to Chevron Corporation. She is now a Chevron Fellow at the company, and in her position as team leader she works to make products and processes more efficient, cleaner, and safer. She is the recipient of an LAS Alumni Achievement Award. 
Timken said she and her team worked for the last 20 years to make the process of making gasoline, one of the most dangerous processes, much more safe and efficient. This is also one of the accomplishments that Timken is most proud of.
Timken's favorite class at Illinois was Chemistry 407, Advanced Inorganic Chemistry, which she took as a first-year PhD student. It was an eye-opening class, she said. However, in her second year, she decided to switch from inorganic chemistry to physical chemistry.
"That was a lot of initiative on my part and a pretty bold decision and that helped me into a new field, expand my horizons," she said. "Whenever I have difficult decisions, I think about that first difficult decision in Illinois."
Although this was a tough decision, it was also the most impactful, Timken said. It gave her confidence to expand into new areas and to not hesitate and speak up. She believes that these sorts of challenging decisions are also what help people grow into who they become.
"I think that life is not always monochromous. It is ups and downs, and the problems are difficult," she said. "But then those give the best lessons. So when you have a problem or issues, you are not alone… You are going to look back and (think), 'By overcoming this problem I become a better person.'"
Watch a video interview of Timken here.
Yi Gang (MS, '84; PhD, '86; economics)
Yi Gang has been awarded the LAS Alumni Achievement Award in large part for his position as Governor of the People's Bank of China (PCB), a role in which he is the highest official governing the monetary policy and banking regulations in the country.
During his time at Illinois, Yi served as a teaching assistant in economics statistics courses and was also a research assistant. Yi began his professional career as a professor at the Indiana University-Purdue University, and his research interests focused on Chinese monetary policy and the development of China's financial sector.
Yi is the author of "Money, Banking, and Financial Markets in China," a book which solidified his place as one of the premier authority figures in the Chinese economy. Yi joined the People's Bank of China in 1997 as the deputy secretary general, and he served a 10-year apprenticeship as deputy governor under Zhou Xiaochuan before he was appointed to his current role in 2018.
Yi's responsibilities as governor include reshaping China's financial landscape, and he said he plans to maintain a prudent monetary policy, promote financial reform, and maintain financial stability during his tenure.
Yi is a role model for Illinois students hailing from China, as he has developed a successful career in public service in China after pursuing studies and a career outside of the country.
Watch a video profile of Yi here. 
News Source
Kimberly Belser, Samantha Boyle, and Kimberly Wilson