The lessons of a Nobel Laureate
Phillip Sharp recalls a key moment on campus as he renews support for the U of I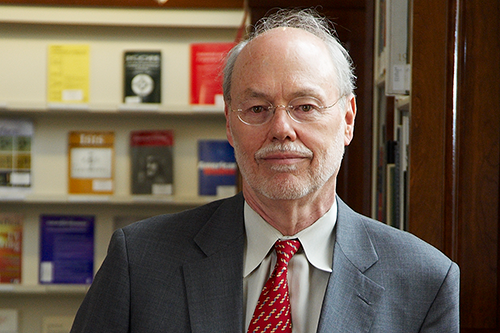 Chemistry tests are hard, even for future Nobel Laureates. When Phillip Sharp (PhD, '69, chemistry) first enrolled at the university's Department of Chemistry for graduate school, he had to take several entrance tests to gauge his abilities. Inorganic chemistry was a tripping point.
"I just didn't know the material," said Sharp. "And so they did exactly what they should have done. They told me to take the senior (undergraduate) classes."
Taking undergraduate senior classes as a graduate student may have been somewhat humbling, but it ultimately allowed Sharp to gain all the relevant knowledge he needed to succeed in Illinois' demanding academic environment. This was a significant turning point in Sharp's then young career—a turning point he is forever grateful to the university for.
Sharp went on to receive the 1993 Nobel Prize for Physiology or Medicine for his discovery of RNA splicing. His work helped show the genes of viruses, as well as how humans encode proteins. Sharp is now an Institute Professor at the Massachusetts Institute of Technology, as well as a member of the university's Department of Biology and the Koch Institute for Integrative Cancer Research.
His high regard for U of I's role in his education led him to establish the Phillip A. Sharp Professor of Biochemistry in 2007. He recently added to his gift to continue the professorship and increase the support that the named professor will receive.
"I greatly respect the departments, both educational programs and research programs, and its faculty which are quite distinguished," Sharp said. "I wanted to show my appreciation by making a gift to support the faculty."
David Kranz, the previous holder of the professorship, recently retired, and Sharp hopes the next holder will use the position to advance the field of biochemistry. "I hope and expect that the holder of the (professorship) will be doing very significant research," Sharp said. "It will be someone who is deeply involved in the university and its education."
Sharp also hopes his donation and professorship will help the university retain the best biochemists in the field. Though Sharp received his PhD from Illinois' Department of Chemistry, his gift has gone to the Department of Biochemistry as that is where his degree subject—biophysical chemistry—would be found today. At the time Sharp received his degree, biochemistry and chemistry were under one department.
Sharp served as the director for MIT's Koch Institute for Integrative Cancer Research (then Cancer Research Center) from 1985-1991, as well as head of the Department of Biology for eight years from 1991-1999. Along with the Nobel Prize, Sharp has won several other prestigious awards including the National Medal of Science in 2004 and the Othmer Gold Medal in 2015.     
Sharp has also expressed pride at Illinois' leading role in fighting the current COVID-19 pandemic. He said that he's excited by the university's commitment to having students back on campus during the 2020-2021 school year.
"It takes courage to do that, most universities have capitulated, and I'm excited about the example that is set, and [about] Chancellor Jones as a leader," Sharp said.