What's on your winter break reading list? (Part One)
Faculty and staff in LAS share the books they plan to read this winter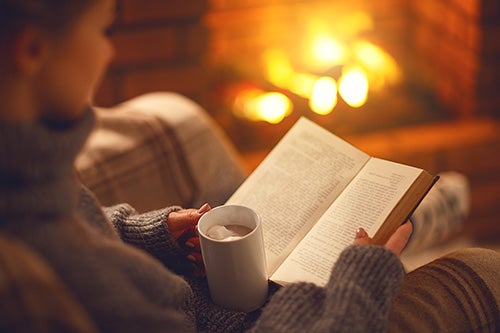 Many members of the LAS community find inspiration and pleasure in reading a good book.
As our faculty and staff head into winter break, we asked a few of them to share the books that they're excited to dig into over the next month. For the second part of this series, go here.
Gene Robinson (Interim Dean of LAS, Swanlund Chair in Entomology)
Hope springs eternal and I have two books picked out to read over winter break (and beyond). Transcendent Kingdom, by Yaa Gyasi, is a novel about a Black female neuroscience graduate student and her family; the novel explores systemic racism in America, including in science. And Desert Navigator is Rudiger Wehner's account of his life's work studying how Cataglyphis ants living in the barren, featureless Sahara desert are able to leave their nest to hunt for food and then return home again, without the benefit of normal navigational cues used by most terrestrial animals. Synthesizing ecology, evolutionary biology, behavior, neuroscience, and genetics, Wehner's research shows how a tiny brain — smaller even than the honey bee's — can accomplish big things.
Ruby Mendenhall (

Professor of sociology, African American studies, urban and regional planning, and social work)
I am leading a computer science program called the Nobel Project that is funded by the National Science Foundation. The Nobel Project has a DREAM incubator where we ask middle and high school students to tell us about their passions and desired careers. We then find mentors to help students fulfill their DREAMS and connect their activities to computer science and social change. I plan to read a book over the winter break that will give me tools to further think outside the box in the areas of computer science, broadly defined, and social change.
I am looking forward to reading Dr. Pamela Jolly's book, The Narrow Road™ 2.0: The Journey to Wealth Your Way. Jolly combines her expertise in finance, business, strategy, theology, and education to help individuals, families, and communities create intergenerational wealth that is rooted in cultural resources. She states in her first book, The Narrow Road™, that she interviewed over 6,800 individuals "about their relationship with money, ownership, business, and legacy wealth […] and created a series of algorithms to lead others toward wealth creation." I do not just want the Nobel Scholars to learn about computer science and other fields, I want them to learn how to create wealth with the skills that they learn.  
The second book that I plan to read is Measure What Matters: How Google, Bono and the Gates Foundation Rock the World with OKRs by John Doer. I am reading this book because I want to develop a clear vision about the social change that I would like to create at the university and in communities. The book also discusses technological innovations that can be case studies for the Nobel Scholars. 
David Sepkoski (Thomas M. Siebel Chair in History of Science and Professor)
As the Fall semester winds down, I'm looking forward to having more free time not only during winter break, but for the entire Spring semester, when I'll be on research leave because of a Guggenheim Fellowship.  I'm excited to begin reading for my next book project, which will be a history of recent scientific debates about the innateness of human nature, and as you can imagine, I have plenty of books on my list!

There have been some excellent recent books about how genetics, biology, psychology, and anthropology have contributed to our current scientific understanding of human nature.  Alondra Nelson's The Social Life of DNA: Race, Reparations, and Reconciliation after the Genome has been on my list for a while now.  Dr. Nelson is a leading sociologist of race and genetics, and her book explores the ways that new DNA techniques have complicated conversations about race and identity in contemporary society.  In a similar vein, British journalist Angela Saini's recent book Superior: The Return of Race Science gives a broader overview of the history of race science, from eugenics to the Cold War to the genome era.  Finally, geneticist Rob Desalle and anthropologist Ian Tattersall's Troublesome Science: The Misuse of Genetics and Genomics in Understanding Race is an accessible, up-to-date scientific critique of some current arguments about racial difference that have emerged from recent political discourse. 
I also read for pleasure, though, and I have several recent novels waiting for me on my shelf!  I'm especially anxious to read Hillary Mantel's The Mirror & the Light, the conclusion of her wonderful trilogy about the (real) English advisor to Henry VIII, Thomas Cromwell, and also Jonathan Lethem's new post-apocalyptic literary novel The Arrest, about a near future in which all technology has mysteriously stopped working. 
Carla D. Hunter (Professor of psychology)
While I won't be able to devote as much time as I'd like to reading over the next month, one book on my radar that I plan on listening to via audio book is Caste: The Origins of Our Discontents by Isabel Wilkerson. I listened to an excerpt of it recently and I know I want to listen to the full audio book. The portion I listened to discussed the work of a sociological team comprised of Black and white researchers to understand slavery in the South. The author further takes up this notion of caste to discuss racism in the U.S. I can't wait to listen!
John Murphy (Professor of communication)
I love reading. I try to reserve time over every break to read for myself and not for work, although it's hard sometimes to draw a line between the two. I also love what I research. I'm currently deep into the first volume of Neal Gabler's new biography of Edward Kennedy, Catching the Wind. It's excellent, but the size of it means I'll still be reading it when break starts. I also want to read Eric Rauchway's Winter War about the fight between Herbert Hoover and Franklin Roosevelt during the presidential transition of 1932-33. Studying difficult presidential transitions seems like a good idea right now. Last in the nonfiction realm is Eddie Glaude, Jr's book about James Baldwin, Begin Again. It looks great. Break will allow me to focus on it.
I've come late to the wonderful Louis Penny Armand Gamache mystery series. Happily, that means I've got many more books to read; A Trick of the Light is next for me. I've turned to poetry over the last few years and I'll be reading Ted Kooser's Red Stilts a bit at a time over break. Finally, I also like military history, so, if I have time, I'll turn to James Holland's Sicily '43. I can't wait to get started!    
I've been trying to keep independent booksellers in business and I've never really taken to ebooks, so what I read will depend in part on which packages get delivered when! I'm looking forward to having time to absorb John Warner's Sustainable. Resilient. Free: The Future of Public Higher Education. I've long followed his blog on Inside Higher Ed, and I'm curious about the positive directions he sees higher education taking amidst changing perceptions of liberal arts education as a public good.  
It's important to take a break from work, though, and now that travel isn't happening, I'm finding myself drawn to fiction in translation that can plunge me into new places and perspectives. Maryse Conde's The Wondrous and Tragic Life of Ivan and Ivana promises a journey through Guadaloupe, Mali, and France, while grappling with issues of immigration and radicalism.  
Closer to home, though, I have Sweet Greeks: First-Generation Immigrant Confectioners in the Heartland coming my way. Written by Ann Flesor Beck, this publication from the University of Illinois Press combines one of my favorite genres – food writing  – with the opportunity to learn some local history, about how Greek immigrants became confectioners and entrepreneurs in midwestern towns like Champaign and Tuscola.
Finally, I love mysteries, so at some point I'll probably be devouring Tana French's latest novel, The Searcher.