What's on your winter break reading list? (Part Two)
Faculty and staff in LAS share the books they plan to read this winter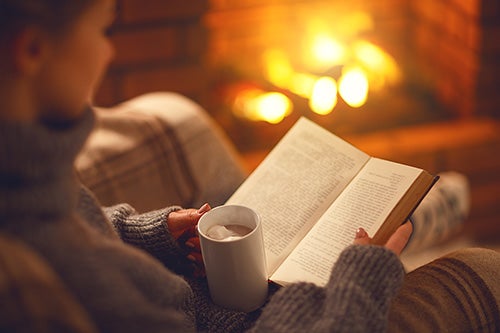 Many members of the LAS community find inspiration and pleasure in reading a good book.
As our faculty and staff head into winter break, we asked a few of them to share the books that they're excited to dig into over the next month. For part one of this series, go here.
I have to read so much for "work" that I don't always find the time for fun reading, except in between semesters. Given everything that has transpired over the Fall, I am seriously craving the opportunity to curl up on my couch with a cup of tea and a good book. Whenever I read for fun, I like to cycle through different types of books: quality fiction, with a focus on character development; easy-reading non-fiction, including memoirs; books that help me be more mindful about the choices that I am making in my day-to-day life; and books that touch on themes from my research, but which are written for a popular audience.
On my to-read list for this break are books from each category: The Fishermen, by Chigozie Obioma, about four brothers growing up in Nigeria in the 1990s; Reading with Patrick, Michello Kuo's memoir about teaching in a rural town in Arkansas; The Mindful Path to Self-Compassion, by Christopher Germer, because I think we could all use a little more self-compassion these days; and Isabel's Wilkerson's Caste, which I'll admit to having already dug into -- I just couldn't help myself, given how much I appreciated The Warmth of Other Suns, and how I fall for any work that is both well-researched and well-written. I am happy to report that it does not disappoint.
Noël

Saenz (

Professor of philosophy)
I have a hard time reading anything outside my research interests. But sometimes I try. Two books I have started and plan on finishing this winter break are Michael Horton's Ordinary: Sustainable Faith in a Radical Restless World and J. K Rowling's Harry Potter and the Chamber of Secrets (I promised my nine-year-old that I would finish the latter book by year's end). I also plan to start (and this time finish) Charles Dickens's A Christmas Carol. 
With respect to my research interests, which right now are divided between issues in the philosophy of religion and issues in ontology, I plan on reading Eleonore Stump's The God of the Bible and the God of the Philosophers and David Chalmer's Constructing the World. Stump's book is a defense of the claim that the God of the philosophers is the God of the Bible. My beliefs on this matter are otherwise. Because of this, I suspect to find much in her book to object to and learn from. Chalmer's book concerns itself with a picture of the world whereby, from a few basic kinds of truths, we can capture every other kind truth about the world (hence the title of the book). Most of my research involves thinking hard about non-causal dependence. Chalmer's book provides one way of thinking about such dependence. Given the impact the book has already had (it was published just eight years ago) and its length (well over 400 pages, which for a philosophy book is incredible), his book should make for an exciting, albeit lengthy, read (I will not finish this book by break's end). 
Ned O'Gorman (Professor of communication)
Apart from lots of required reading for work, I am a moody reader. I am one of those people that is always reading multiple books at once. Here's a look into my current reading list, arranged according to mood:
When I need sanity and humanity I will be returning to Albert Camus's The Plague, which may not seem like the best choice. But Camus is an incredibly generous observer of the human condition, and I am always heartened to find him seeing, even in our most difficult moments as a society (like COVID), reasons for belief that it is just an extraordinary thing to be human.
When I want to learn more about history, I will be reading some of the works of the late historian Tony Judt, particularly Postwar, his history of Europe after World War II. Judt was one of the finest historians of his generation, and I am always struck by his ability to integrate historical facts with sage insights.
When I need to be challenged to think about the wonders of the cosmos and beyond, I tend to read theology (also appropriate for the holy seasons we are in). Over break, I hope to get further into Colin Gunton's The One, the Three, and the Many, a brain-blowing book about the trinity.
When I just need a good phrase (kind of like a good drink), I will dip into Christian Wiman's poetry. I honestly don't adequately understand most of his poems, but boy, he can turn a profound phrase. For example, "Love is the living heart of dread." Think on that for a while.
And when I need to stop thinking so hard (a professional hazard and sometimes a personal problem) and just enjoy a good story, I will be reading with my daughter Daniel Nayeri's Everything Sad is Untrue, a story of Nayeri's journey from Iran to Oklahoma as a young boy. 
Peter Fritzsche (

W. D. and Sara E. Trowbridge Professor of history)
Basically I use time to write, but to write you have to read, and the one activity stokes the other.  However, holiday breaks are not always breaks for me because the four-year-old himself has a break from day care, but try to read I will.  
I am very intrigued by Jenny Offill's new novel, Weather, which as the title suggests is set against the impending threat of climate change.  But the weather only appears and reappears in the character's restless thoughts as she goes about the closely observed rhythms of everyday life, packing her son's backpack, for example.  It is a slice of still life.  
Everyone says that Jason Lutes' graphic novel, Berlin, set in the Weimar years is a compelling masterpiece.  The cast of characters corresponds to the zaniness and misery of Berlin in the 1920s; "socialists" and "socialites" promises one review.  This is my city and my time zone and so I can't wait to dive in.  
I don't normally read crime books, but the long unsolved murder of a Harvard graduate student in 1969 is the subject of Becky Cooper's non-fiction account, We Keep the Dead Close.  She excavates the case like the archeologists that the victim and prime suspect actually were, and having been an archeologist in a former life, I was immediately drawn to the drama.  
The dashed hopes of the Arab spring, the animation of freedom in Cairo in 2011 and the city's tragic rearrest later on, are recounted by Omar Robert Hamilton in his debut novel, The City Always Wins.  I've returned to Tahrir Square over the decades, a place overlooked by the now weirdly old-fashioned modernist-style Hilton hotel and criss-crossed by traffic spills, and I look very much forward to another vicarious visit.  
Finally, whenever I write blurbs on books I recommend or books I plan to read, I always pitch the neglected, but phenomenal Brazilian novelist Clarice Lispector.
I have two books lined up for the break. The first is Uncertainty by William Briggs. I teach an introductory statistics class for political science PhD students and I usually devote only about 5-10 minutes to the rather deep topic of probability's philosophical underpinnings. This author is funny and opinionated, and I will enjoy this even if I can't spend much more time on the topic next year.
My fiction pick is Ted Chiang's Stories of Your Life and Others because I was delighted with his later collection of short stories, Exhalation. My wife and I read short stories aloud to one another after the kids are asleep. The listener often falls asleep, but it is a ritual just the same. Chiang is the first author I have come across who reminds me of Jorge Luis Borges, whose short stories were a genuine thrill for me when I first read them back when I was in high school, long ago.
Carolyn Wisniewski (Director of the Writers Workshop)
I've always loved giving and receiving books over the holidays, and this winter in particular I'm looking forward to curling up on the couch with a mug of tea, a cozy fire, my two dogs, and a good book. Yoko Ogawa's The Memory Police (密やかな結晶) is at the top of my list, a dystopian novel set on an unnamed island where objects are disappearing from life and from memory. I'm also looking forward to Silvia Moreno-Garcia's Gods of Jade and Shadow, a fantastical coming-of-age novel that draws on Mayan mythology and Mexican folklore as the protagonist sets out on an odyssey where she battles ghosts and sorcerers in a game of wits. I loved Moreno-Garcia's Mexican Gothic, which made many must-read lists this year, and can't wait to read this earlier novel. I've got to have a few good laughs this winter, so Issa Rae's The Misadventures of Awkward Black Girl (based on the web series) is on my list.
Finally, I'm a fan of Nordic Noir, so my winter break reading wouldn't be complete without a mystery set in the snowy north. I've begun Johan Theorin's Öland series and will continue with The Quarry (Blodläge). Theorin's novels have a great sense of place—an island off the coast of Sweden—and they combine elements of murder mystery with supernatural undertones. Since the long nights around Winter Solstice are traditional time for telling ghost stories, it seems like a perfect time to dig into these spine-tingling tales.