Remembering a strong community - and a rigorous mathematician
Alumni Bill and Linda Perry honor a former professor and Altgeld Hall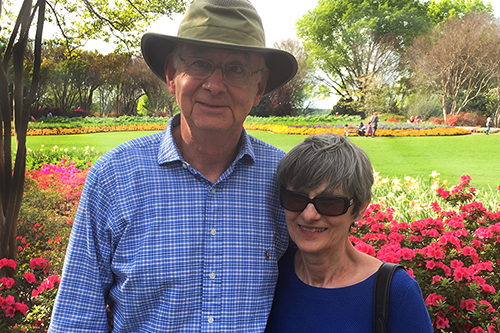 For Bill and Linda Perry, Altgeld Hall is about mathematics—and so much more.
The couple arrived at U of I in fall 1967; Bill had a graduate assistantship in mathematics and Linda had a teaching position at Urbana High School. The May 1967 mathematics graduates of 500-student Park College in Parkville, Missouri, arrived in awe of 30,000-student University of Illinois. Bill (PhD, '72, mathematics) and Linda (MS, '71, mathematics) knew they would need to find a small, connected community at Illinois, and they did.
The mathematics faculty and staff were welcoming and supportive. "From the moment we arrived, we felt accepted and valued," said Bill and Linda, in a joint recollection provided to LAS. And when Bill was accepted as a doctoral student by professor T.W. Ting of the Department of Mathematics that feeling of acceptance deepened.
Bill and Linda's gratitude for their experience at Illinois led them to make a donation to the Campaign for Altgeld and Illini Halls, which is supporting the renovation Altgeld Hall and the construction of a new building on the site of Illini Hall.
The couple recall how, in August 1967, they loaded their belongings into a U-Haul trailer, hooked it up to the Chevy, and drove from Kansas City to Urbana.
"About a week before we left we found out we had an apartment in Orchard Downs," Bill said. "That was good news because as yet we had not found a place to live. The greatest benefit of getting an apartment in the Downs was that we met couples there who are still our friends today."
After getting moved in, Bill went to check in at the Department of Mathematics.
"I'll never forget Altgeld Hall," Bill said. "My first teaching assistant office was there, I spent many hours in the Altgeld library, had several classes there, made grad student friends there, and found the faculty and staff to be very friendly and helpful. Professor Ting, my thesis advisor had his office in Altgeld."
Bill added: "After I became Ting's student I spent a lot of time in his office and remember with fondness those times working with him. He was a stickler for rigor, extremely hard working, and a great advisor. In addition, he and his wife, Eutrice, invited us to their home several times for dinner, making us feel very special."
The overall experience deeply influenced Linda and Bill.
"As you can see from what we did with the rest of our lives, we have spent it all in university communities," Linda said. "So clearly we had a great experience at the University of Illinois, which made us want to continue being with educational institutions."
Bill was president of Eastern Illinois University from 2007 to 2015 and was professor of mathematics at Texas A&M University in College Station, where he also eventually served in administrative roles, from 1971 to 2007. Linda is senior lecturer emeritus of accounting at Texas A&M, where she taught from 1983 to 2007, and she was a lecturer at Eastern Illinois University from 2008 to 2009.
When Bill and Linda heard about the campaign to renovate Altgeld Hall, they decided to give back as a token of their appreciation for finding a caring community in the Department of Mathematics, especially because of Professor Ting.
"Professor Ting enabled me, and by extension, Linda, to have wonderful, fulfilling careers in higher education," Bill said. "Linda and I are grateful that we could make a gift to honor him as part of the Altgeld Hall renovation."